Howdy again friends, Its been a while since our last post. Been busy criss-crossing Mexico. When we last left off we were in a beautiful port town on the Pacific Ocean called Mazatlan. Now I am posting from the opposite side of Mexico, sitting on the Gulf of Mexico down near the isthmus of Mexico. We have traveled over 2000 miles and had many great adventures along the way.
Leaving Mazatlan we cruised down the Pacific Coast for a while, we were enjoying the beach views and fresh mariscos (seafood). We saw a small beach town on the map by the name of San Blas. Drove on down the road to check it out.
The highway cut inland for a while and then curved back to the coast, when we approached the coastline this time the landscape had started to turn into marshland.

We reached San Blas, Mexico and drove right out to the beach, We got there about an hour before sunset, busted out some beers and enjoyed the view.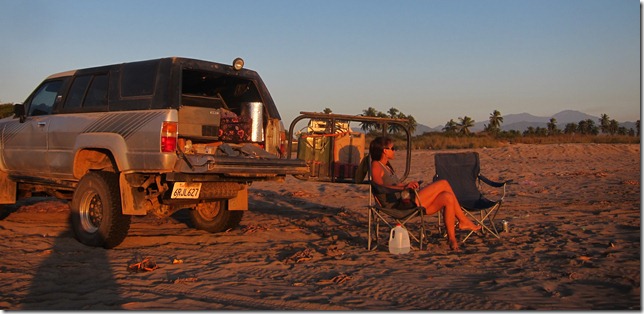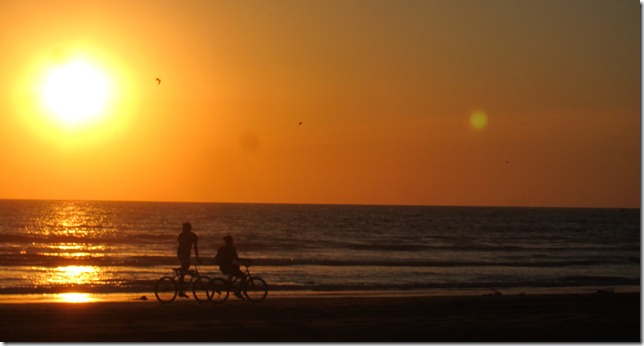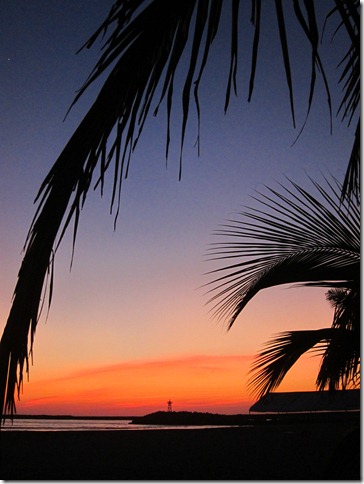 Another beautiful sunset… We found a little restaurant on the beach and sat down for dinner. The beachside palapa started to fill with acrid smoke, we looked around and noticed all the palapas were belching out this smoke. It smelled a lot like citronella, and within a few seconds we realized why. We were getting eaten ALIVE by no-seeums (tiny biting insects) The restaurants did all they could to quell the flood of fly's but there was no hope. We inhaled our food and made a beeline to the truck. We discussed our options for camping that night and figured if we got out onto the beach into the breeze and setup our bug net we would be OK…
Wrong! We drove out onto the beach, bugs didn't seem to bad. We setup our bug net around our sleeping area and passed out. Woke up in the middle of the night getting attacked by thousands of no-seeums, turns out they took a meal break and were back for seconds. They were so small they just waltzed right through our net, gave a laugh at our weak protection, and started chomping on our bodies. With not many options we buried our heads under the covers and roughed it out for the night.
When I finally poked my head out from under the covers there were thousands of dead bugs around me and tons more alive flying around my head. I jumped out of the truck and found Lauren on the beach who gave me the "Lets get the HELL outta here look!"
I jumped out of the truck and we started speed-packing. Well turns out our little beach home for the night was not only Grand Central Bug Station but also a semi-commercial fishing spot. While we were running around like chickens with our heads cut off, these guys rolled up and started netting up some fish.
This method has long been outlawed in the states but it sure is effective. Take a long net, run it off the shore about 100yards and down the beach another 50 yards, then pull in. Anything caught in between the shore and net is fair game.

We got some funny looks running around packing up the truck.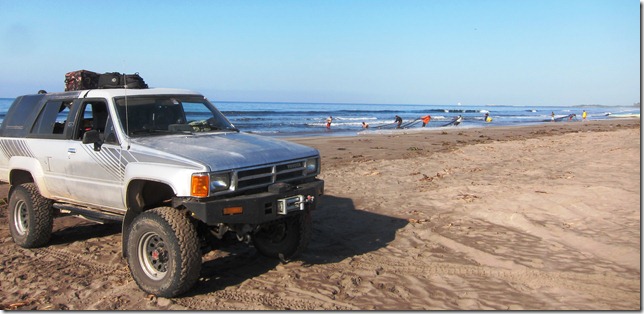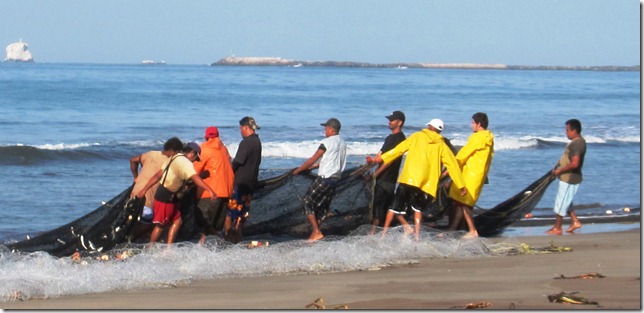 Adios San Blas! Beautiful town if you can avoid the bugs. I suggest sleeping indoors or getting a bulletproof bugnet, were going back to the drawing board on ours.
We really dig sleeping on the beach and we weren't going to let some stupid bugs completely defeat us. We decided to cruise down the highway some more and find a new beach, hopefully with less bugs!
We pushed south past a popular tourist town called Puerto Vallarta, seemed like a nice place albeit crowded with tour buses. Not our scene, we pressed on.
The coastline started to get a bit more "jungley" the further south we got.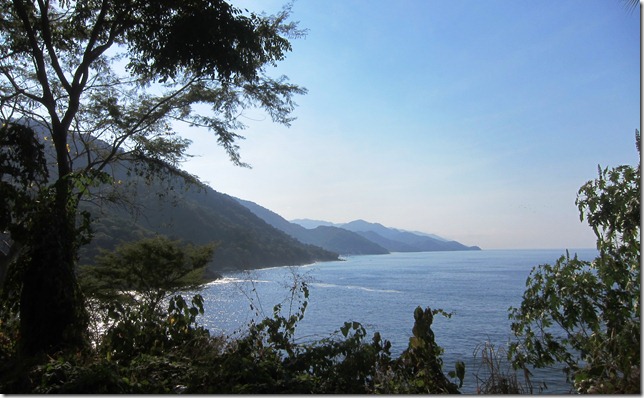 Eventually we saw a little sign on the side of the road, this place wasn't on our map or books but it was certainly a beach. Maybe we can camp down here?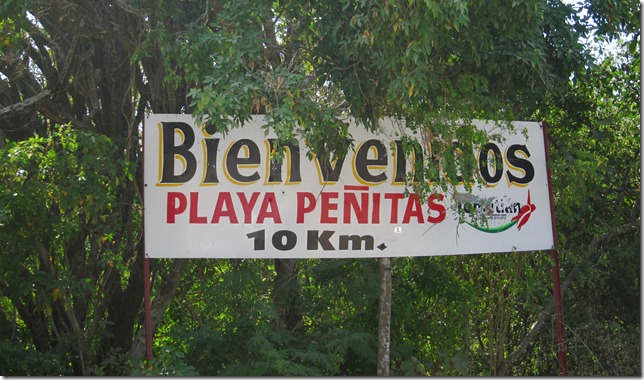 Dirt roads=Good sign!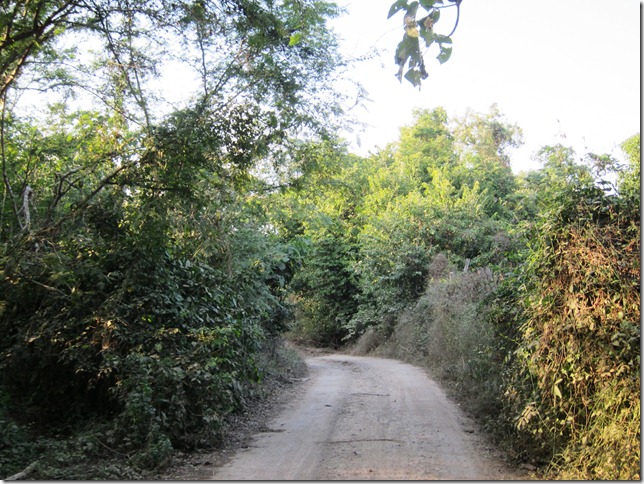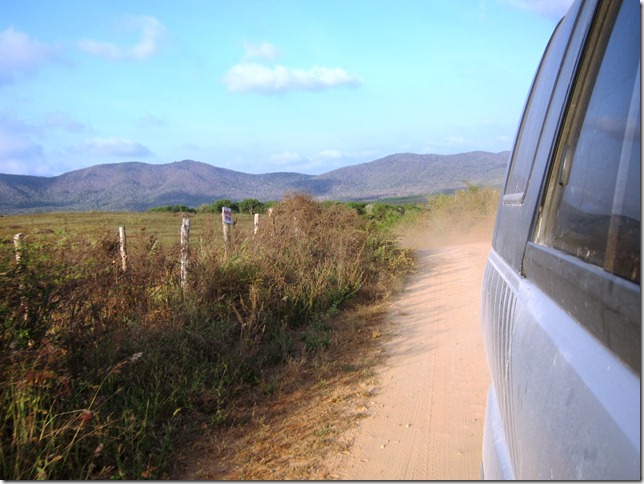 We followed the road for a while as it degraded further, eventually we find ourselves at a Palm Tree farm.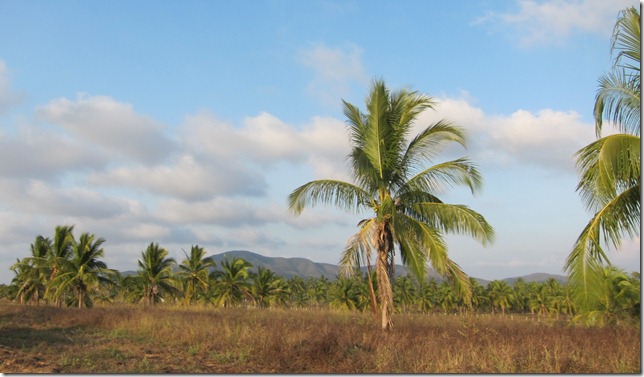 We did not see any people nor any signs indicating how to get to the beach. We knew it was down there somewhere, following a bunch of random farm/ATV roads eventually we ended up in the right spot. I found a surprised looking kid on an ATV and asked him if it was OK to camp on the beach. No Problemo he said. ITS ON!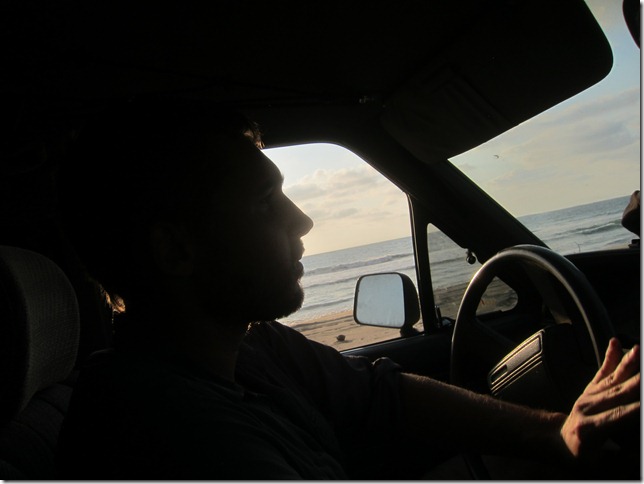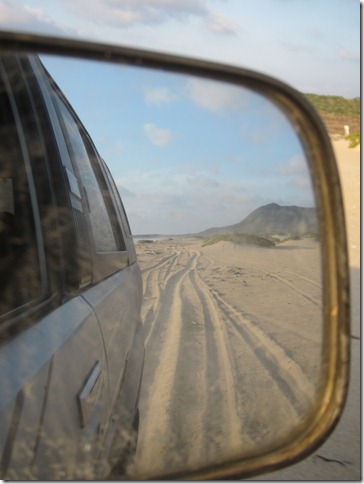 Cruised down the soft sand a ways in 4WD, aside from the kid we saw no one else around. About 1/2 mile down the beach we setup camp.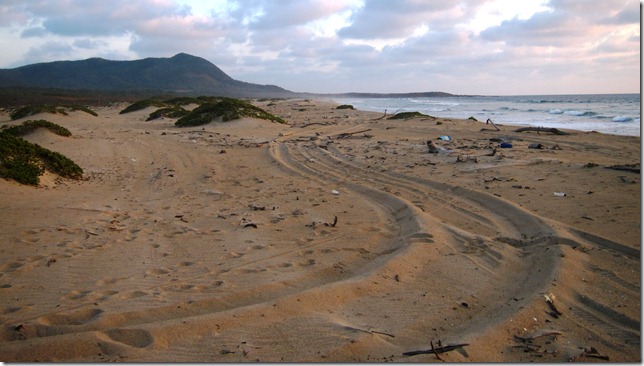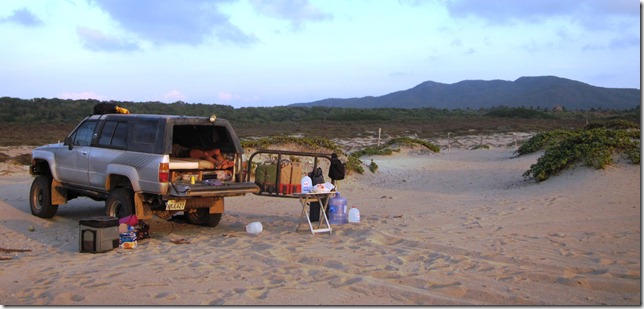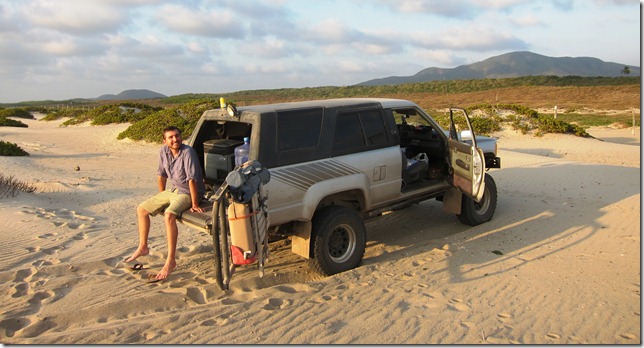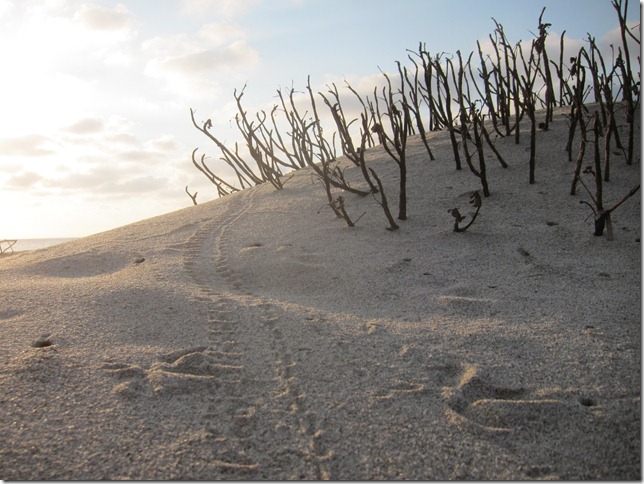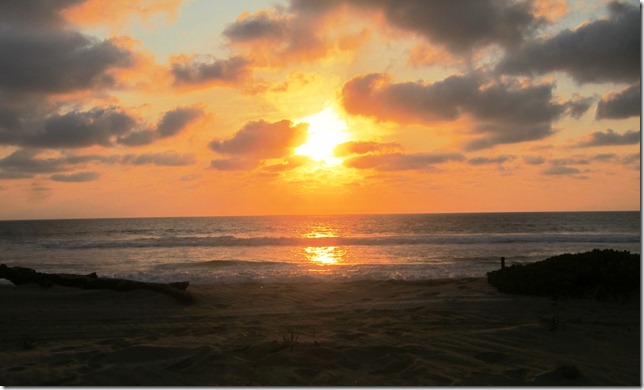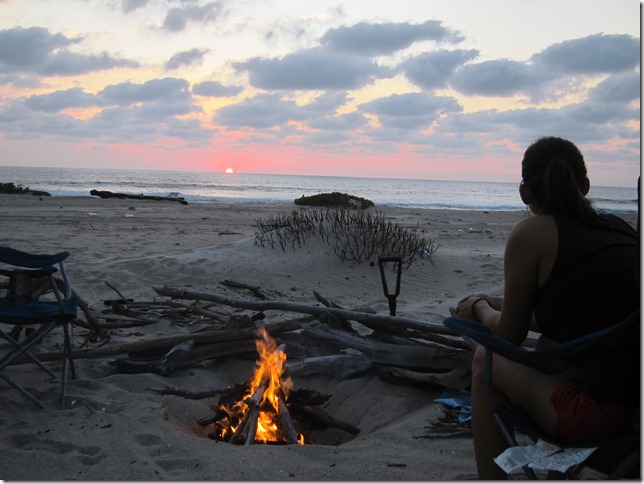 Perfect night on the beach, no bugs, no people, no sounds but the waves crashing the shore. We spent the entire next day at this spot just lounging and enjoying ourselves.
Eventually packed up and headed out once again. Cruised down the highway and found a lunchspot in a nice little town called Melaque. Lunch of fresh ceviche and cold modelos made for nice break from the road.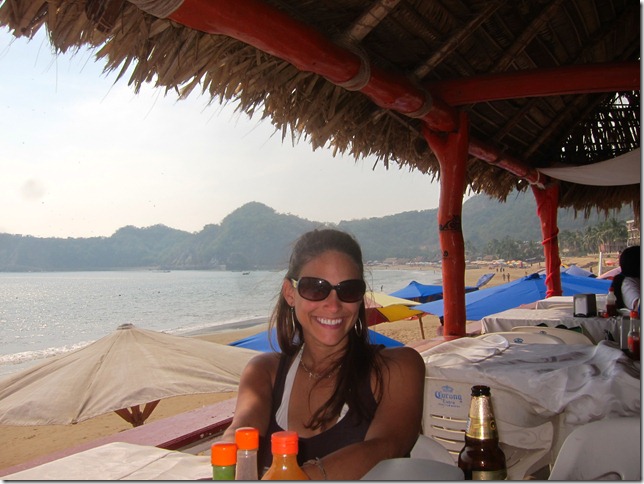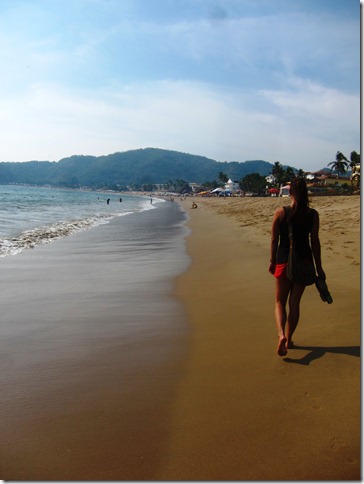 Headed south from there, We had read in our guidebook that we could beachcamp in a town called Cuyutlan so we decided to check it out.
We drove through valleys FULL of coconut palm farms, the pictures do not do it justice. Imagine coconut palms as far as the eye can see. In true "companion planting" style they plant banana trees underneath the palms. The palms provide the perfect amount of shade for the bananas.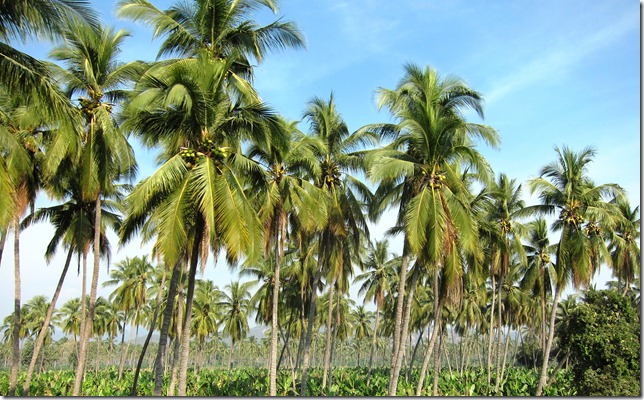 We made it to Cuyutlan and scoped out the town. Looks like it has been built up a bit since our guide book was written. Most of the beachfront camping was now nice condos and houses. They did have some cool murals though.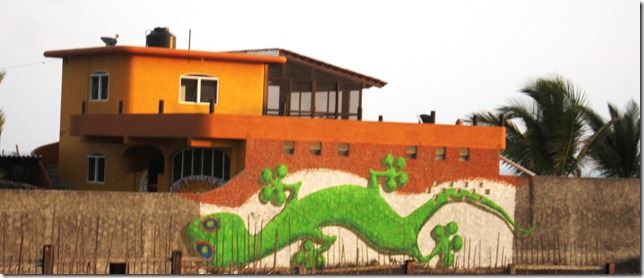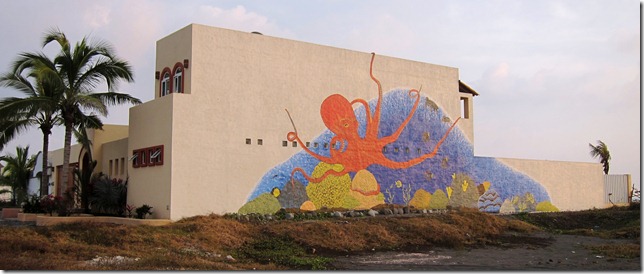 We kept driving and driving down the road in Cuyaltan hoping to find a good spot where we could sneak past the houses out onto the beach. We eventually found a spot near the end of the road where there was an ATV trail out onto the beach. Jackpot!
Put it in 4WD, locked the hubs, and headed out onto the sand. Now normally before we do any serious 4×4'ng I get out and air down the tires to improve traction, however we have had good luck with our BFG A/Ts driving on sand even at road tire pressure (I am running 30 psi on the street) so I figured we would be fine.
WRONG!
Got stuck within 20ft of coming off the road, the sand was super sugary and we sunk in deep. Rocking back and forth (typical escape maneuver) did nothing but get us dug in deeper. Time to get to work.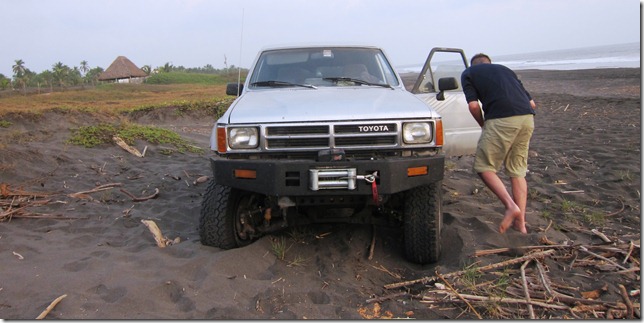 Digging a trench for the tires, Lauren helped document the process (she did a bit of digging too!)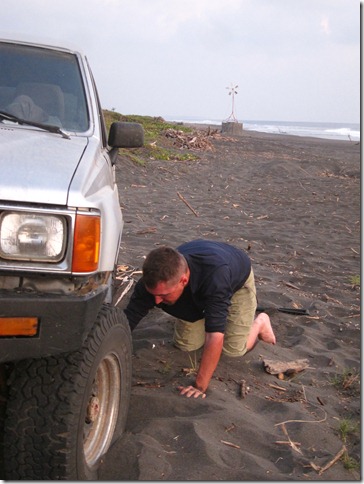 Building a sand ladder out of driftwood for the tires to grip for traction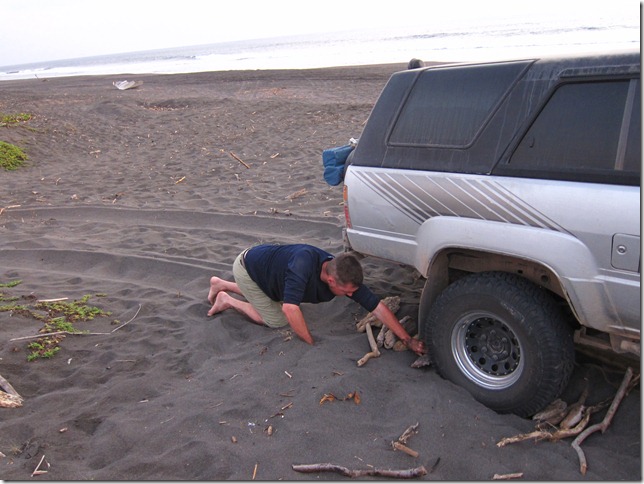 Airing down the tires to 10 PSI as the sun is setting.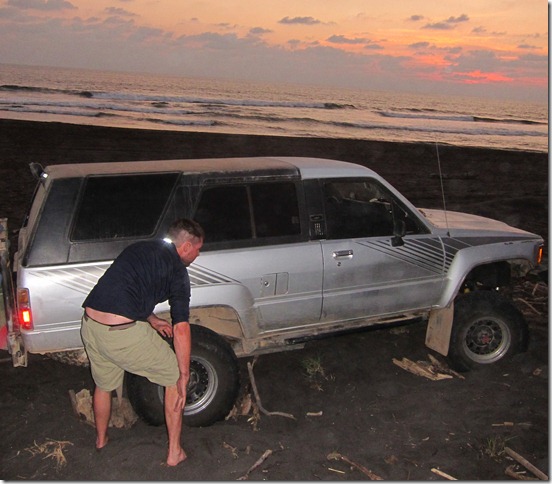 Alright, all prep work complete. Lets hope this works!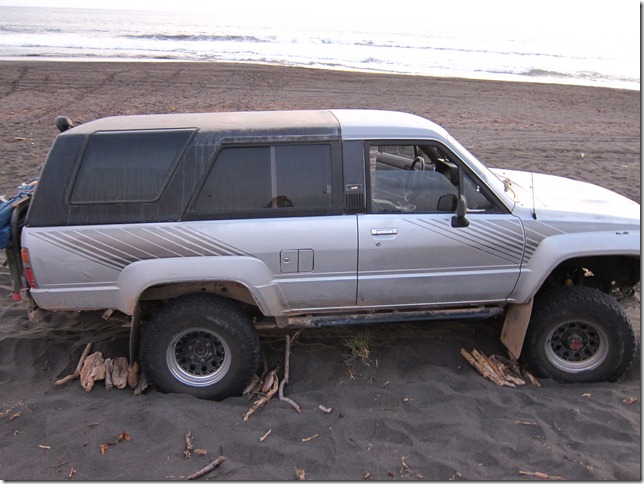 SUCCESS!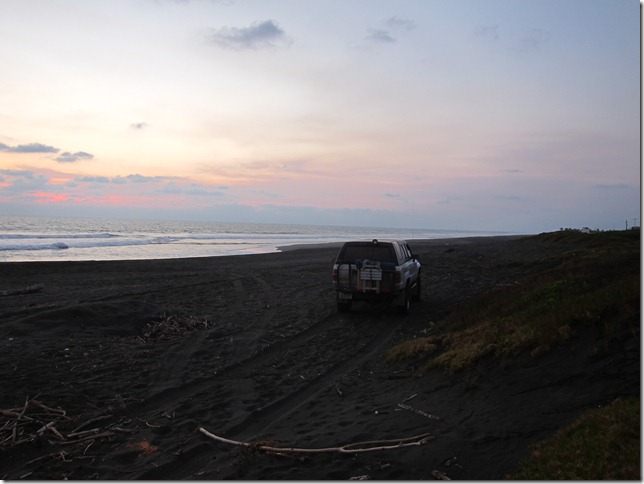 I'm outta here! Didn't slow down till I was almost to Arkansas.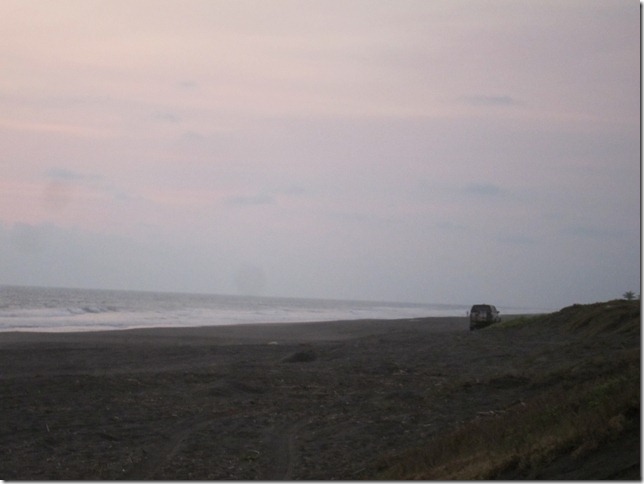 Dirty and happy to be unstuck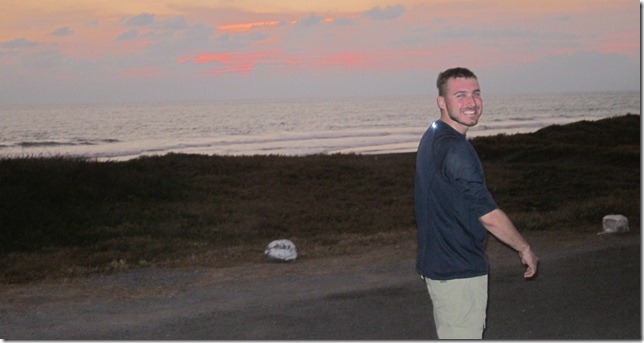 With the tires aired down to 10Psi we floated on the sand with no problems, we were able to cruise the beach and find a nice spot for the night.
Just in time to see the sun drop behind the ocean.

We were making dinner at camp when Lauren noticed some bugs crawling around our food bag, We shined the light down at the sand and saw THOUSANDS of what I think (hope) were baby cockroaches running around in and out of our food bags.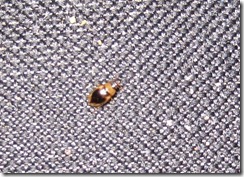 We pulled everything out of the bags and cleaned them out, shook out all the bugs and played a game of "the floor is lava" for the rest of the night….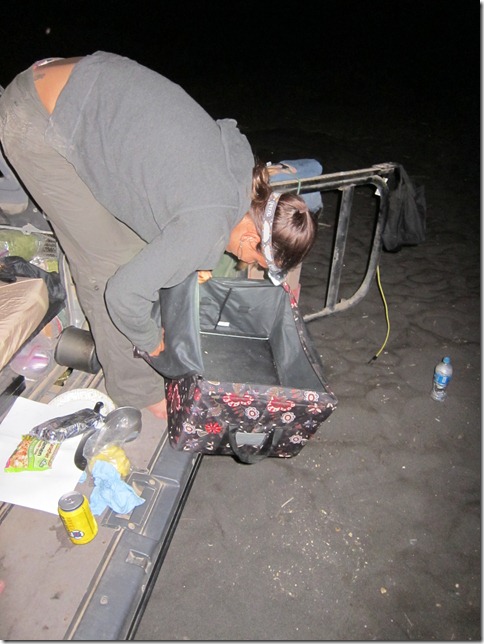 ….And you guys thought our trip was all sugarplums and cervezas!