Our alarm started ringing at 4:30AM… I felt my body panic in confusion. WORK!?
Nope. Just hiking a volcano today… whew.. that was close. I realized it was the first time I have woken up to an alarm in almost 5 months (Not that I am trying to rub it in or anything…)
I stumble around in the pitch-black cabin fumbling for the light-switch. I find it and listen to the groans from the sisters. "5 more minutes?" Lauren asks. Nope! Not today, We gots to go.
Our destination for the day. The top of Volcan San Pedro on Lago Atitlan. It is the large volcano on the right-side of this pic. You can see the town of San Pedro down below it.

We load up the backpack with snacks/water, put on our hiking shoes and head up the road. The early morning darkness is chilly and foggy. There is Toyota pickup waiting for us, We load our gear inside and jump in the back. We get a good-grip onto the black steel coping lining the bed and hold on.
VAMOS!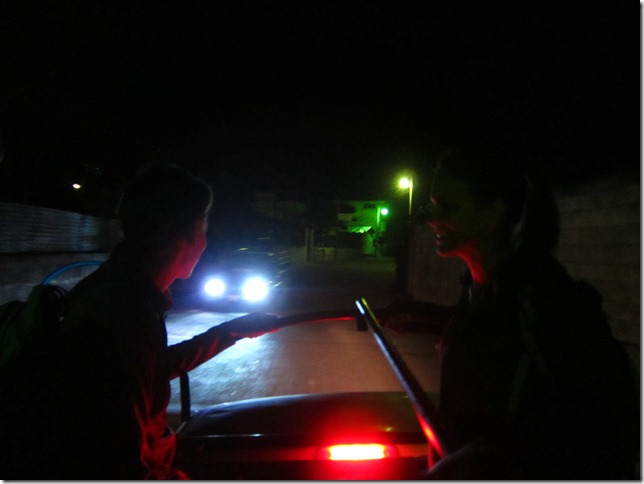 Lauren and fellow overlander Jill from Anywhere that's Wild.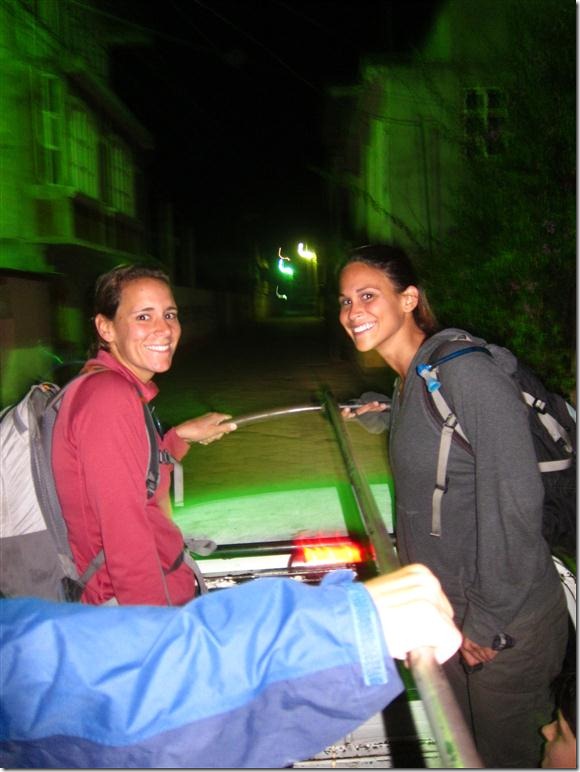 We wind our way through the silent streets of San Pedro picking up a few more hikers then start heading up the mountain to the trail head.
Eventually arriving at the the still pitch-black trailhead we crank up our headlamps/flashlights and hit the trail.
I read it was advised to use a guide on this trail due to some robberies/attacks on tourists a few years ago. Nowadays they have improved security and there is nothing much to worry about. However, the entry-price to the park included a tour guide so we took one. Our guide was named Pedro, I would put Pedro around 75 years old or so. He had 1-tooth and a big ass machete. My kinda guy.
Were hiking along in the dark single-file up a tight trail. It looks like we are hiking through some sort of coffee farm but it is too dark to tell. I am thinking to myself, damn it is kinda spooky out here… good place for robbers…
I hear someone from the back of the line scream "OH SHIT!" then I hear the distinct sound of metal on metal machete/machete clanging together.  ITS HAPPENING!?
I turn around to witness the carnage and see my fellow hikers looking down the side of a steep rocky hillside at a very confused Pedro splayed out on the bottom. Looks like our guide misstepped and fell down the hill. What I originally heard was not the Pedro battling evil banditos but actually the sound of his machete clanging against the rocks as he rolled head over heels down the hill.
We check over Pedro and find him surprisingly intact for a 75-year old man falling down a cliff. He quickly tires of our medical attention gains his composure and yells "VAMOS!"
Up we go.
As dawn breaks we make it to a small shelter with a nice look-out over the Lagoon and San Pedro lights below.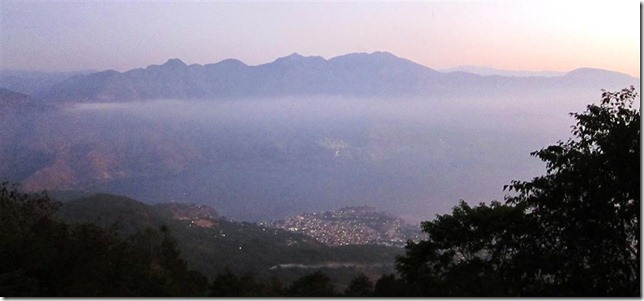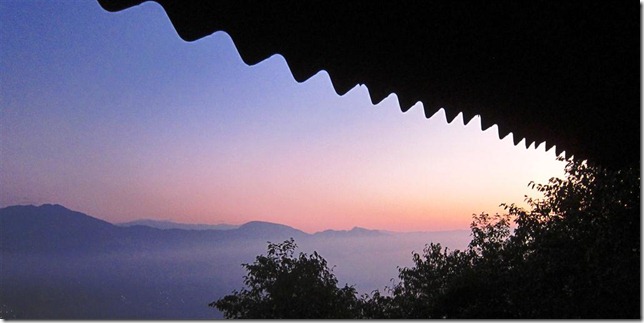 Sun coming up a bit, we can actually see the trail now.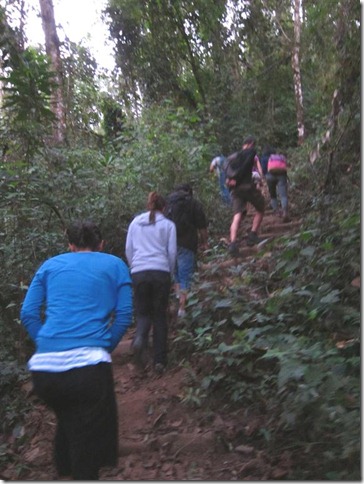 The first 45-minutes were fairly easy going, we were crossing primarily sideways across the mountain. However once we started heading straight up the volcano I realized… I am outta shape. It has been a while since we had been on a real challenging hike and I was feeling it. Also, Carly, who just shipped in from sea-level Florida the day before, was not exactly prepared for this much climbing at 6000FT either. Pedro on the other-hand was a never-tiring billygoat and nipped our heels the entire time to climb faster. Not bad for a 75-year old man who just fell off a cliff…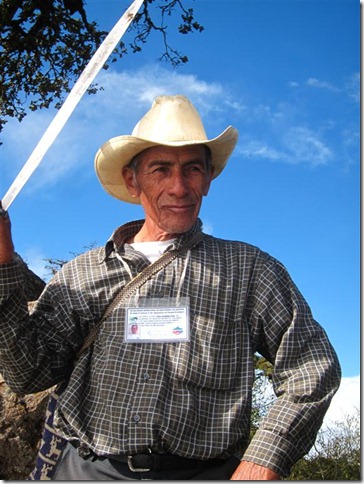 At first  he had patient words of encouragement to speed us up…
"Es bueno por tu corazon!"  (It's good for your heart!)"
La Vista is muy bonito" (The view is very nice)
Eventually degrading into…
"Listo?" (Ready?)
And finally a flat-out
"VAMOS!" (Let's go!)
"OK Pedro… OK Pedro…" Carly exclaims between winded breaths as we climb further up the mountain.
Lauren, of course, climbs straight up the mountain like she's on a leisurely stroll through the park.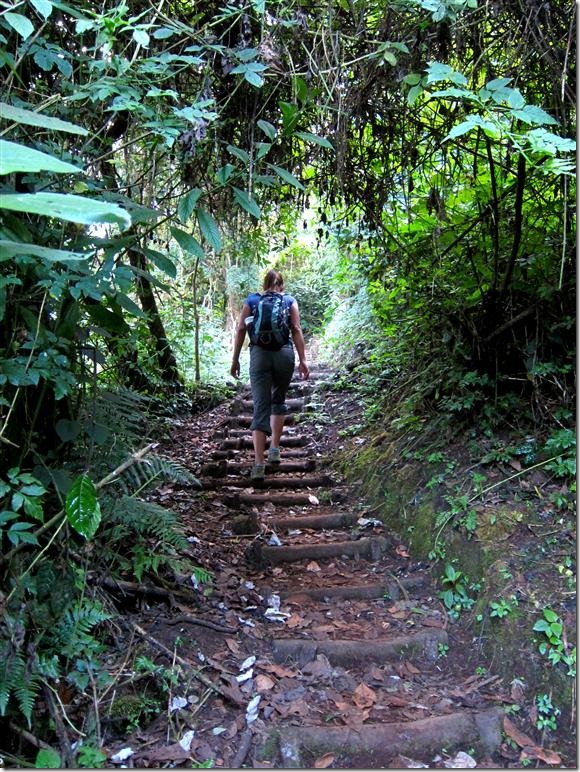 We climb through lots of forest, coffee farms, corn plantations…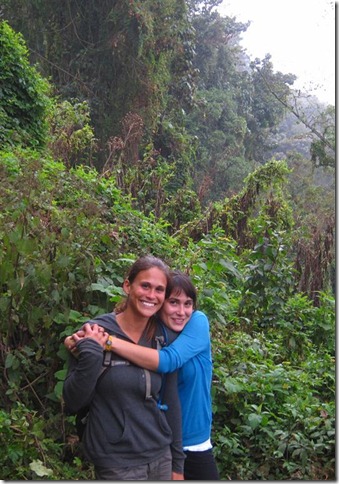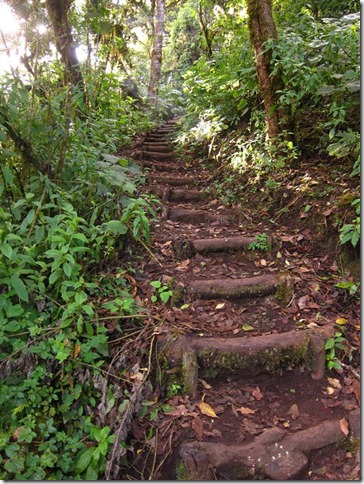 Higher and higher, we eventually enter the clouds and the lush green "cloud forest"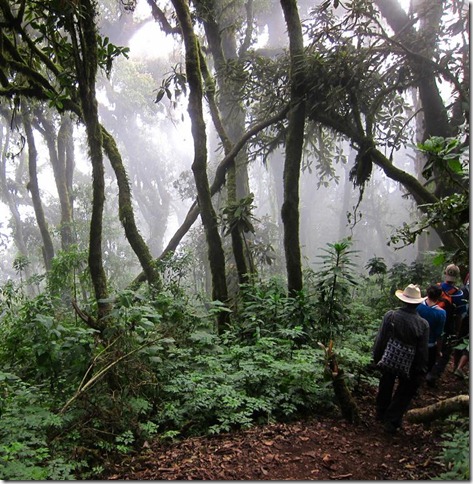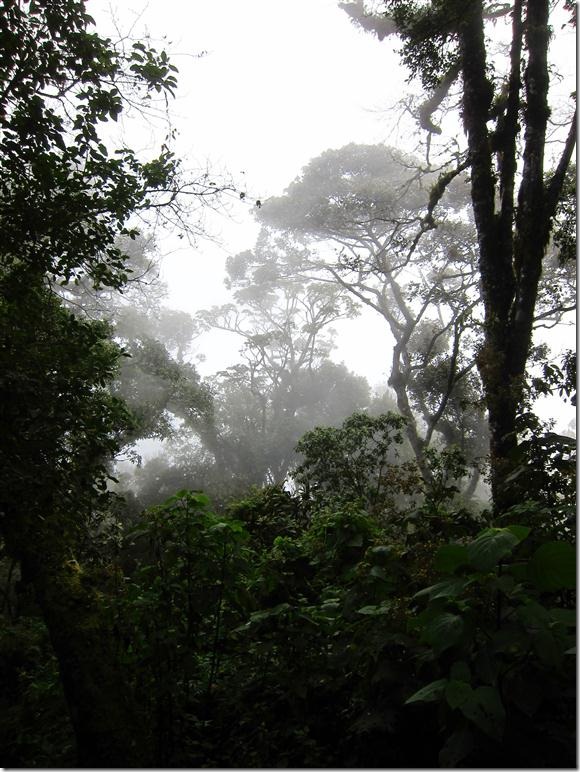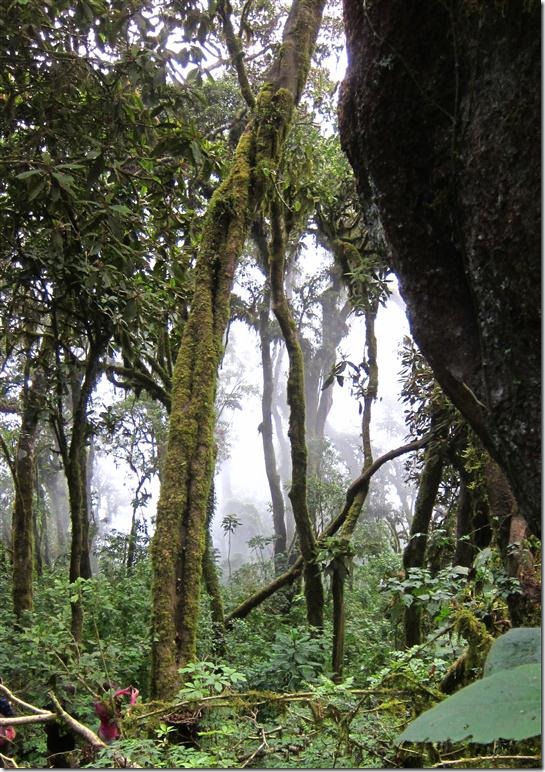 After around 2.5 hours or so of climbing we make it to the top of the San Pedro volcano. We scramble up the rocks for our first glimpse of the amazing vista we worked so hard to achieve!
Waaaa.waaa. Curse you clouds!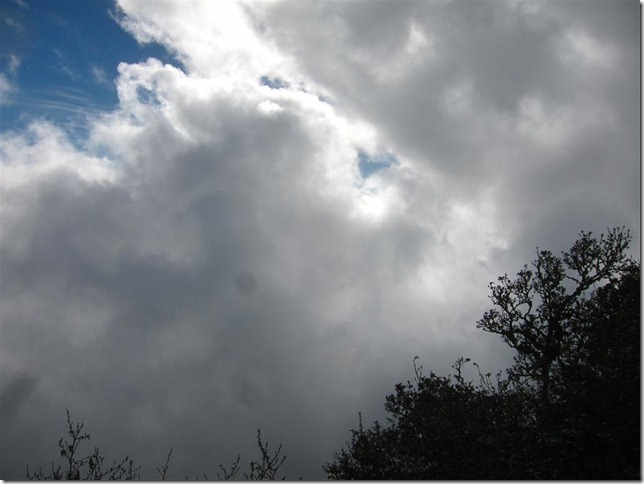 We semi-expected this would happen so were weren't tooo disappointed. Our friend Susie did the hike a few days later on a clear day, I look forward to stealing her pictures.
Luckily the clouds did part a little bit and we were able to some of the volcanoes on the opposite side peaking through the clouds. Very cool.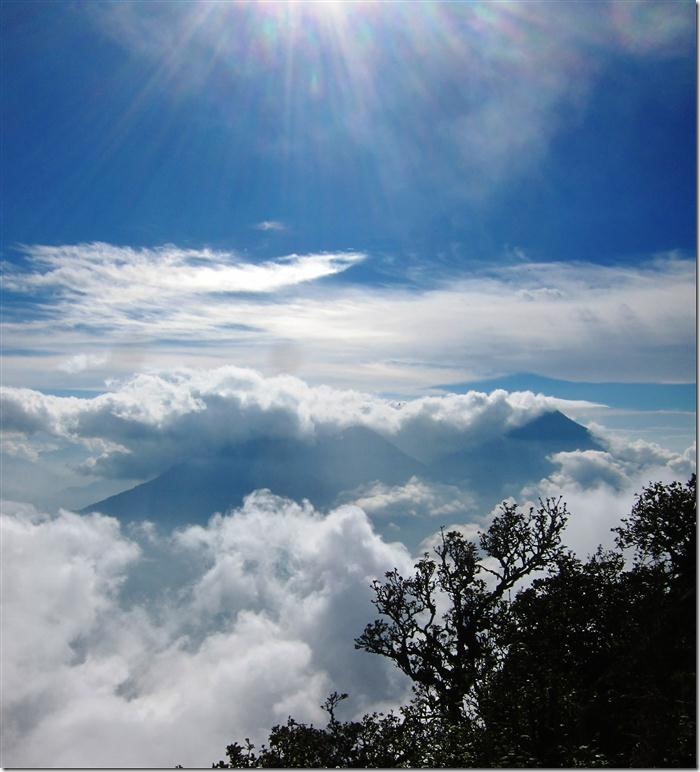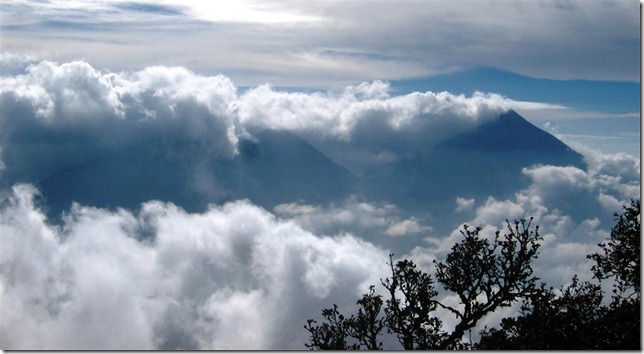 Tired but happy, we snapped some pics at the top of the volcano. We lounge around for a bit resting our legs and having some snacks. Preparing ourselves for the climb back down. Pictured here are Home on the Highway, Anywhere that's Wild,  and Carly. Hiding in the background is Joe from ApollosJourney. We met Joe and Eric at Corazon Maya, they are also traveling the PanAm in a 4Runner. You can check out their blog at http://apollosjourney.com. They just spent the last 3 months studying and traveling in Guatemala, they are headed up to Mexico for a bit and then eventually back south on the PanAm. Great guys and great blog.
Pedro poses majestically for the camera. He was a really great guy, even if he did force up that mountain with a quickness.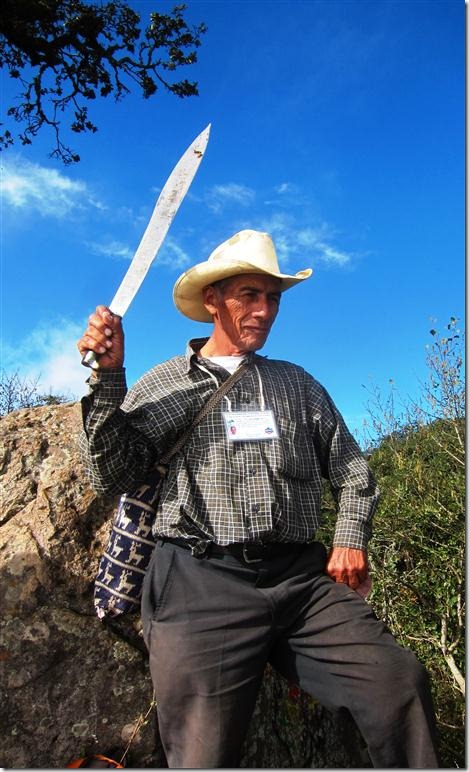 After lolly-gagging for about an hour at the top we made our way back down.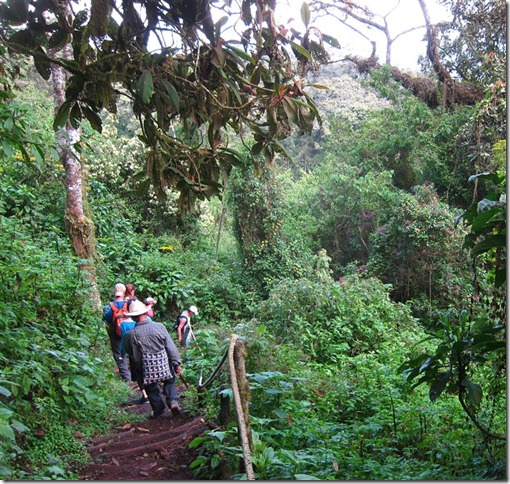 Carly doing her best to satisfy Pedro's pace demands. Rule #1 Don't piss off the guy with the machete.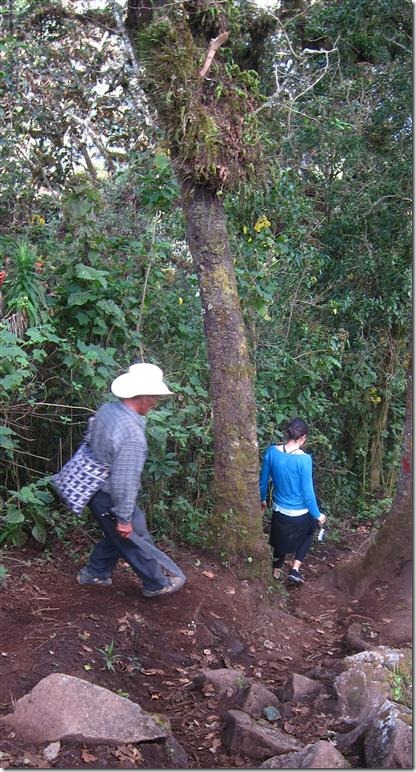 We had to stop for a mandatory swing-break.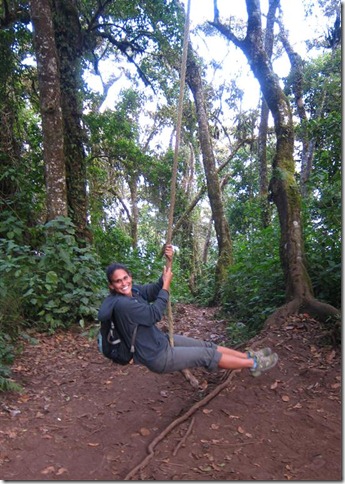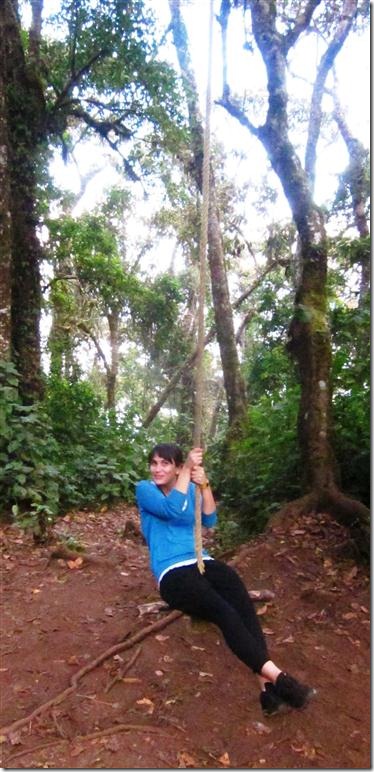 An hour later with some freshly acquired knee problems we were back at the bottom. Pedro asked if we would rather walk the extra 1 mile back to town or pay a few Queztals extra for a truck-ride back… TRUCK PLEASE!