I spent 20 minutes trying to come up with a clever title, not much rhymes with Yucatan. I thought maybe YuCAtaN DO IT! but then gave up on that. I considered making up a fictional character named "Yucatan Dan" who lives in the jungle and grants 3 wishes to lost gringos. "I wish for 20 gallons of DEET bugspray…" Perhaps "Doin our thang in the Yucatang"… I don't know! I have spanish class in 30 minutes and need to get this post done. Focus James!
We pushed further down the Caribbean coast headed towards a concentration of Mayan ruins called "The Ruta Puuc" The Ruta Puuc is about 25 miles of backroad that connect 6 different Mayan ruins together. In Mayan times there was actually a road of limestone running through the jungle connecting many of the large sites. Unfortunately this road is long gone and were stuck to boring ol' tarmac.
We drove on and on through the jungle on the paved roads eventually arriving near the Mayan site of Uxmal. The Sun was setting and we needed to find a camping site quick. We pulled our usual maneuver of scoping out the surrounding areas for cutty backroads, eventually finding one that looked good and turned off into the deep jungle.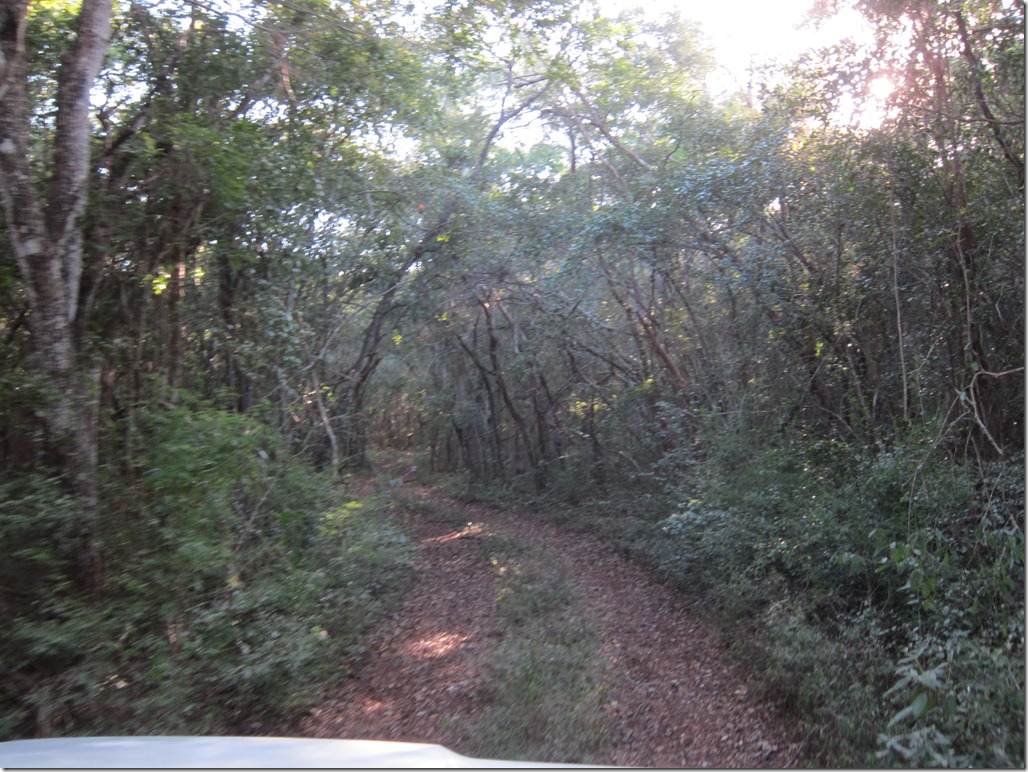 We followed this trail for miles, passing 2 small bee farms and not much else. Intrigued as to what the hell this random road in the jungle leads to we pushed on further. Slowly the road deteriorates to little more than a single track ATV trail. After 10 miles of slow going through the jungle we stumble upon a very small, very creepy camp.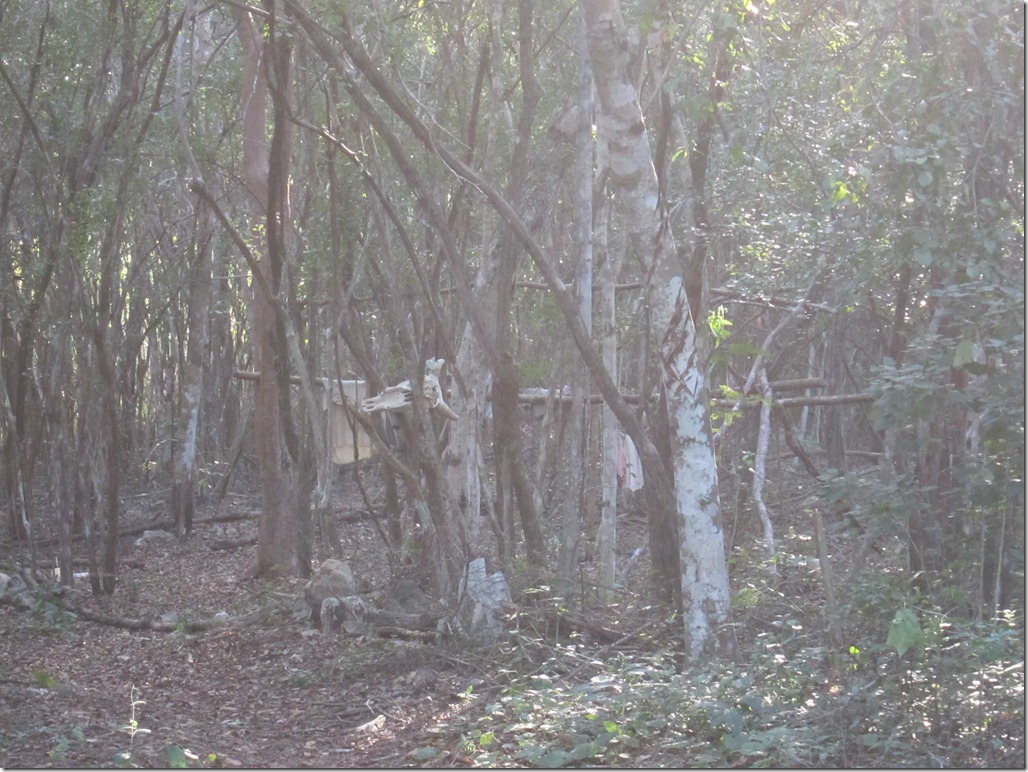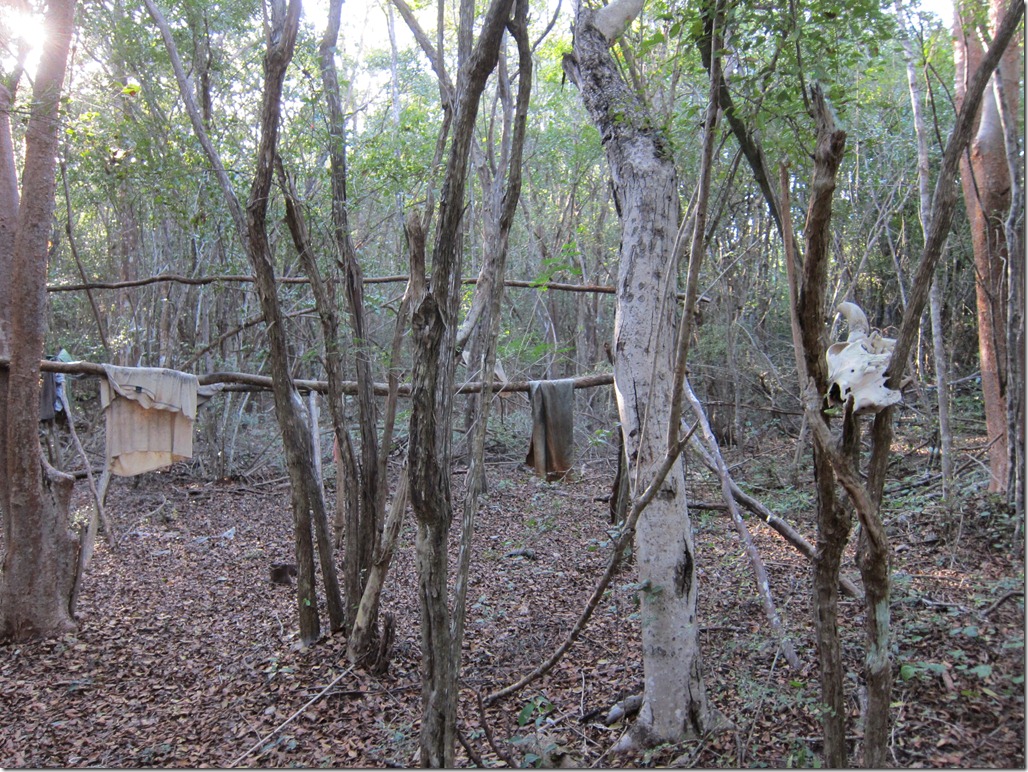 Hmmm… Skulls, dirty old clothes, random stick structures, 15 miles deep in the jungle. Me thinks we should NOT camp here.
We doubled back up the road and eventually ended up finding a small little motel where we shacked up for the night. We made some friends and were introduced to Yucatan States official beer. Montejo!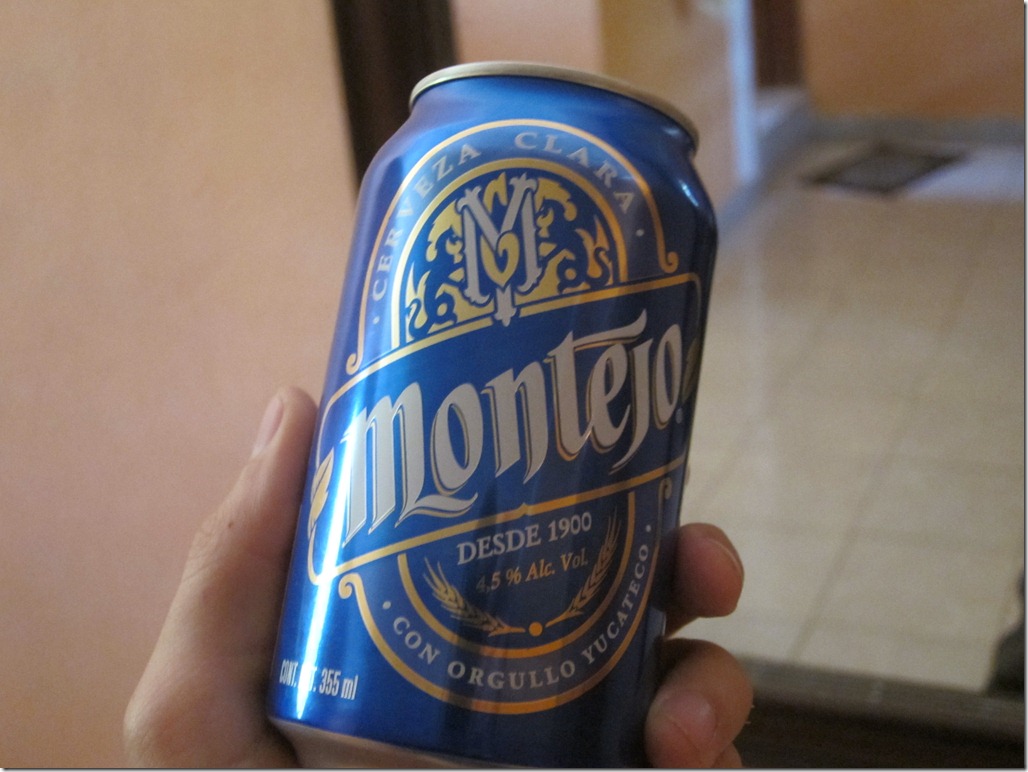 Next morning we woke up and headed to Uxmal. Uxmal is a magnificent Mayan site. Estimated to have supported over 15,000 inhabits at its height in 900 A.D. or so. The site is one of the finest examples of Mayan construction, relying on precisely cut stone blocks for the exterior of the buildings rather than plaster which wears away quickly.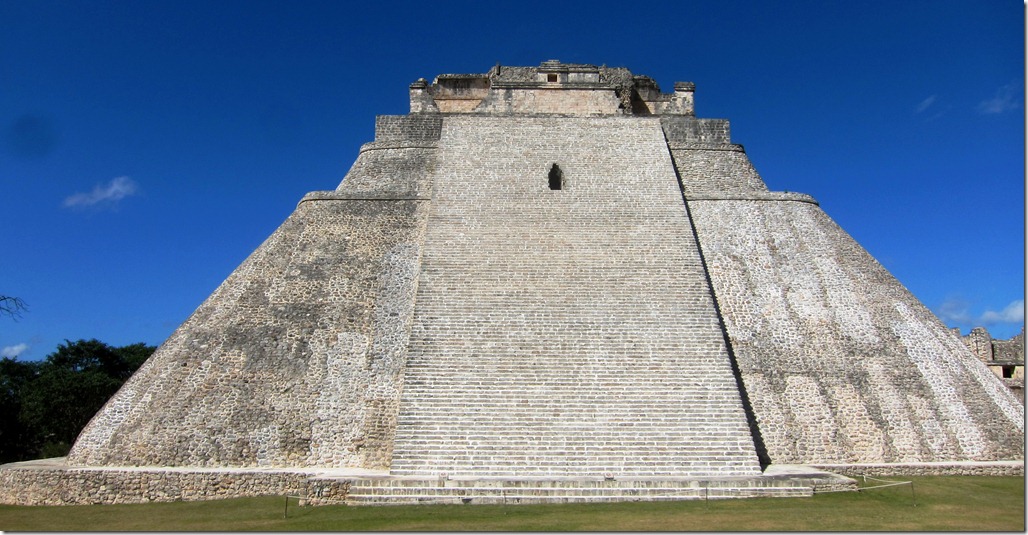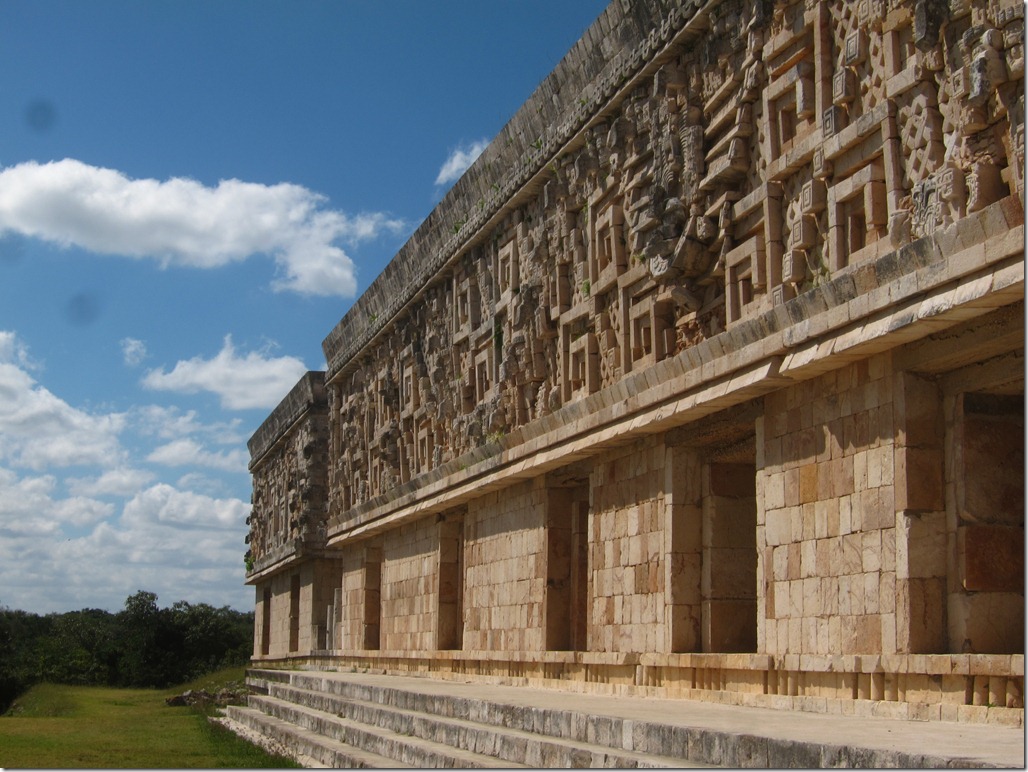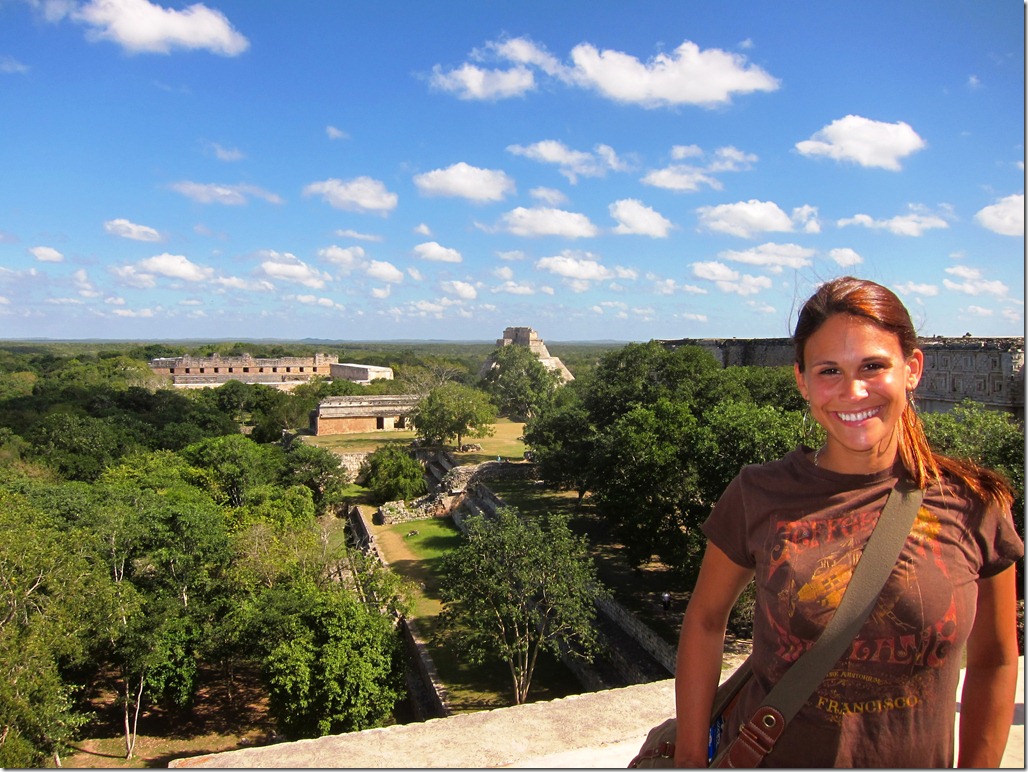 Excavation of the site is still in progress, we noted many markings from archeologists on some of the less excavated ruins.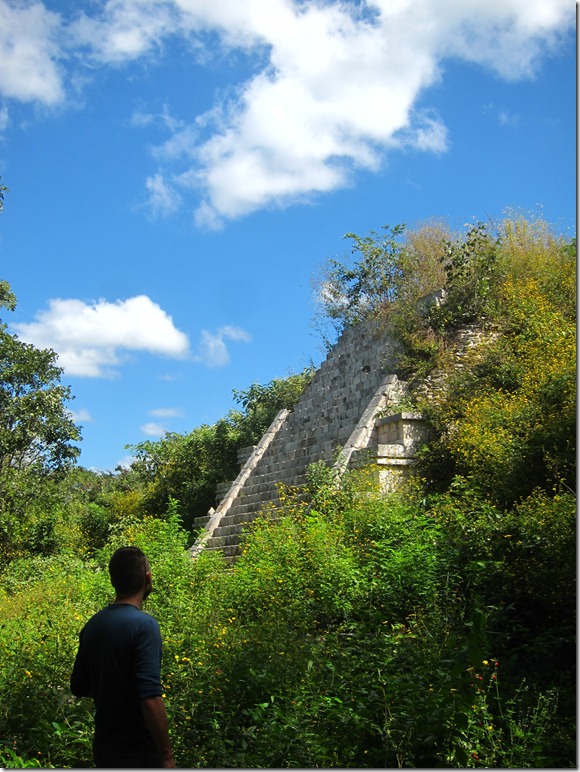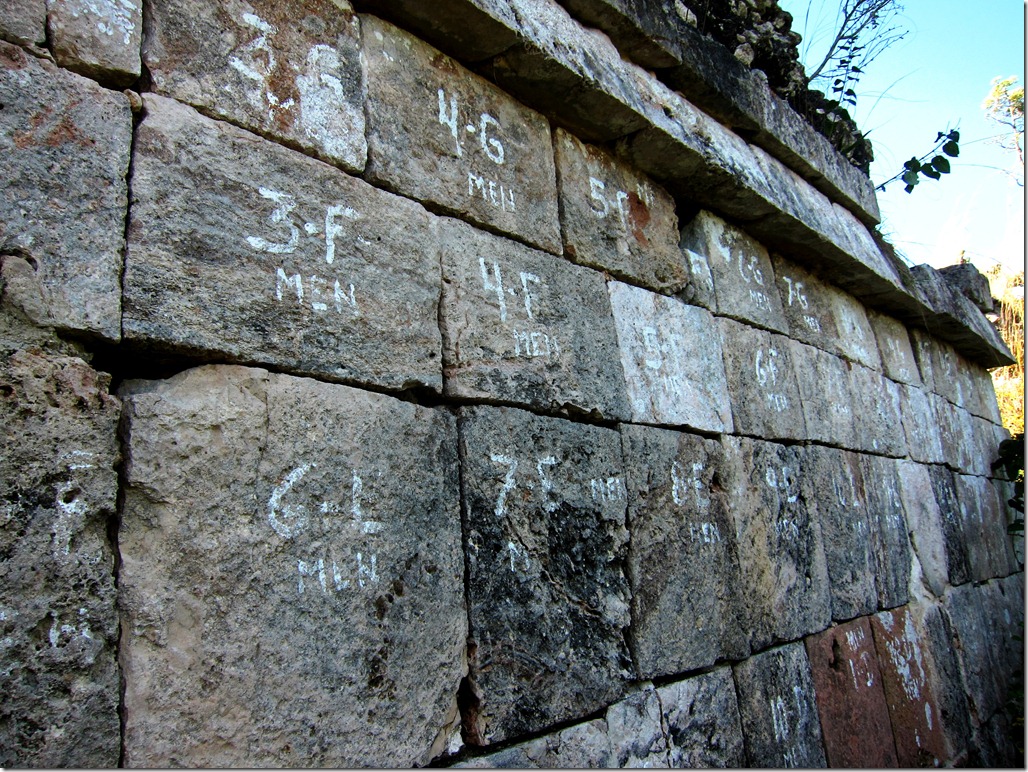 The carvings here were still in great shape and easily recognizable.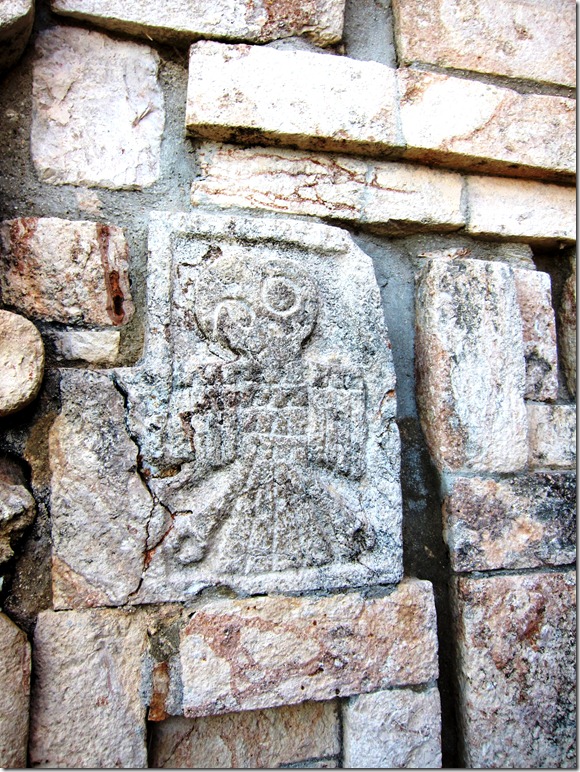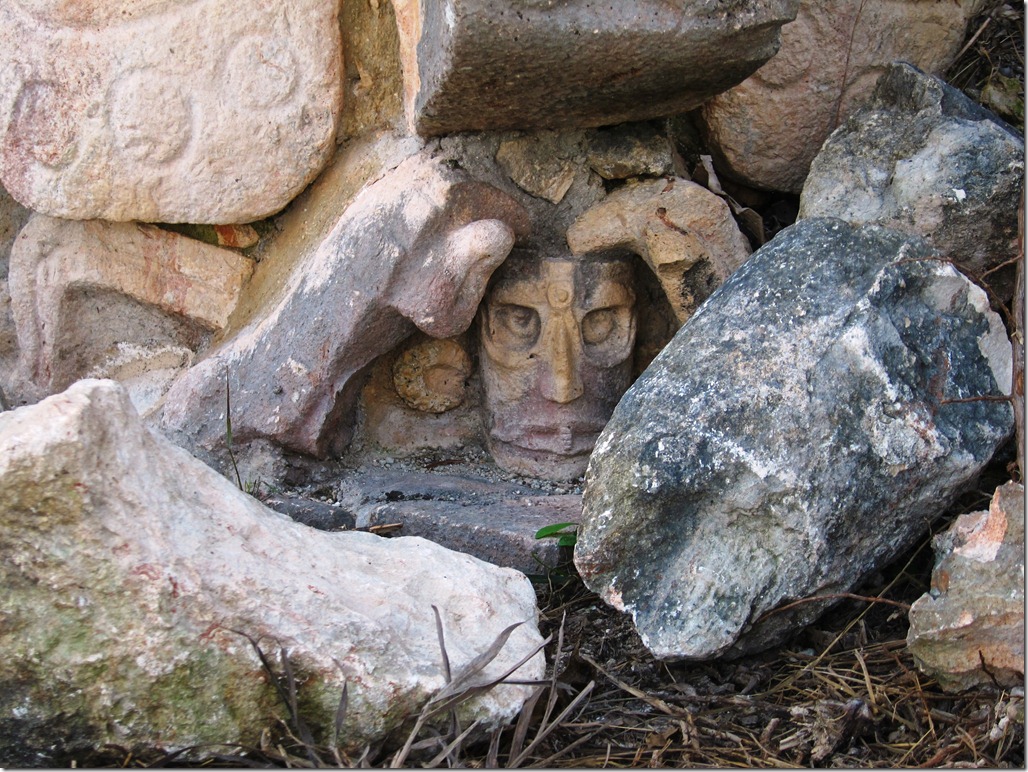 The site is surrounded by dense jungle as far as the eye can see, we were driving around somewhere in that mess the day before.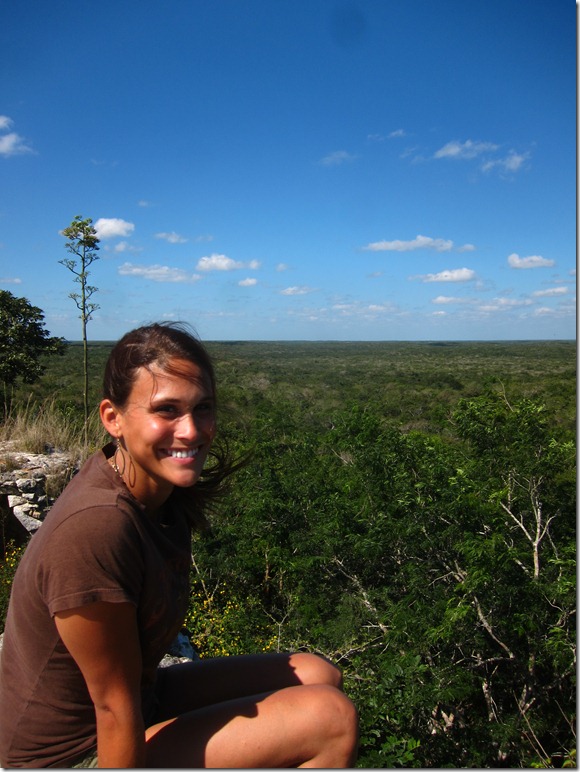 They had a wonderfully intact ancient mayan ball court as well.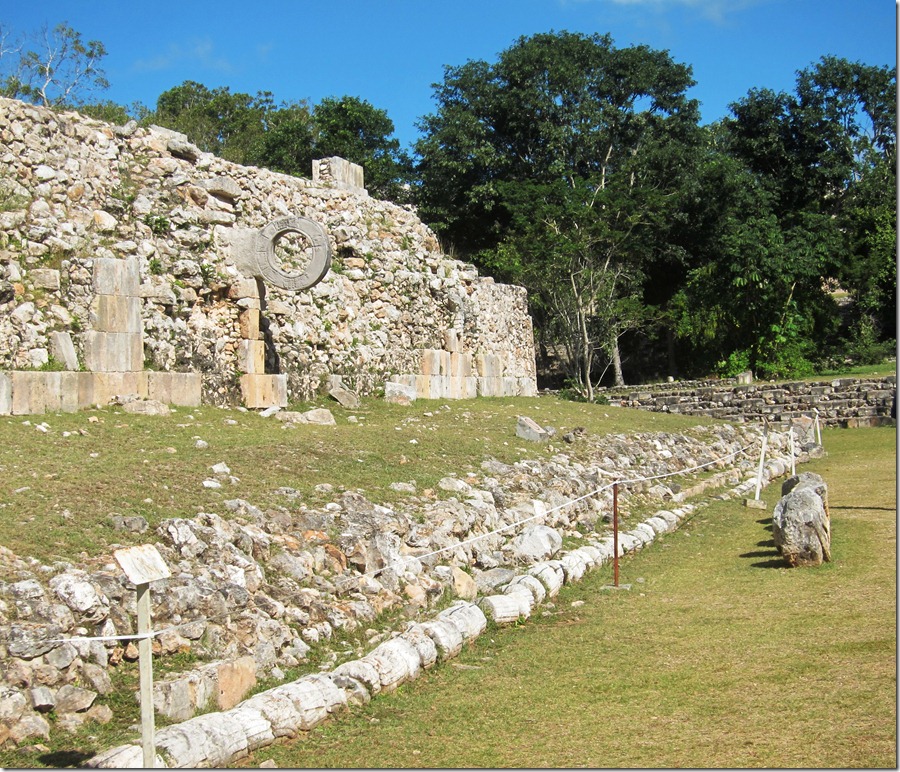 The "goal". I believe the way the game is played is the players are allowed to use any part of there body aside from there hands and feet. The game is over when someone sends the ball through the hoop. Rumor has it that the captain of the losing team is sacrificed. Now that's some team motivation!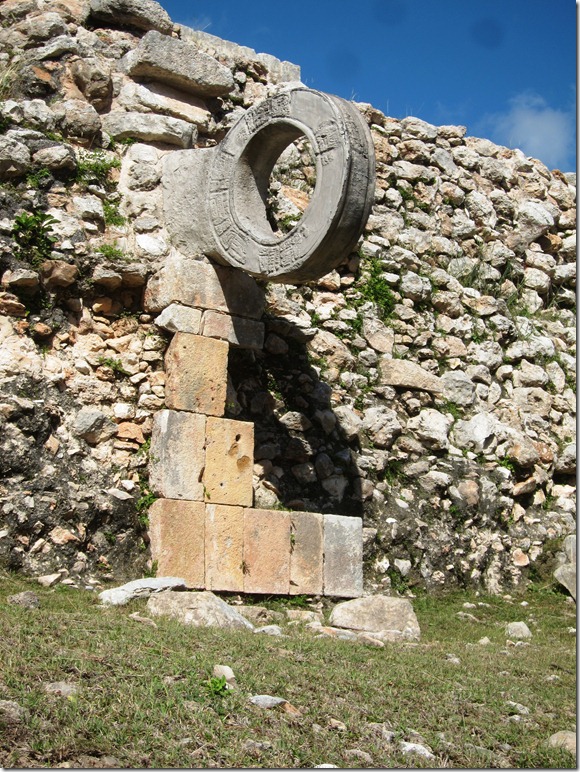 They also had this weird shrine to penises, or is it penii?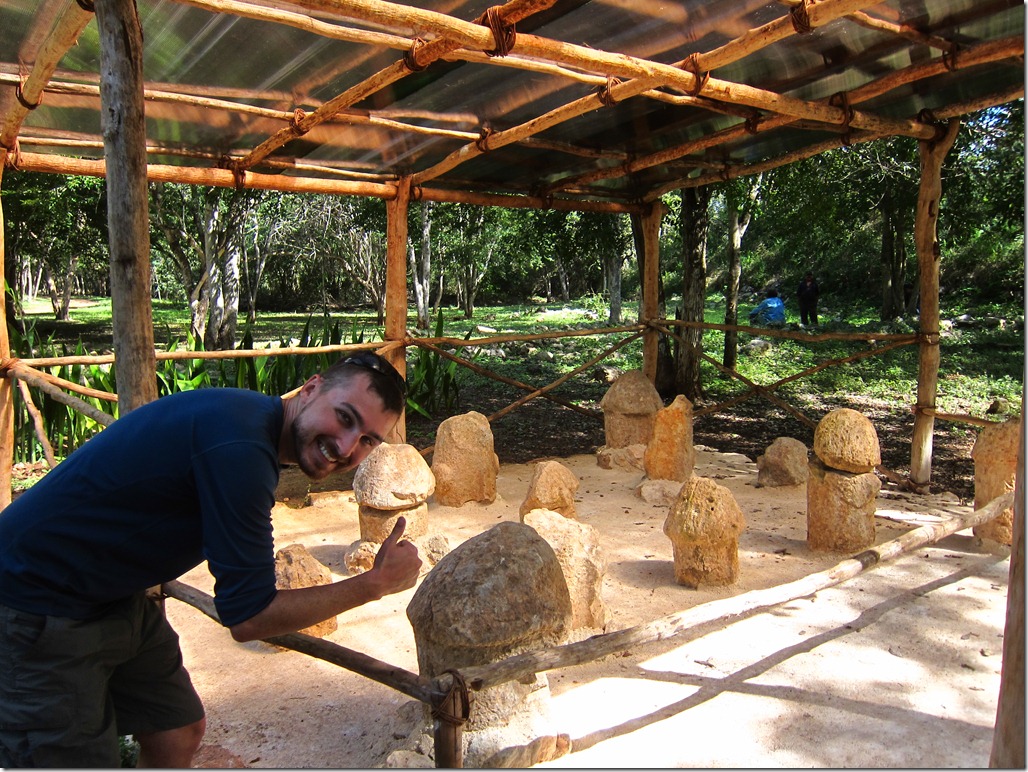 Fractals everywhere, endlessly repeating patterns, the Mayans were definitely spacing out on something…
We spent about 1/2 of the day touring Uxmal then headed down the road towards another site named "Kabah"
Kabah is home to the "Codz Poop"…

Surprisingly enough. to me, Codz Poop is in fact not petrified Mayan doo, but in fact a hugely impressive "Palace of Masks". The entire face of the building is compiled of hundreds of repeating "Chac Mool" (The Rain God) carvings.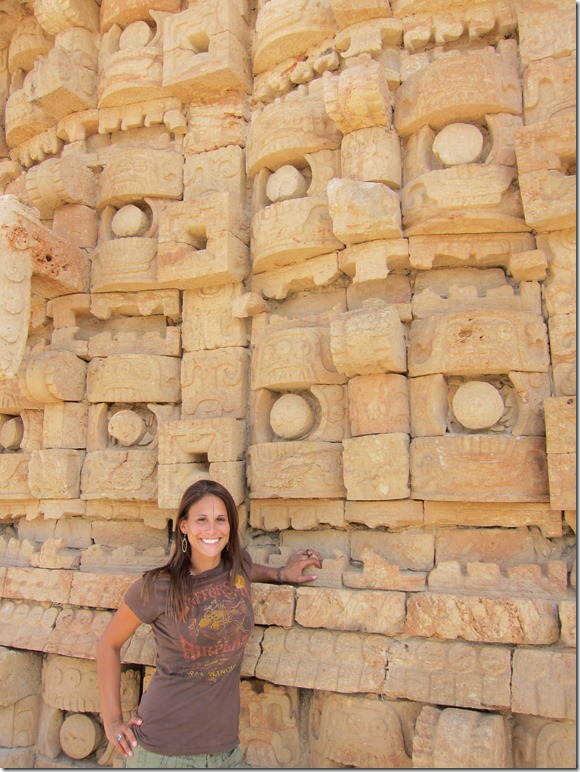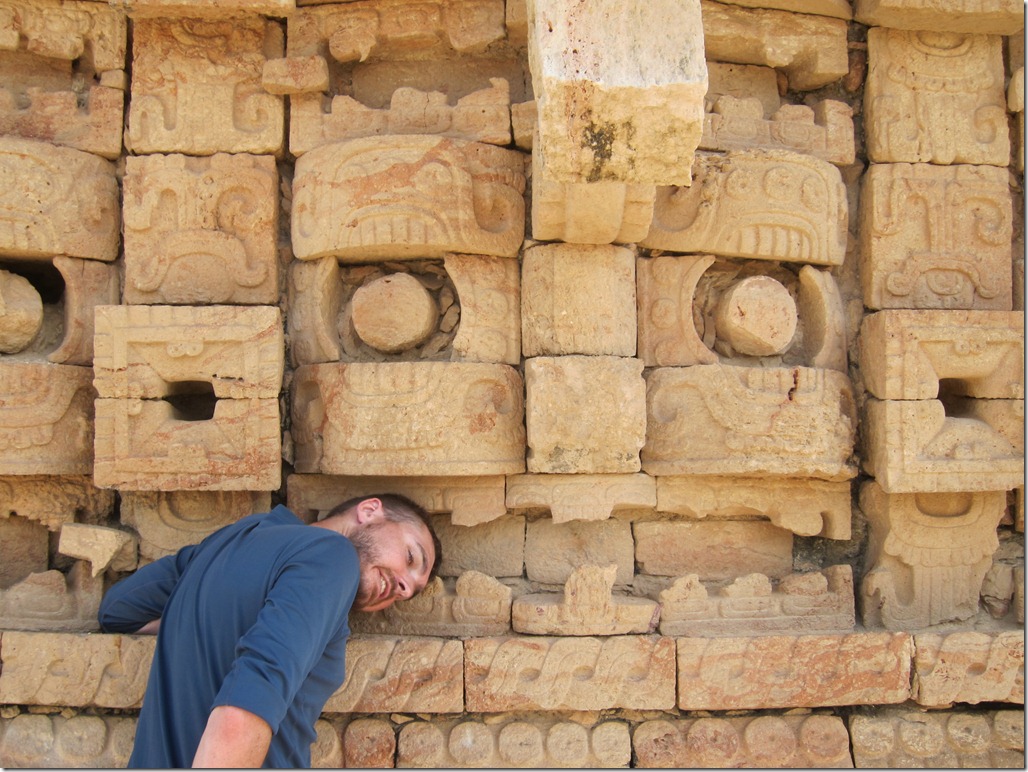 A great example of a full Chac Mool, most of the time the nose has fallen off.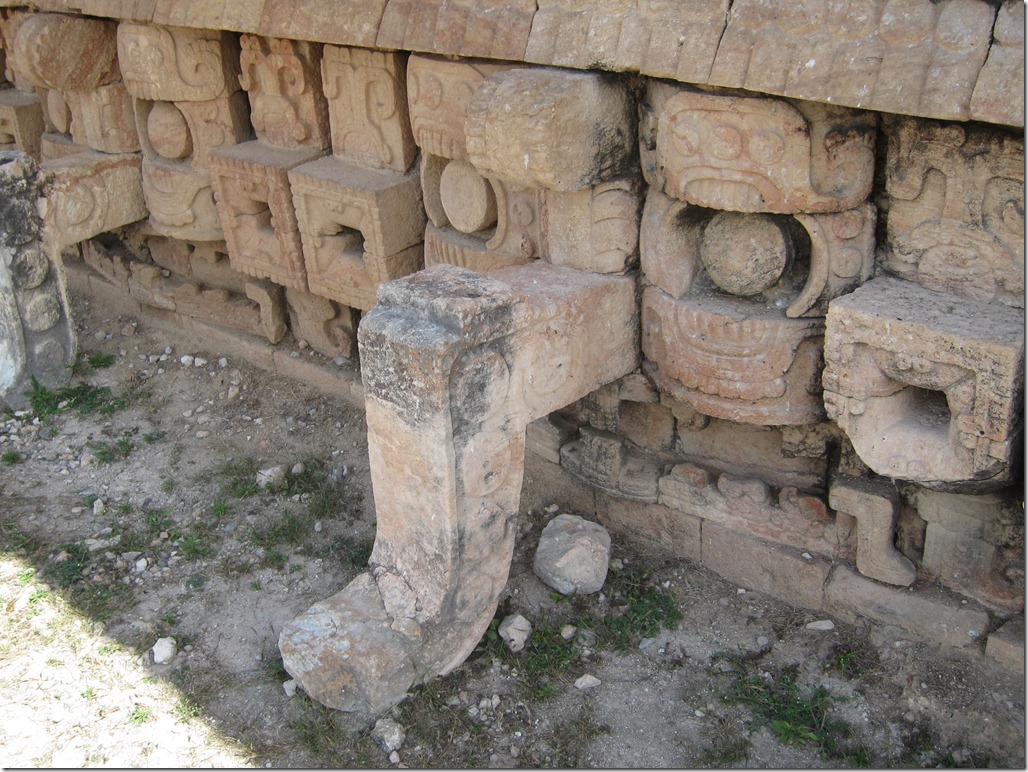 A rare 3D Mayan sculpture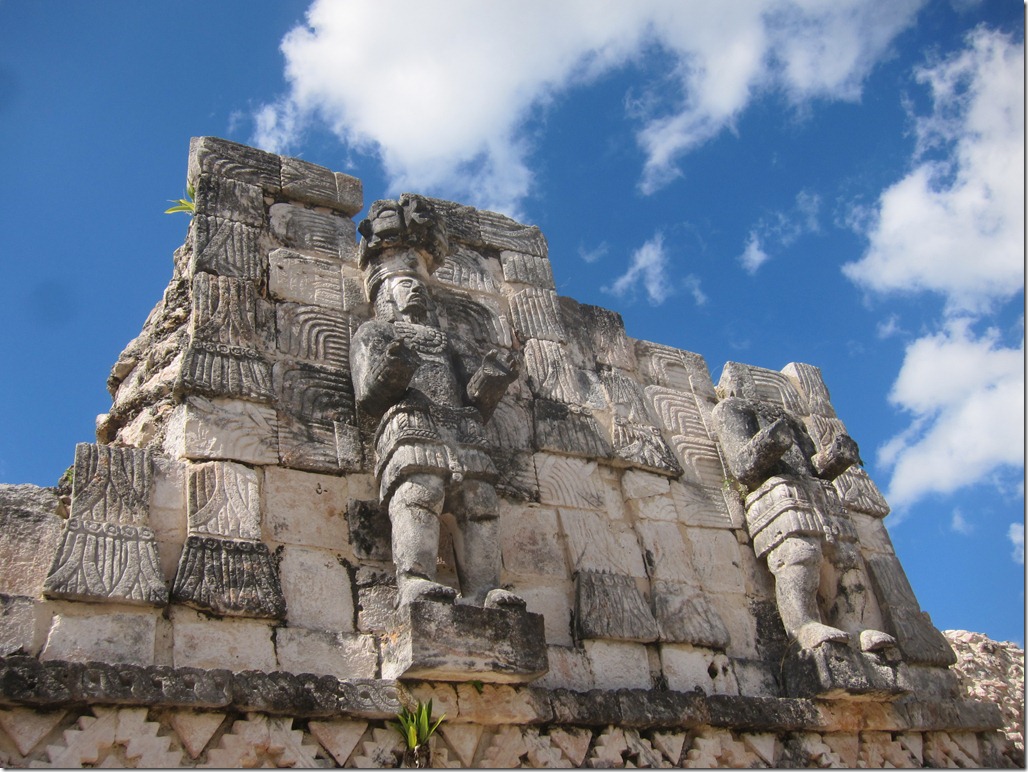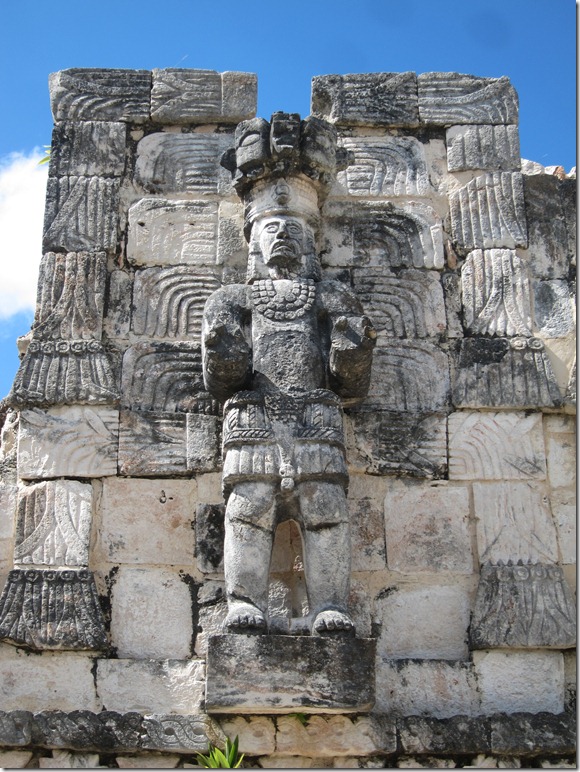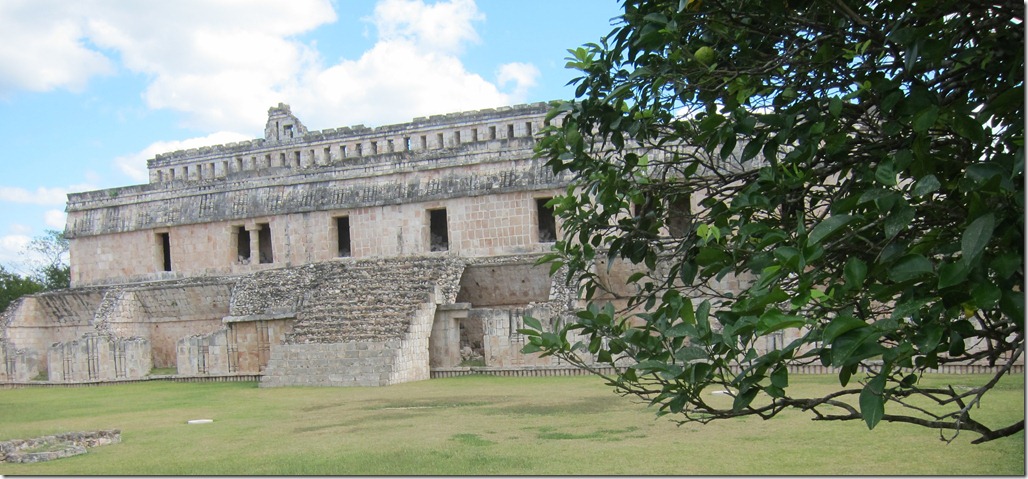 Next morning we packed up and headed towards Cancun to meet my friend Doug. Doug had given me his address and some instructions on how to find his house, unfortunately Google Maps and my GPS don't have his place in their databases. He gave me some good ol fashion "turn left at the sleeping dog, go past 2 taco stands, make your next left…" directions and miraculously we made it to his place. If you have ever navigated any city in Mexico you would be proud of this feat.
Doug, his wife, and his crazy dog Oso warmly accepted us into their home. We had a blast touring around the "real Cancun" and seeing how the locals live.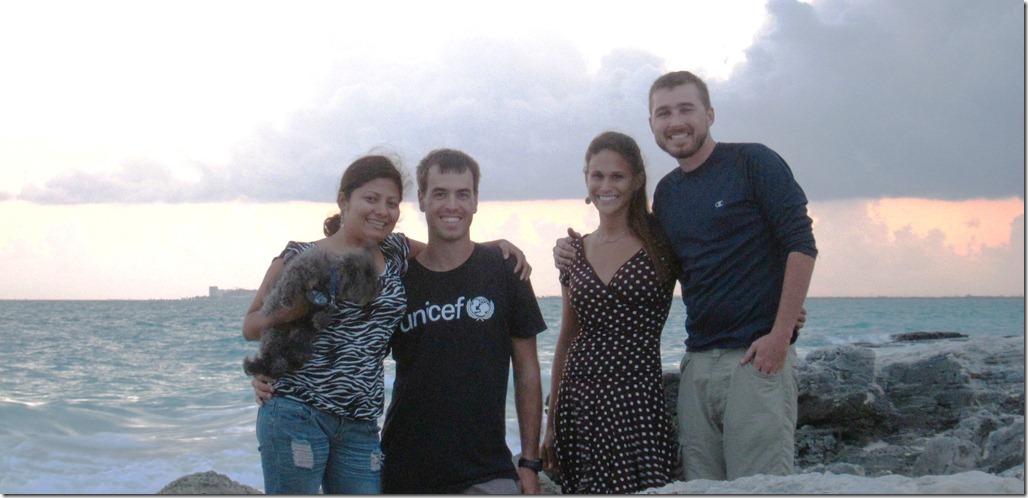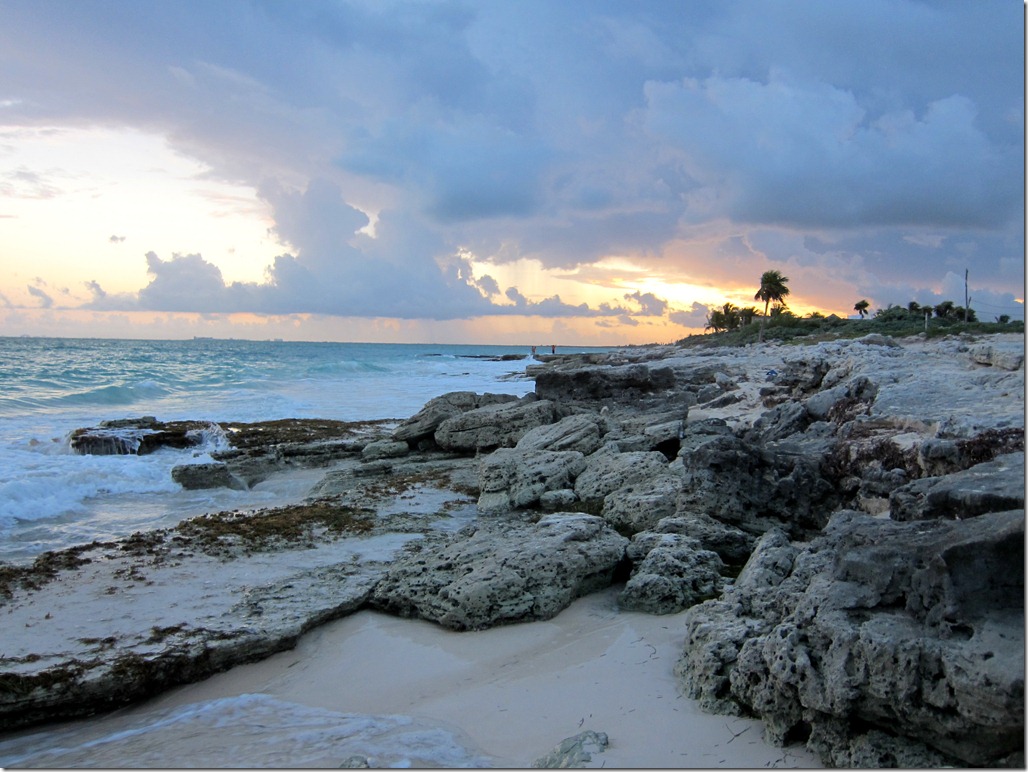 Oso out for a  cruise in the 4Runner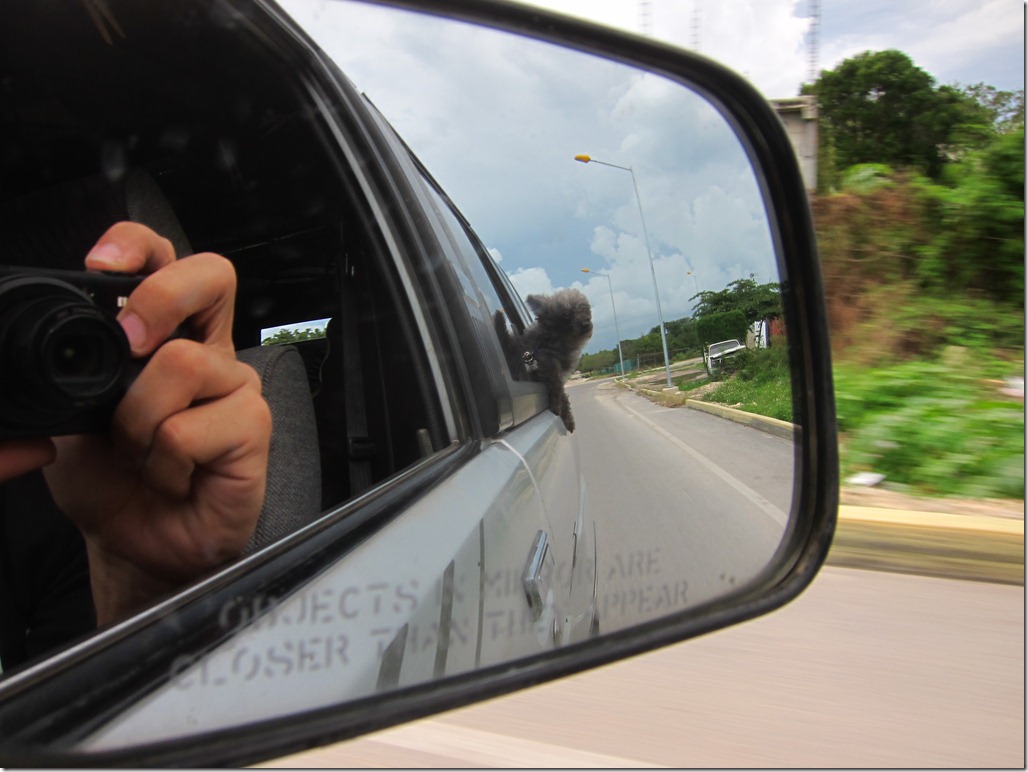 Hanging out with Doug and Mardelis' friends in Isla Mujeres, enjoying some freshly made Caracol (Conch) ceviche.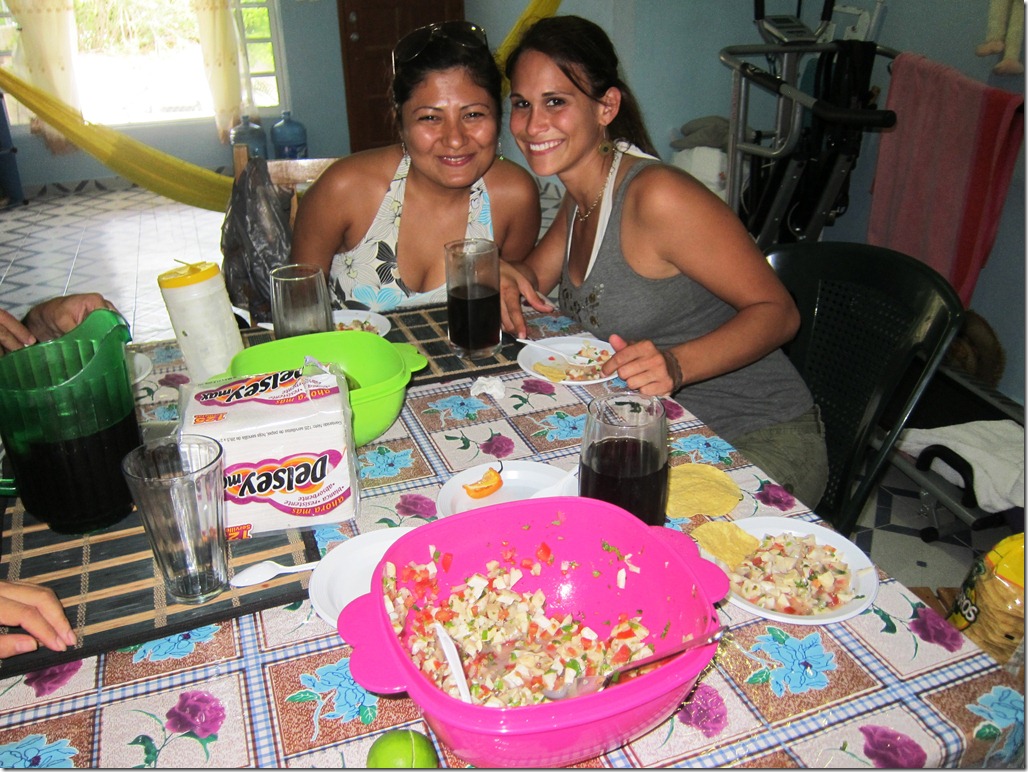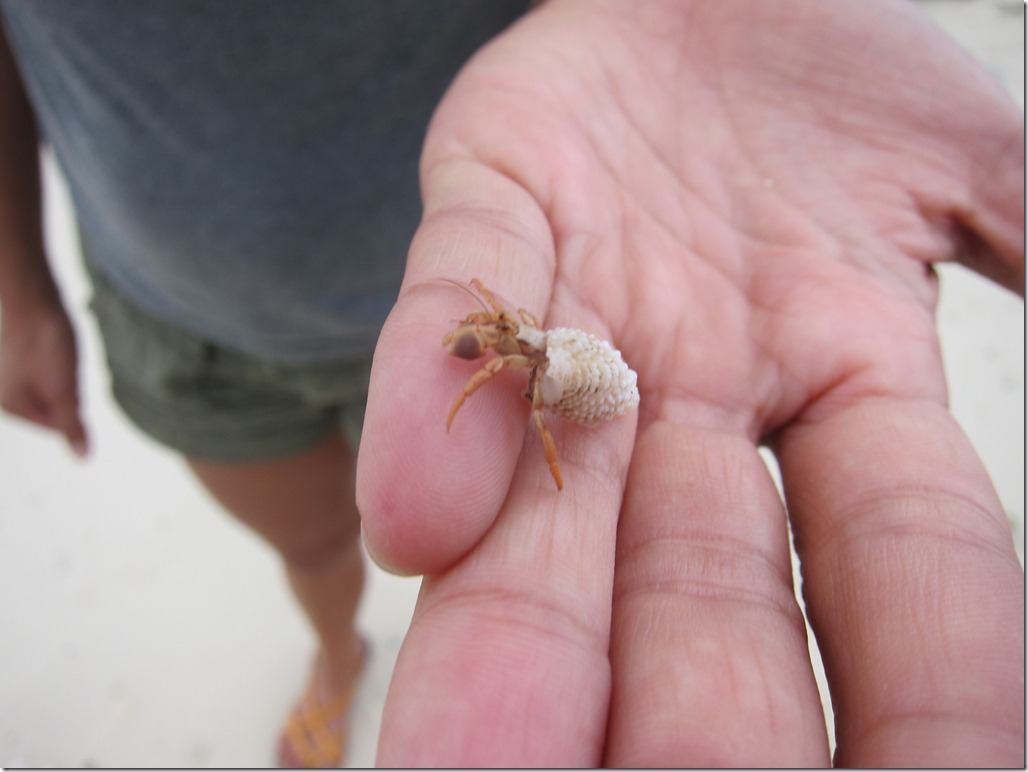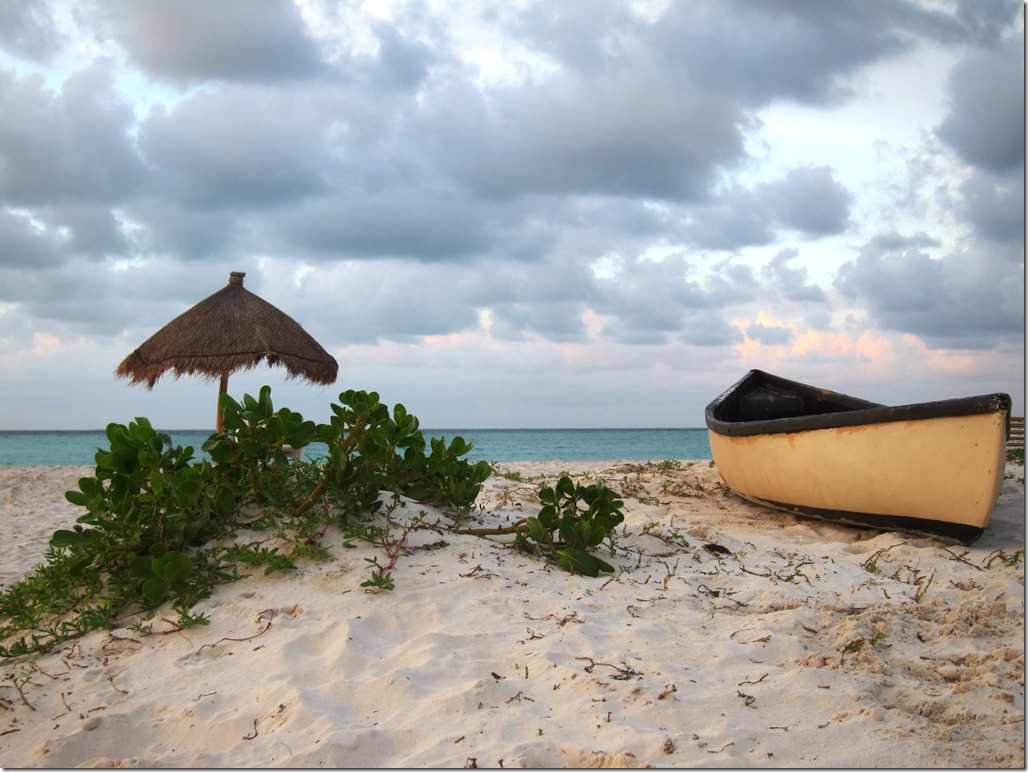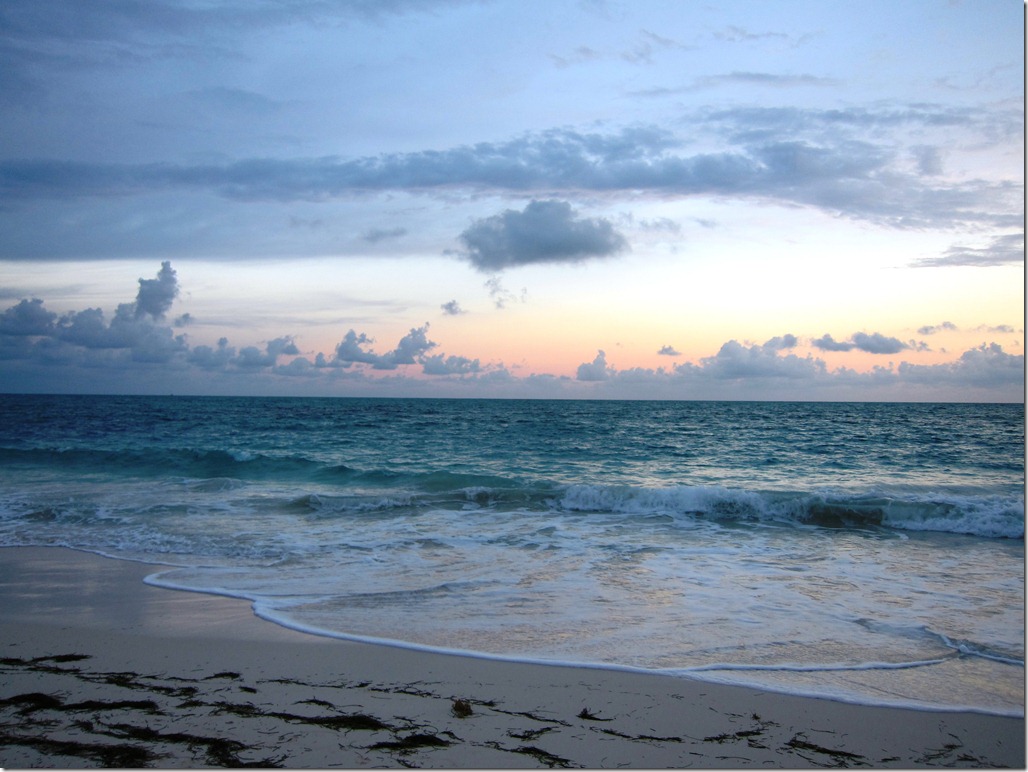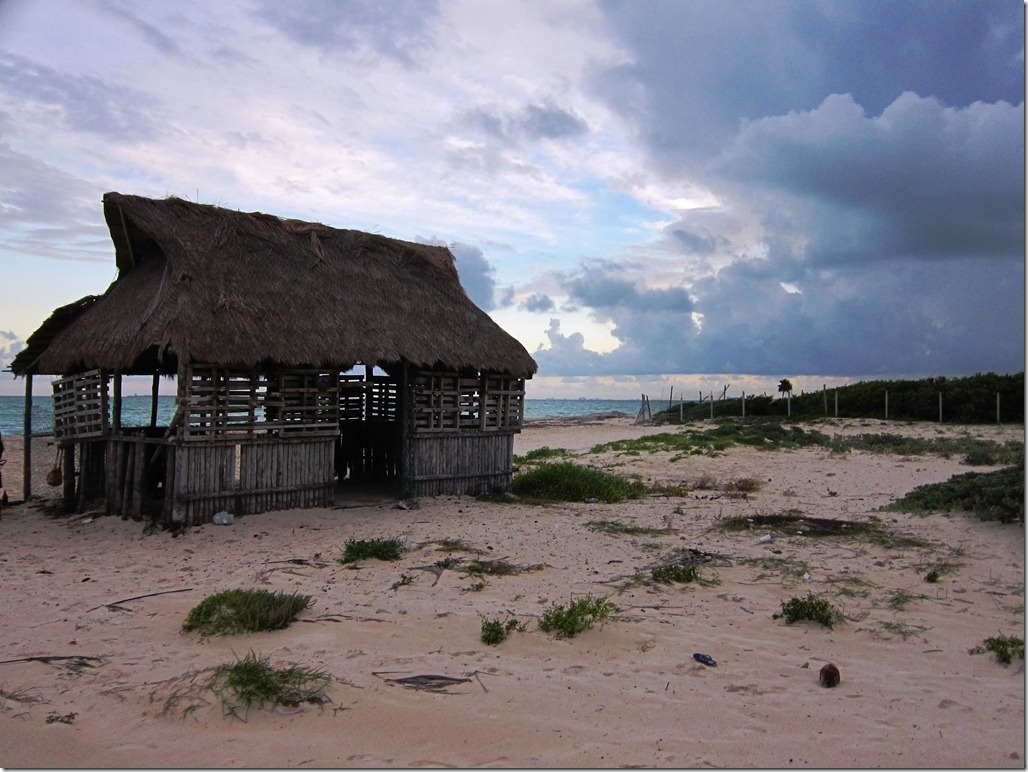 Doug runs a small community center in a Cancun barrio. His organization "Our Hands" provides a much needed respite for the children of the community. His organization helps the local kids with their homework, reading, and math. They also have setup a clean water facility for the neighborhood and hopefully by the end of the year will have a full-blown Reverse Osmosis water purification facility online. We volunteered with him for a few days while in Cancun. Lauren and I were supposed to be helping the kids read and learn math. This was interesting since we can barely speak a lick of Spanish. I think we learned more than the kids did, We kept trying to sneak their flash cards into our backpack. Doug is always looking for more volunteers and supporters so if you are interested head over to his website and send him an email. He is doing truly magnificent things down here.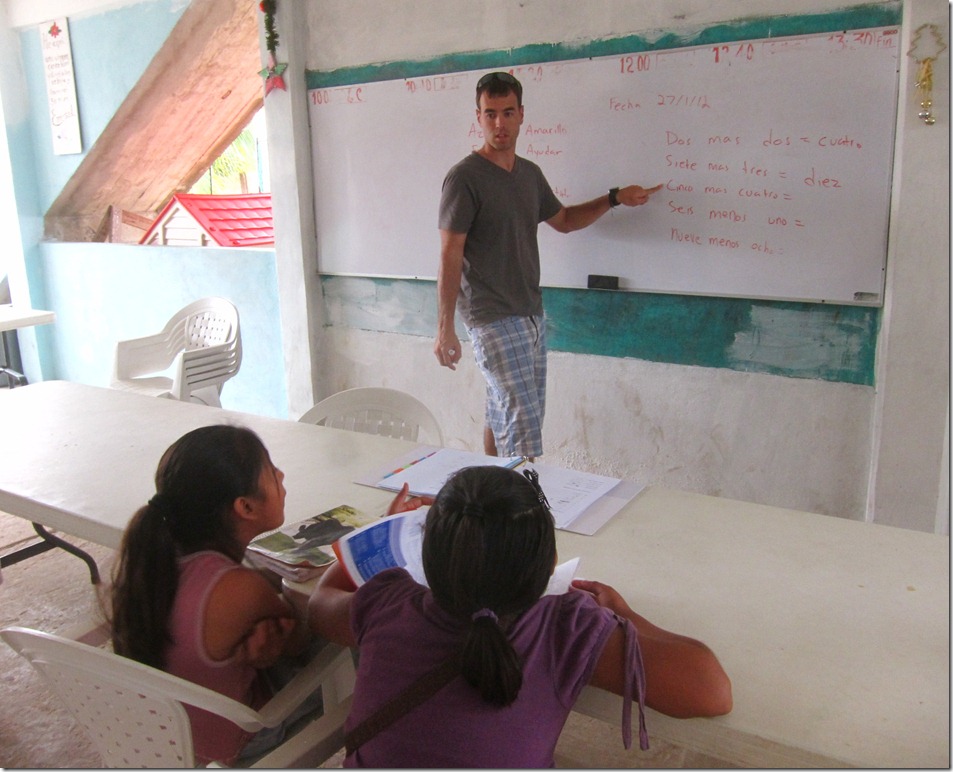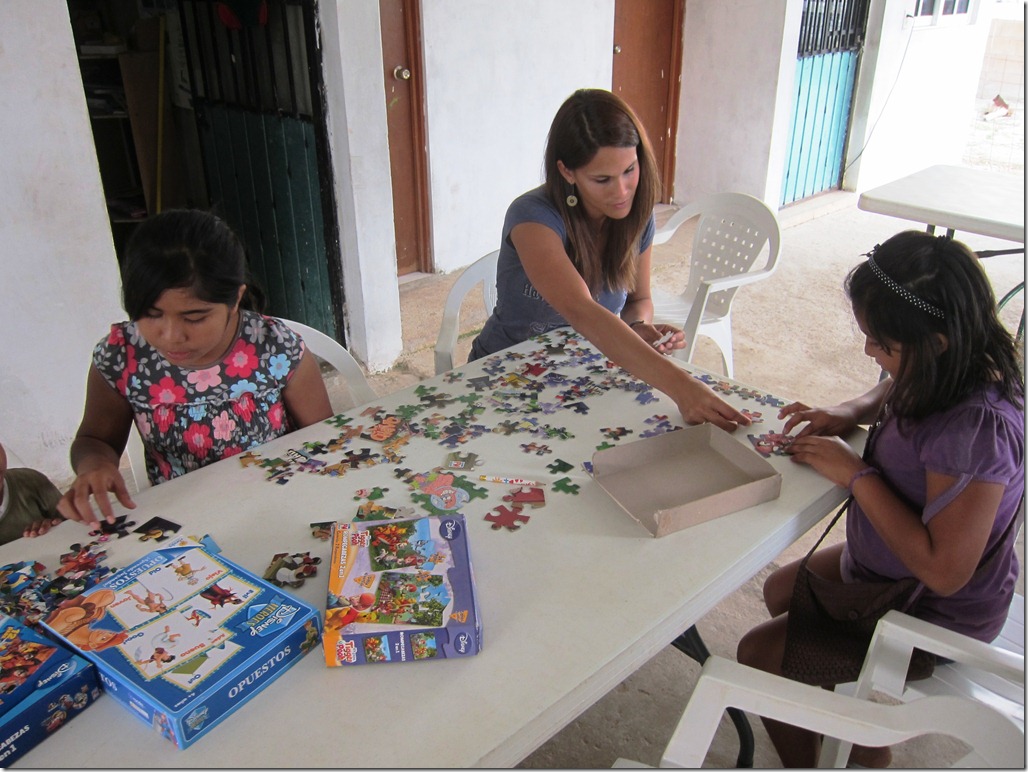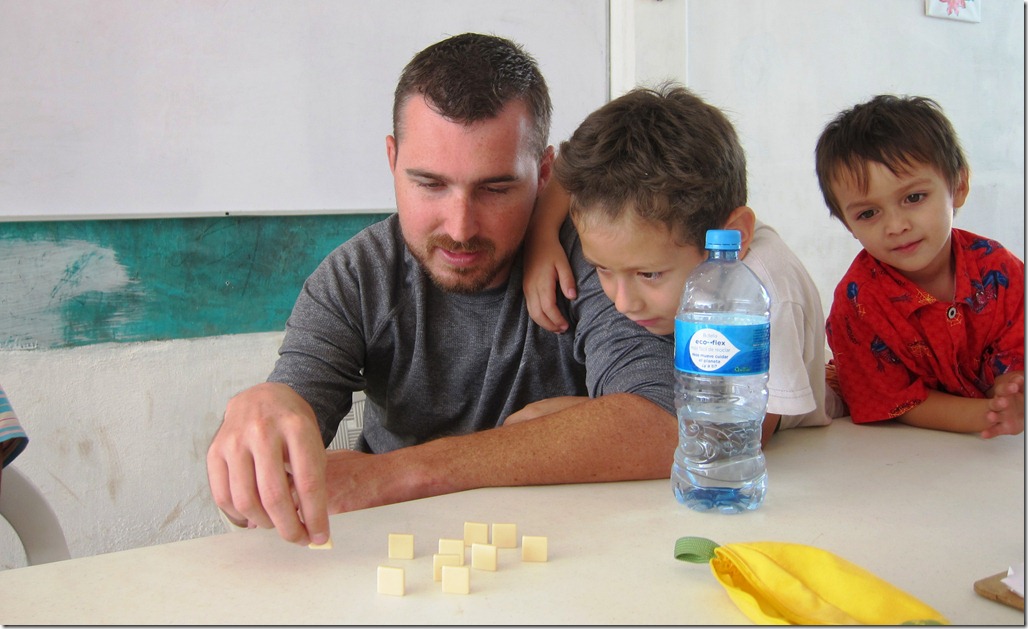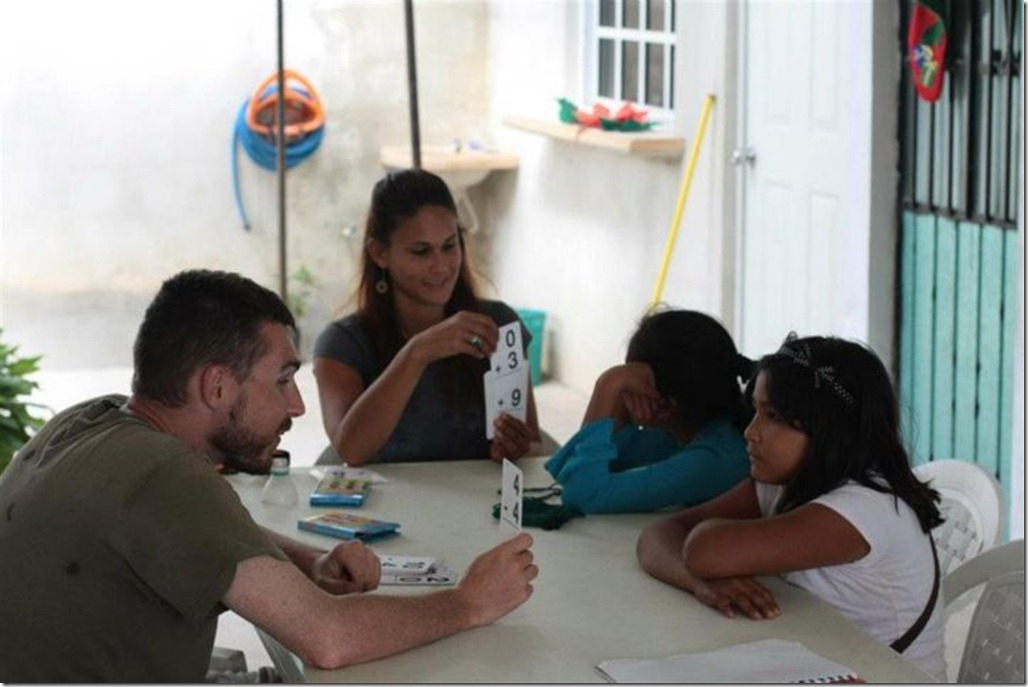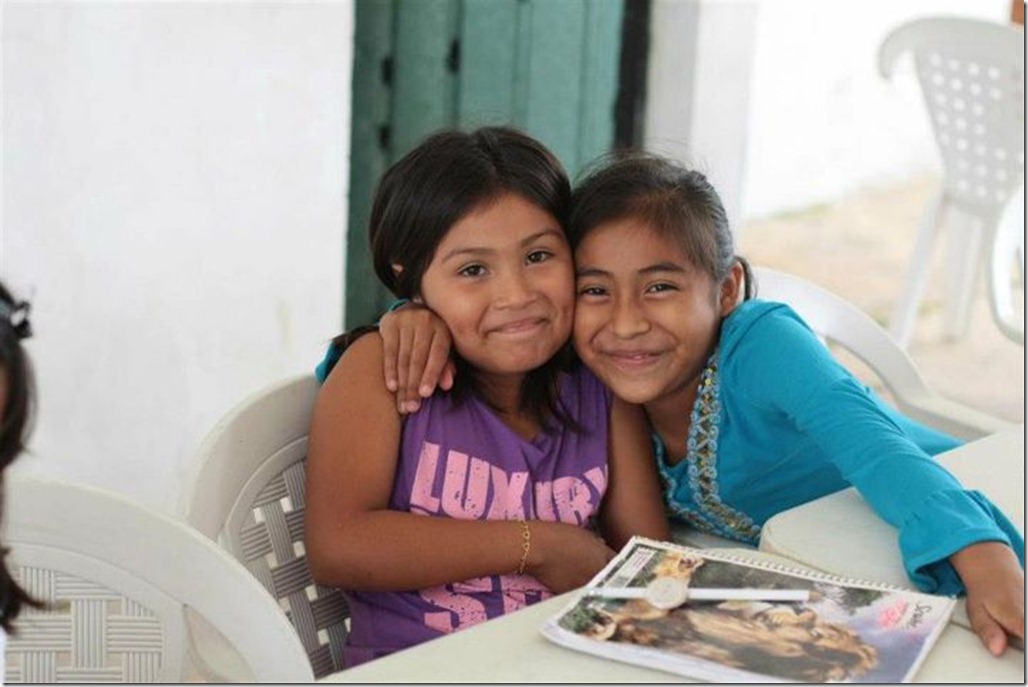 We also hit up a soccer game, Cruz Azul vs Cancun. It was lots of fun, both sides eager for the win. It ended up a tie due to those cheatin bastards from Cruz Azul!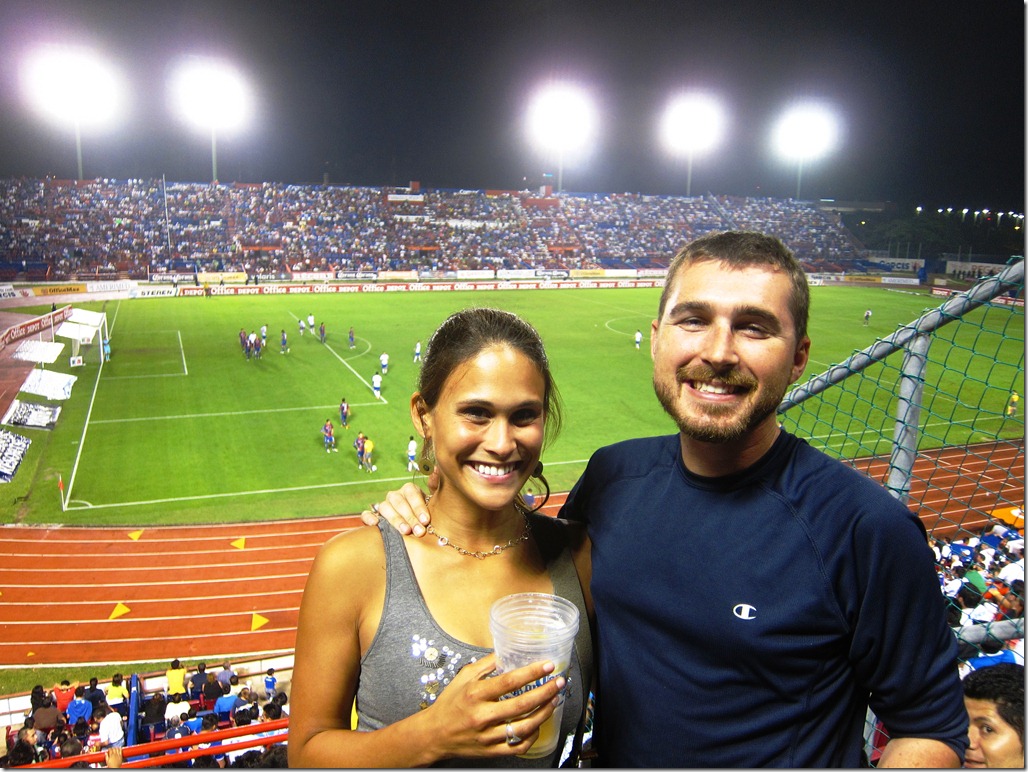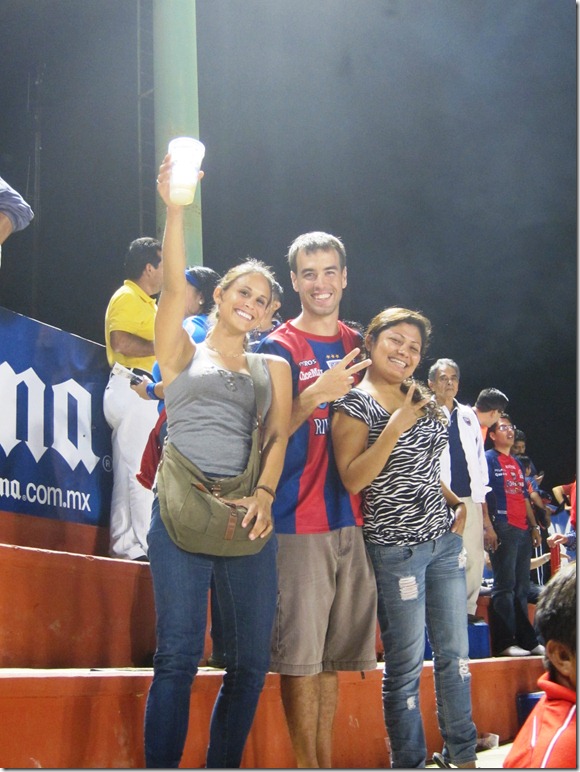 We ended up staying with Doug for about a week, soaking in the culture and enjoying a break from the highway. However after sticking around for a few days we could feel the pull once more. We said our goodbyes and hit the road.
We headed towards Tulum, another famed Mayan ruin. We had heard horror stories of this place being a zoo crammed to the brim with tourists. As we approached the town we saw tons of tour buses milling about, high prices, and not much in the way of camping. We drove past and found a little spot where we could setup for the night. We were lying in the truck watching a movie when we both smelled the unmistakable scent of raw gasoline.
I jump outta the truck and find this…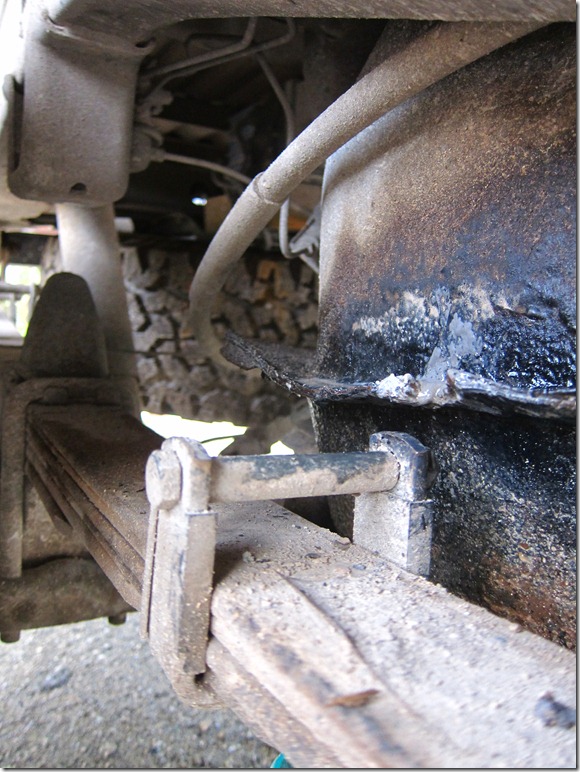 Your looking at a rear leafspring that rammed itself through the edge of our gas tank, we were leaking fuel quickly onto the ground below. I grabbed my trusty JBWeld and attempted to stop the leak, however with the amount of fuel that was leaking out the JBWeld wouldn't set and the leak continued. I put a jug underneath the truck, setup the fan to vent the truck interior and passed out wondering how I was going to fix this problem.
Woke up in the morning to the 7 gallon jug overflowing, leaking gas all over the place. We pushed the truck about 30ft away from the gasoline pool and started it up. No explosions, whew! We figured we would have to drain the tank down to the 1/2 way point at which point it would stop leaking and I could JBWeld the hole. With not many options we decided to head to Tulum and scope it out.
It actually turned out to be a beautiful site, right on the Caribbean. It was easy to see why the Mayans built a city here.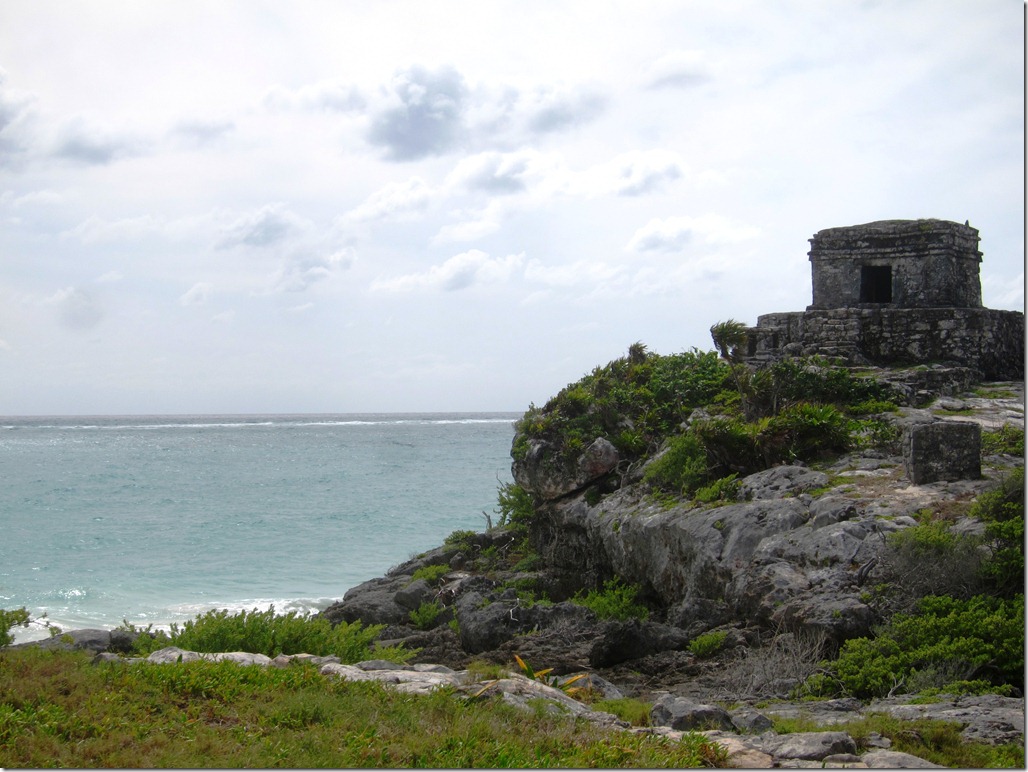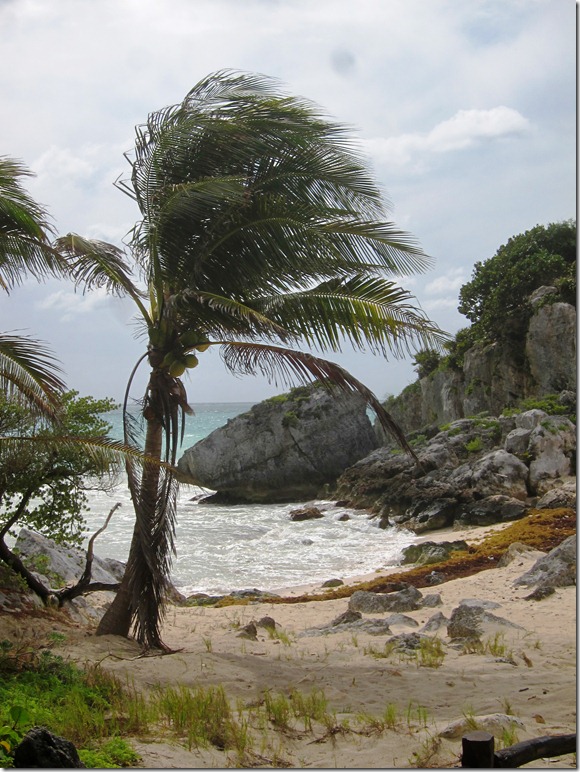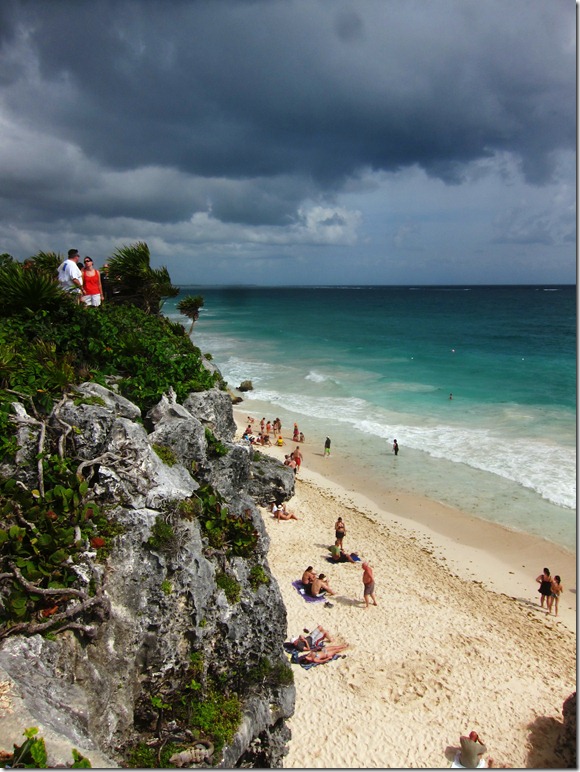 We rushed through the place due to the amount of people, here's a quick snap of the herds..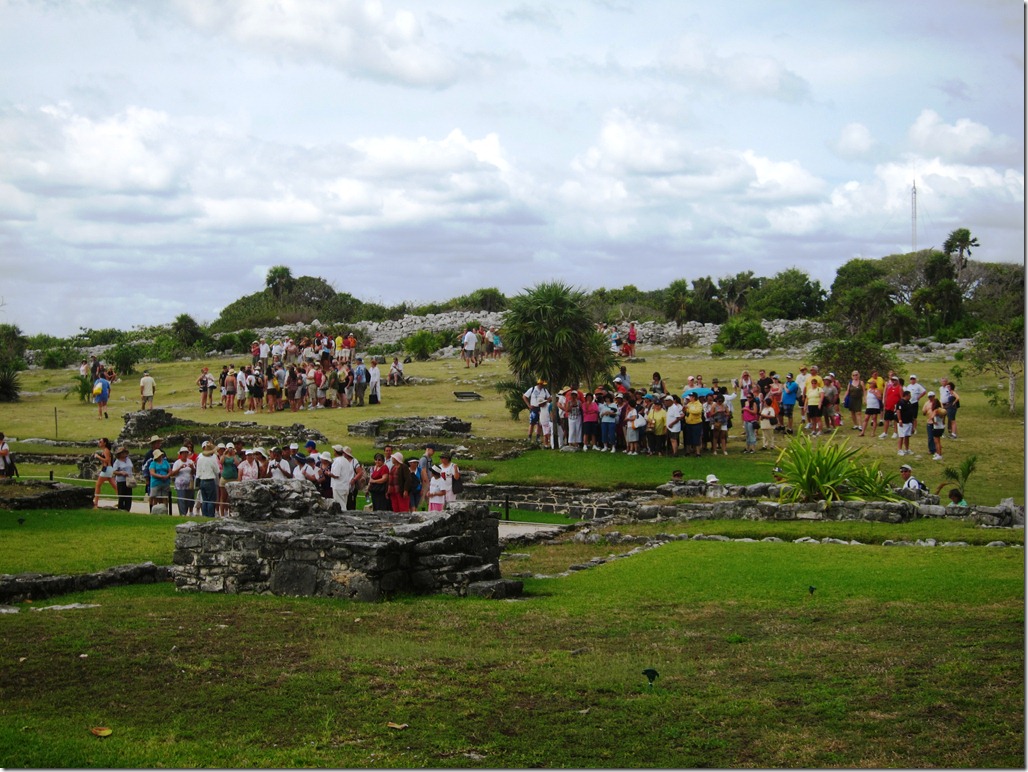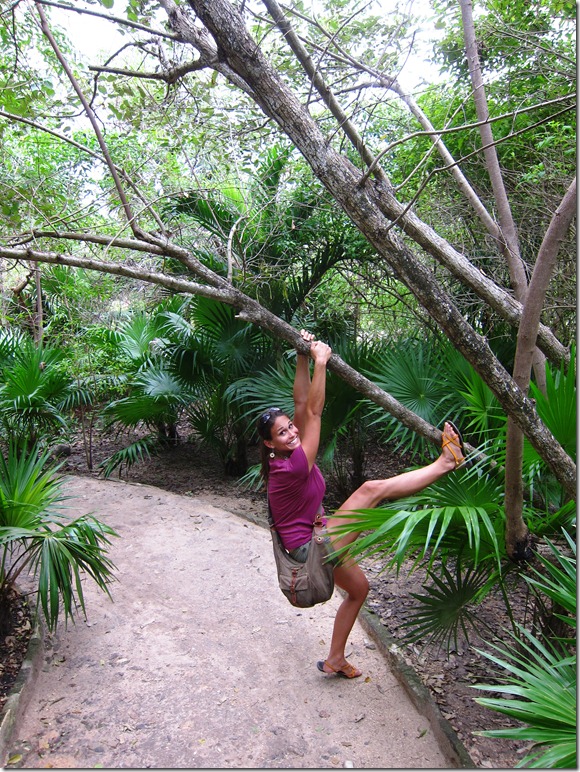 Got back to the car, still leaking gas… We were almost to the Mexico/Belize border at this point. We had planned to cross that day but it was growing late. We drove to a small town by the name of Bacalar. Mexico. We headed to Bacalar Lagoon looking for a camp spot. After cruising around the lagoon for 20 minutes or so with no luck finding a campsite we spot some Landcruisers with Rooftop Tents posted up in someone's lawn. Hmmm… These could be our kinda people. We circled back and drove inside, a nice lady told us the price and we pulled up next to some badass overlanding rigs and said howdy.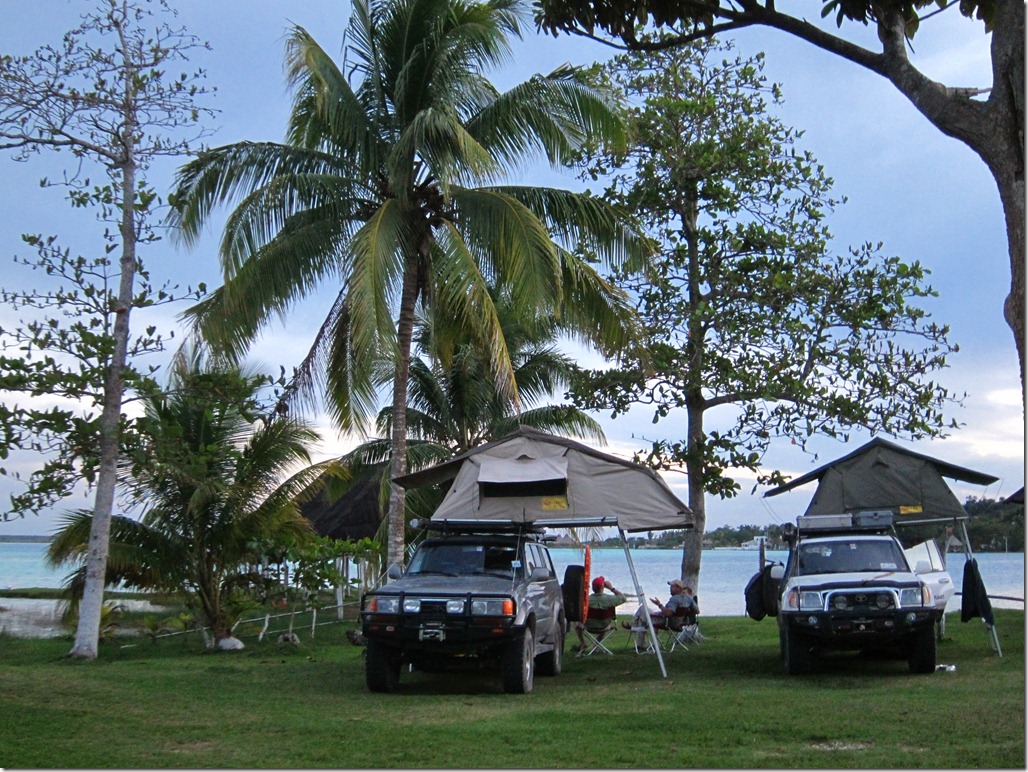 Turns out these were no ordinary overlanding rigs, these guys were "Team Equipt". They are actually an overlanding retailer. They sell all kinds of amazing gear for people who love to do exactly what we are doing. Best of all they really get out there and test the stuff to separate the wheat from the chaff. They were just returning from a 2 month romp through the rugged offroad backroads of Honduras, El Salvador, Guatemala, and Belize.
We setup camp next door. We spent most of the night drinking beers, oggling their gear, and swapping road stories. Really great guys, it was a pleasure to meet them.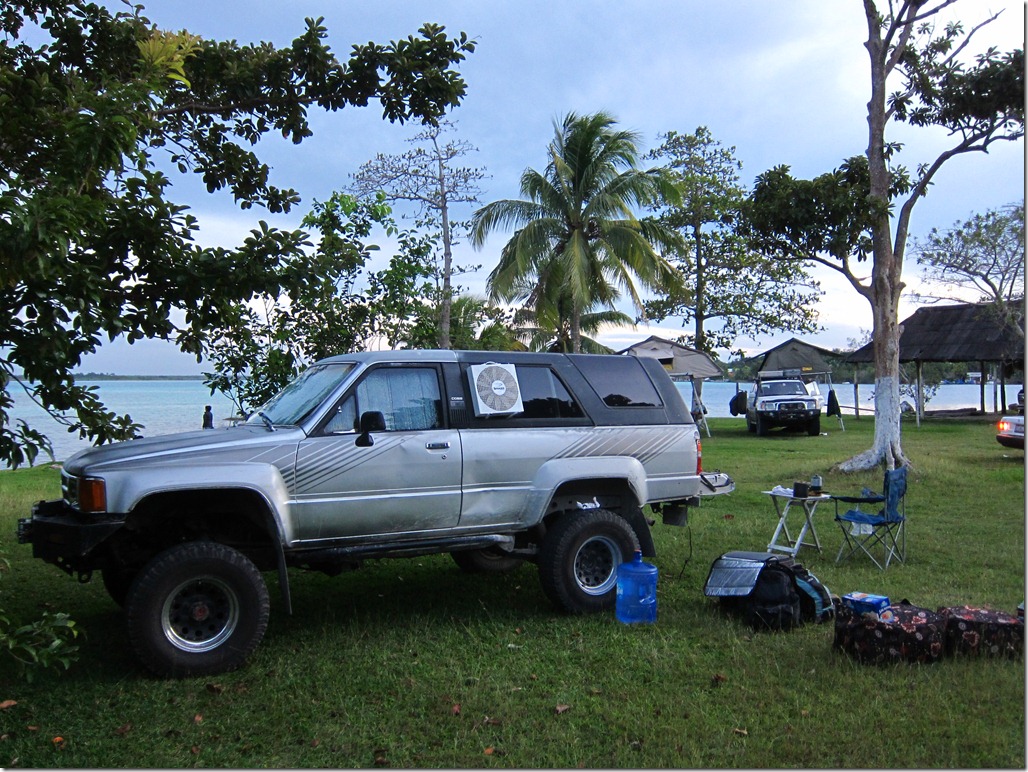 I woke up early and found a gaggle of puppies roaming around the main house… brought Lauren one for her to play with.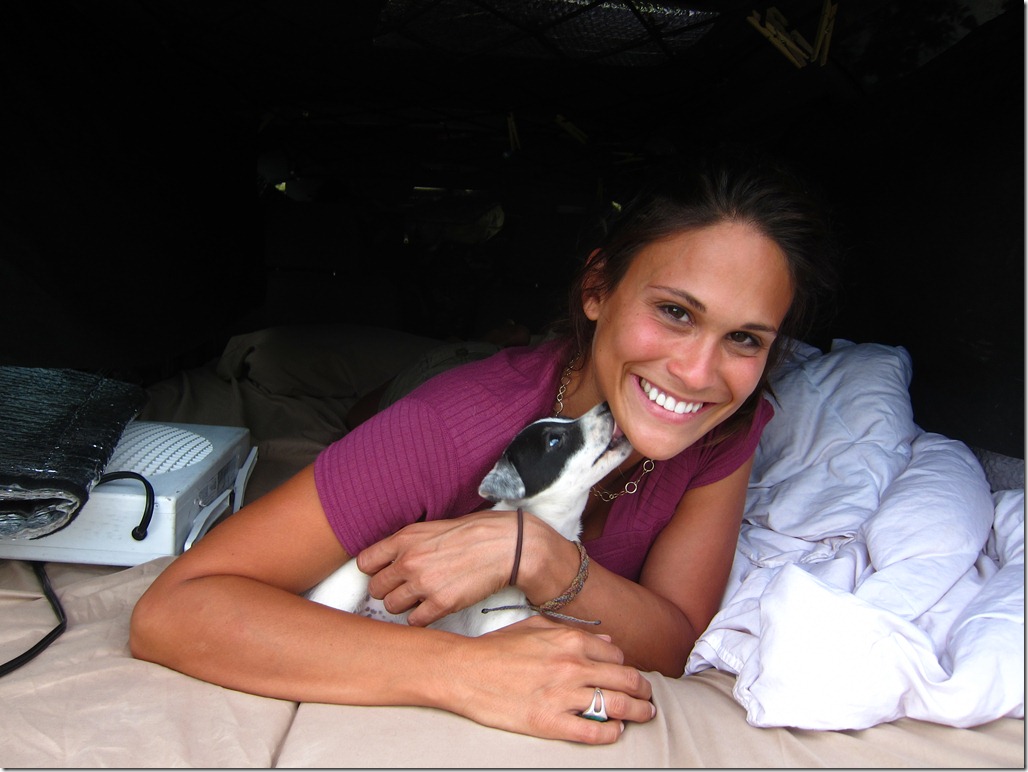 Also took a dip in the crystal clear, azure lagoon.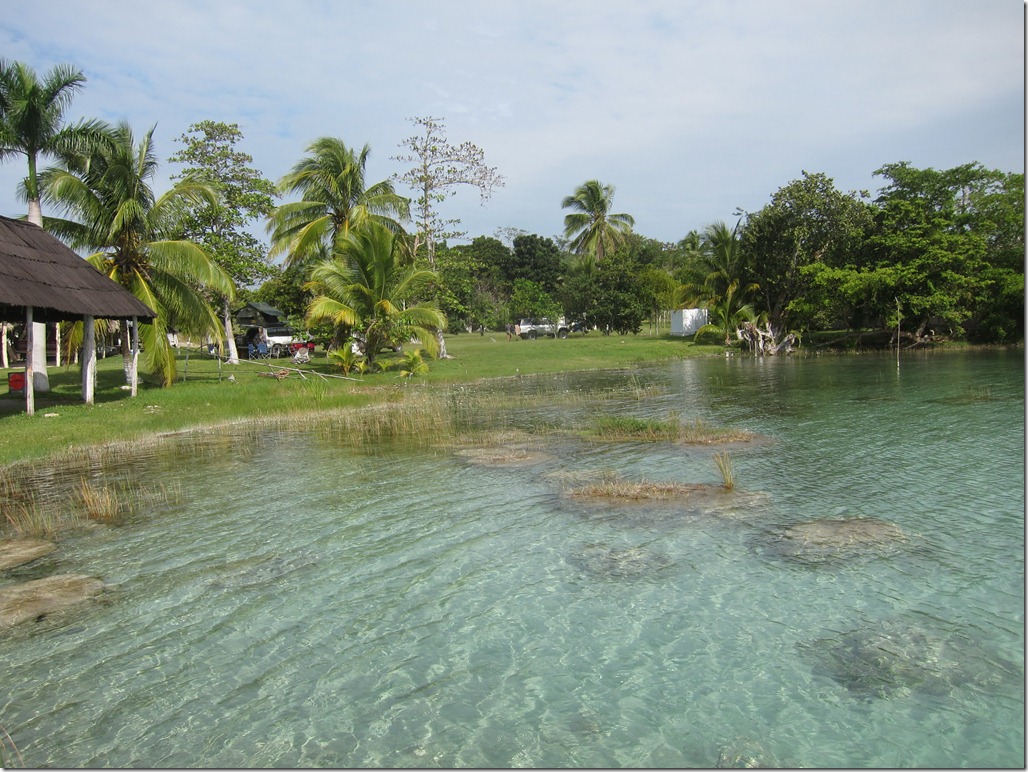 Fixed the tank up with JBWeld, seemed like it was holding fine so we packed up our truck and waved goodbye to "Team Equipt". Destination: Belize