We had seen the movie "The Mosquito Coast" with Harrison Ford a few years ago that described this very remote undeveloped area of the northern Honduran coastline. We forgot all about it until we saw the name again in our Honduras guidebook. The Moskito Coastis described as the least developed area in all of Central America. With minimal roads, no services, and no tourist infrastructure. It sounded right up our alley.
We heard about a 4×4 trail that hugs the coastline out to a small Miskito village named "Pueblo Nuevo".  They said it was rough going, lots of beach/sand driving, river crossings, and no support out their if something was to go wrong. SOLD!
Winding through the hills towards the coastline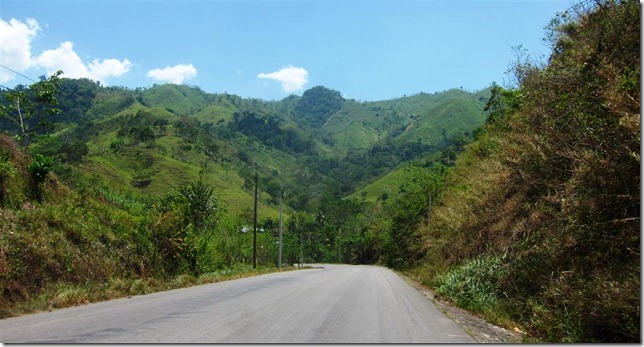 The paved road gave way to dirt path on the way to the coast.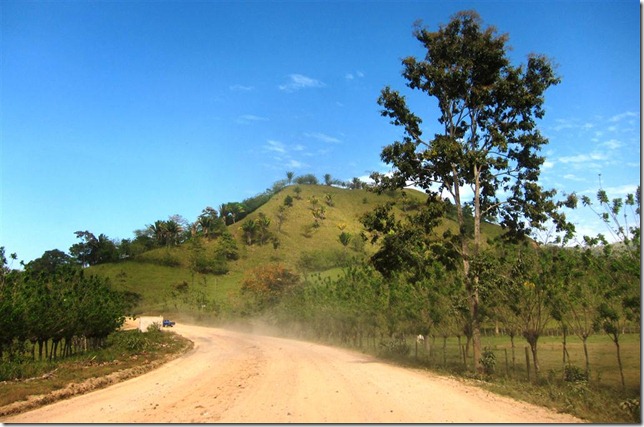 Loads of Coconut/Date palms, Banana trees, all kinds of fruit trees. Dole/United Fruit Company/Chiquita Banana have had Honduras on lock for 50+ years. You can find various sides of the story, some people say they have exploited the people/land for profit, others say they took a malaria-infested swamp and turned it into livable habitat and provide a decent life for the people. Either way, They are here to stay. We passed mile after mile after mile of fruit trees. And thousands of people selling bushels of fresh off the tree (still green) bananas everywhere. You could buy a huge bushel of bananas (like 50 bananas) for $1.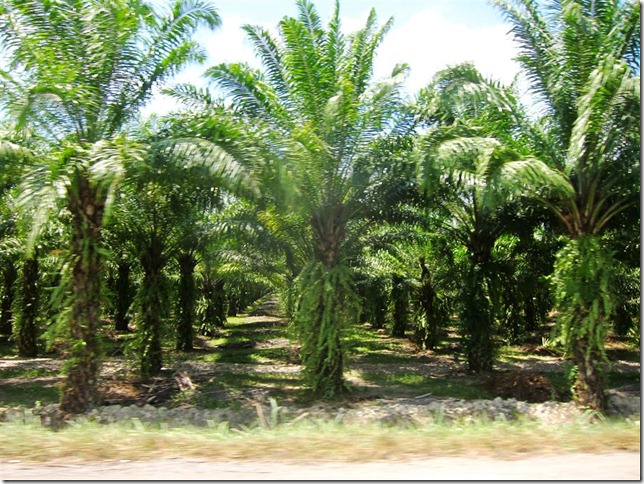 Dirt roads through mile after mile of plantation.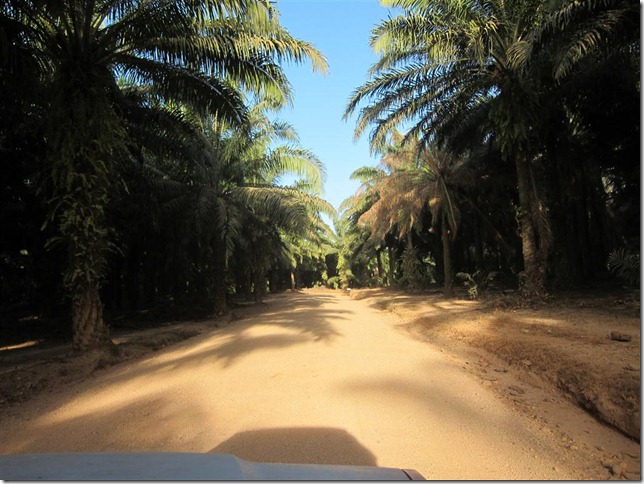 Somewhere along the way on these horrible rutted roads, I go to push the brake pedal down and it hits the floor… Slowing to a stop, I jump out and find the front driver side brakeline pissing brake fluid and my front caliper bolt missing.
The caliper bolt had somehow rattled its way out allowing the caliper to rock back and forth eventually causing the brakeline to snap. 40 miles out into the bush with no brakes… We had the option to turn around and head back to civilization (Knowing that it was Semana Santa week and most shops would be closed) or just keep mashing it out towards the Miskito Coast using just the transmission and E-Brake to stop. What do you think we chose?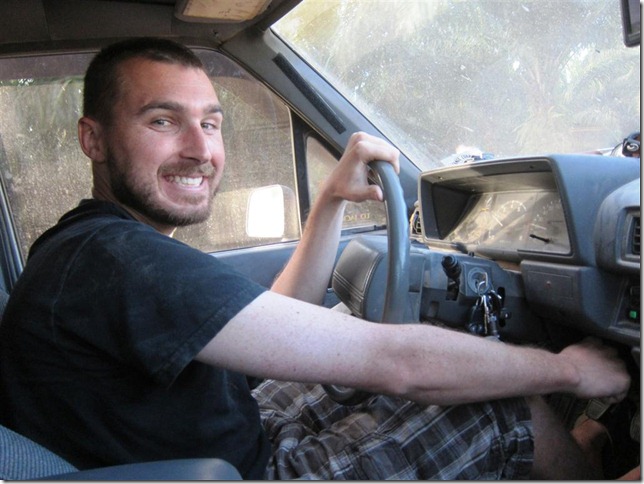 Getting further and further from civilization we encounter lots of small Garifun/Miskito villages. Most people live in simple thatched roof mud huts out here. Very basic but they all seemed happy and smiled at us when we waved.
Couldn't find any place to camp so we rolled into a small village and ask around for place to stay. We find Don Tinos hospedaje (small hotel) for $5 a night. We met Tino himself who was a nice guy and it was getting dark, so we say OK.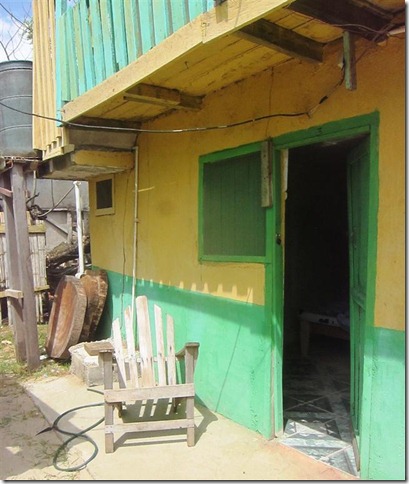 Decent digs outside, old fishing net hammocks and picnic table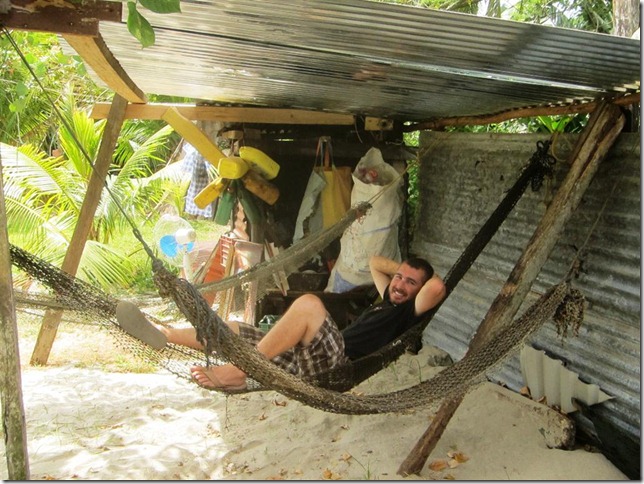 Things are a little rougher inside. Raggedy bed with roach guide on the wall. The roach guide did come in handy that night as we played "GUESS THAT BUG!" (TV syndication rights in progress, back off FOX!)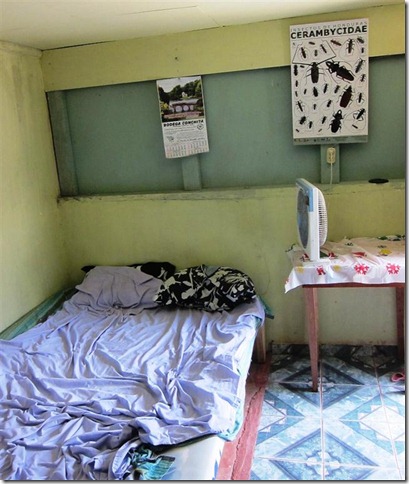 Bet you wont be complaining the next time you have to stay a "Motel 6"…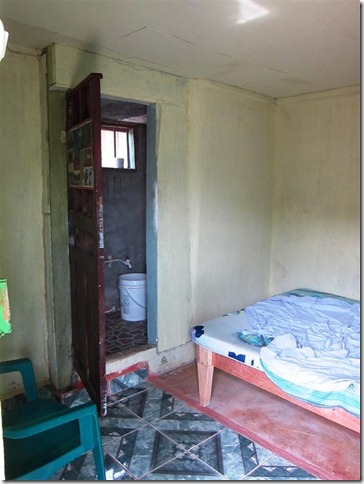 Sweet squat toilet w/ bucket flush system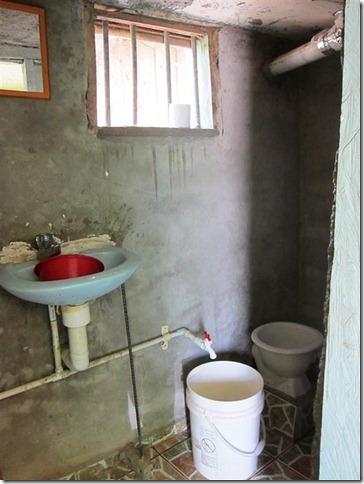 Oh well. The hammocks were nice, the truck was safe, and we cooked dinner out on the picnic table. "The Ritz" it was not but when your deep in the bush you take what you can get.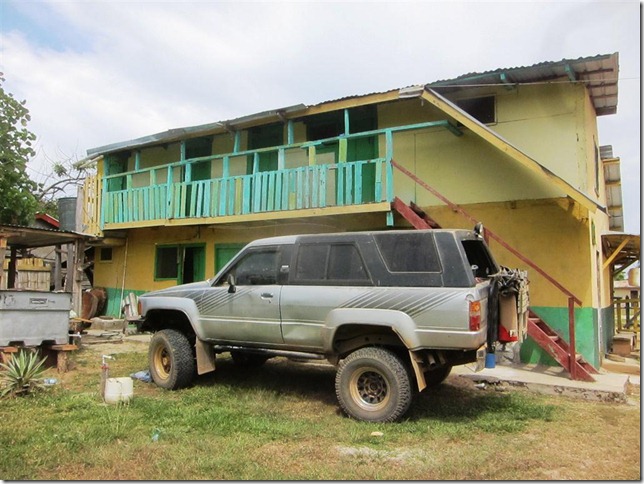 Cool iridescent lizard


I tried to crimp/JBweld the snapped brakeline so we could at least have 3 working brakes. It worked for a few minutes but after I bled the brakes and applied some real pressure to the crimp/JBweld it gave out spraying my eyes full of brake fluid (fun!)
Oh well. E-Brake still works!
We mash on further. Tino from the hotel tells us there is a road that leads deeper into the Miskito Coast but the road is completely sand and there is a "river crossing" we need to pass. OK, I can dig a river crossing. He says its difficult to pass the river if you don't know where to cross. He assigns some random dude from the village to jump on the back of our truck to show us the way.
Our new guia (guide)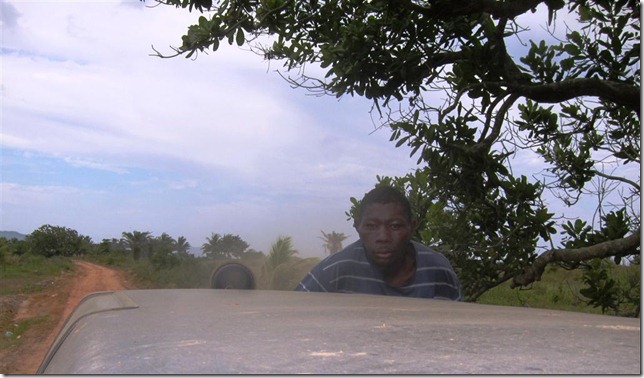 We drive through the village and eventually out onto the beach, We drive through the deep sand for a ways when the truck stalls due to getting stuck in the sand. Homeboy jumps off the truck and starts running towards the ocean and taking off his pants. Lauren and I are thinking… What the hell? Did we just give this dude a ride to the ocean so he can go for a swim?
Eventually we realize this guy is fording some sort of underwater sandbar and trying to show us the way to drive across the damn ocean to get to the other side.
I look at Lauren and say…. Looks like were driving in the ocean! We get out and air down the tires to 10psi which frees us from the sand and we head to the start of this underwater sandbar. Homeboy runs back to guide us once more.
We drive into the ocean, water up to the hood of our lifted truck and this random Honduran kid swimming in front of the truck in the ocean.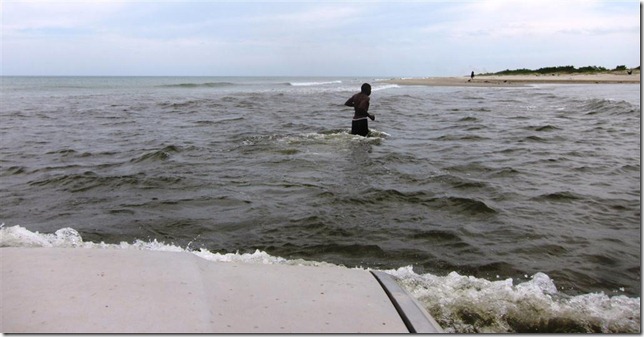 I am right on his butt and there is no way in hell I am stopping and risking a stall in the ocean. He eventually swims out of the way so he doesn't get run over.
We make it to the other side!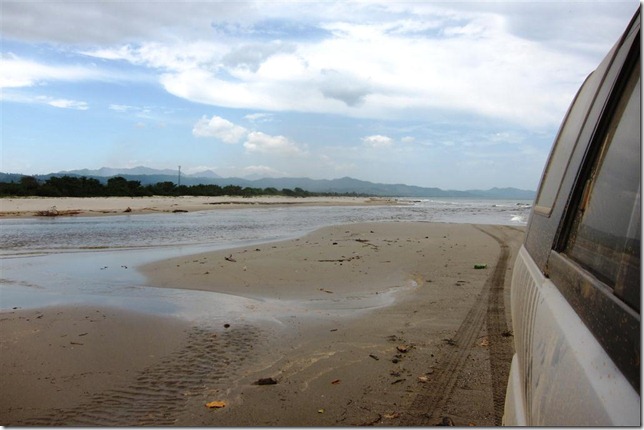 YEEEHAW. MASH ON!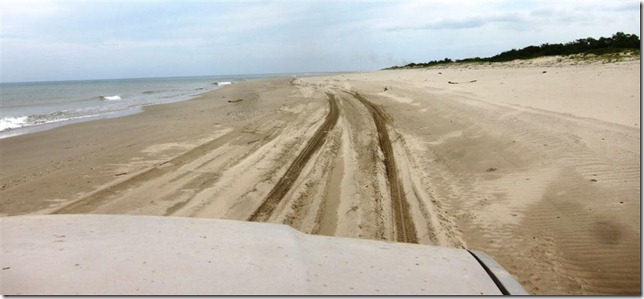 We drove mainly on the beach/sandbars for the next 50 miles pushing deeper and deeper into the coast. We saw no more trucks, just confused villagers, livestock, and horses.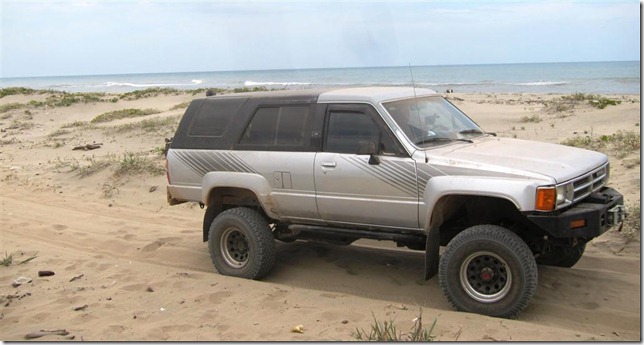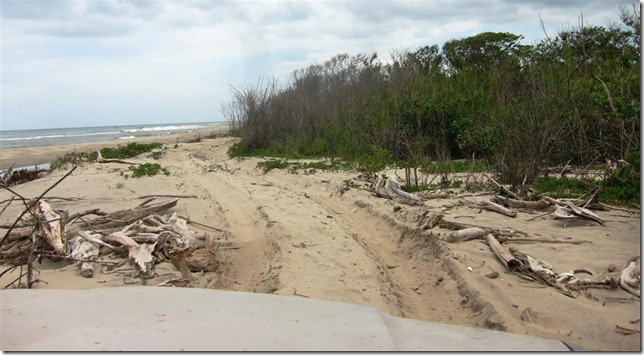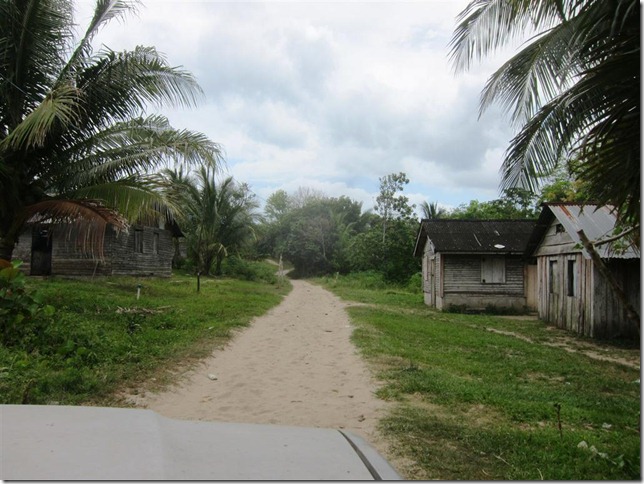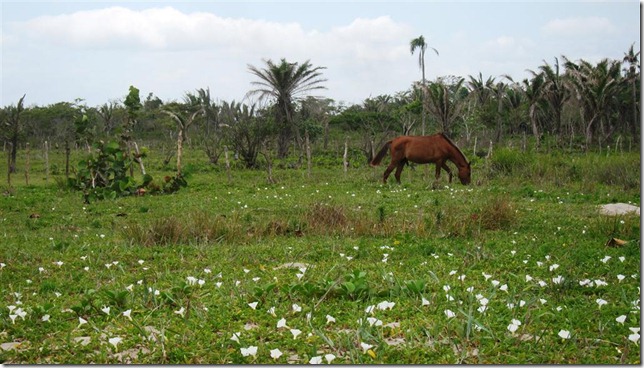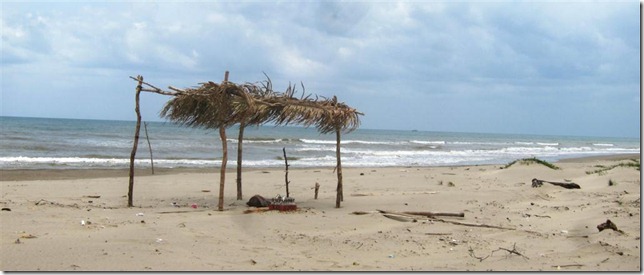 Eventually we hit as far as we could go along the coast. A small village named Pueblo Nuevo. They said we could leave our truck here and take a small kayuk (hollowed out tree with a small 5hp motor) deeper into the Moskito coast. But gas prices out here in the bush are crazy high and it would cost $75 to go for a 30 minute ride to the next island. We weren't to keen on leaving our truck in the middle of a small village even though the people seemed legit enough. We decided we made it far enough, headed back a few miles and setup camp on the beach.
Not a bad for a truck with no brakes