We camped out on the beach and did not a see a soul for most of the next day.
Later in the afternoon, 2 young guys came riding up on horses. We started talking and it turns out that one guy was from Belize (and spoke english) and the other dude was Garifun from the village just up the road. We shared some beers and became instant friends.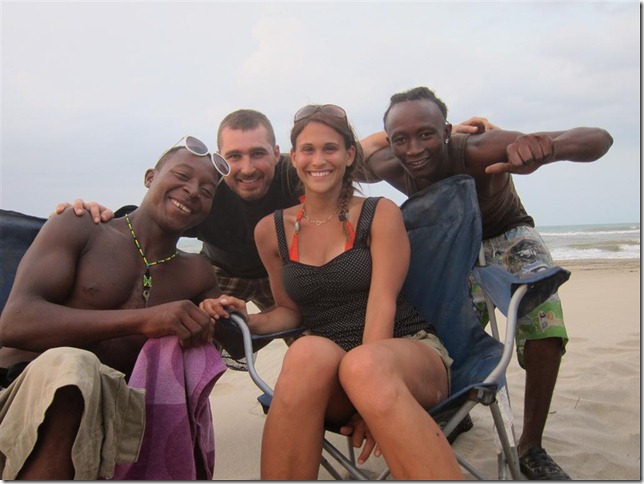 We spent the rest of the day sharing stories, drinkin', and riding their horses bareback on the beach. Kenry told us the last time he saw white people was over a year ago, another Californian (surprise, surprise) had backpacked his way down to the village.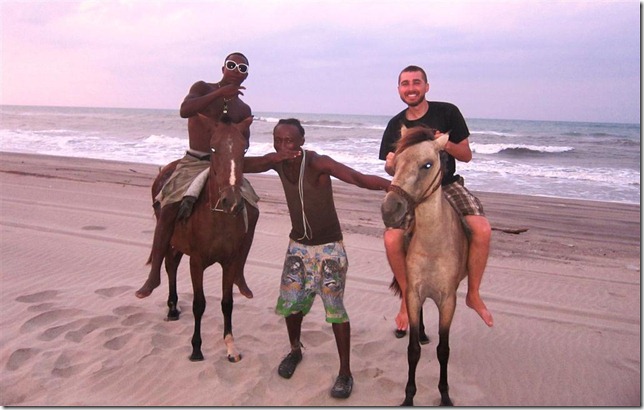 Eventually we run out of beer and they say we can buy more in their village which is about 5 miles up the beach. OFF WE GO! FOLLOW THAT HORSE!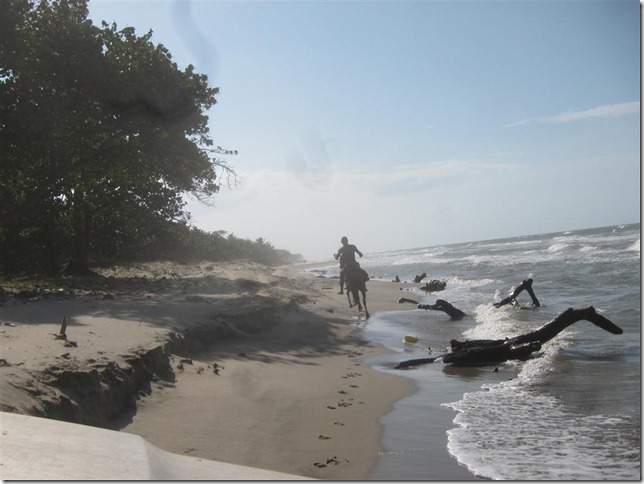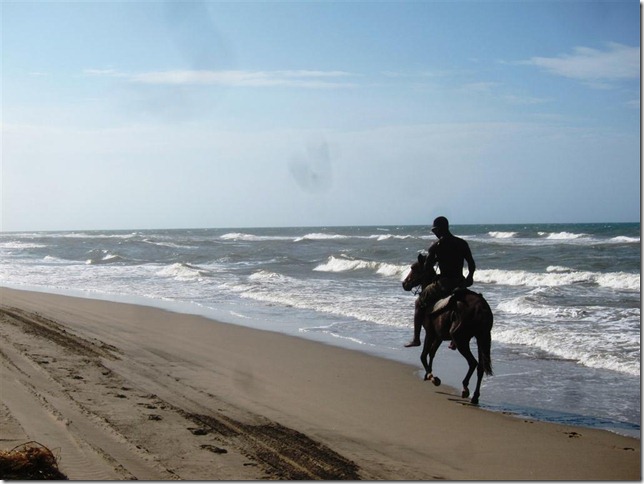 We parked in front of the village bar, headed inside to BOOMING reggae music and a handful of 5-10 year old kids doing some of the dirtiest dancing I have ever seen.  It was hilarious. We picked up some more beer and on our way out a drunk dude tried to sell Lauren a dead iguana for dinner. I almost bought it (I've been trying to eat iguana this whole trip!) but my buddy said it wasn't a good tasting one.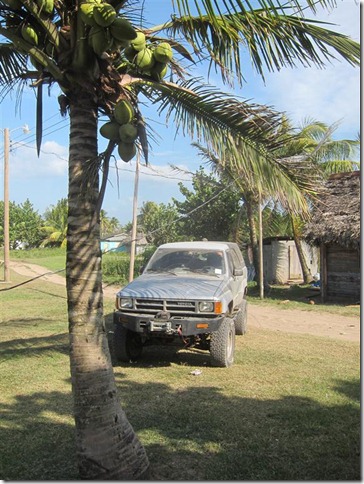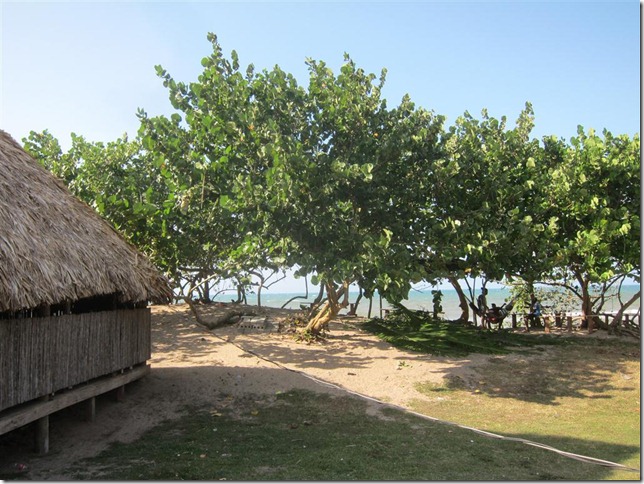 We headed back to the beach and continued the party. Our friends brought a bottle of Miskito hooch, which got us all pretty loopy. The stuff was straight fire water.
Kenry checking out the truck.

Not a bad spot to party at.

After many beers and bottles of Miskito liquor I decided it would be a good idea to ride the horse again…
UP YOU GO!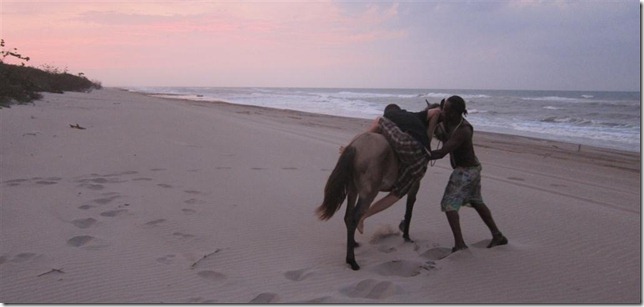 SUCCESS!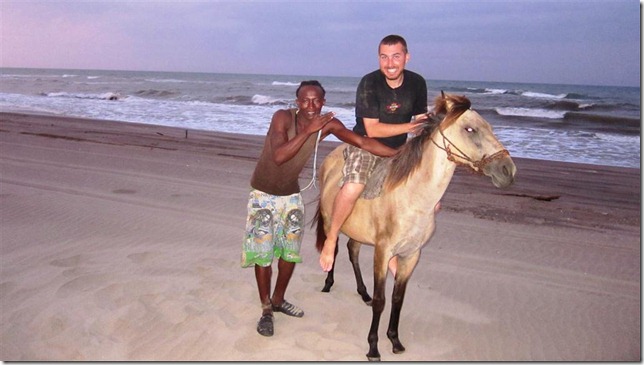 We say goodnight to our friends, they pose for some stunna shots and rode off into the sunset.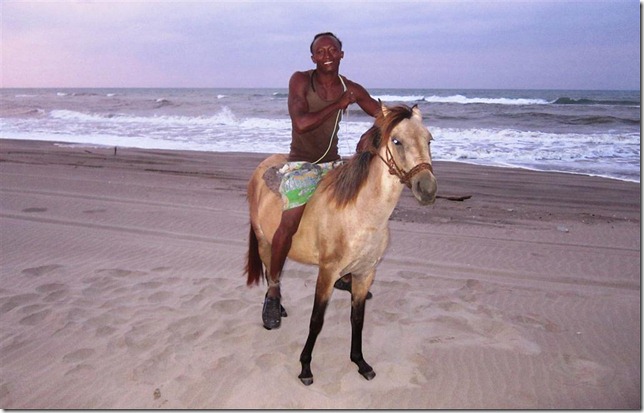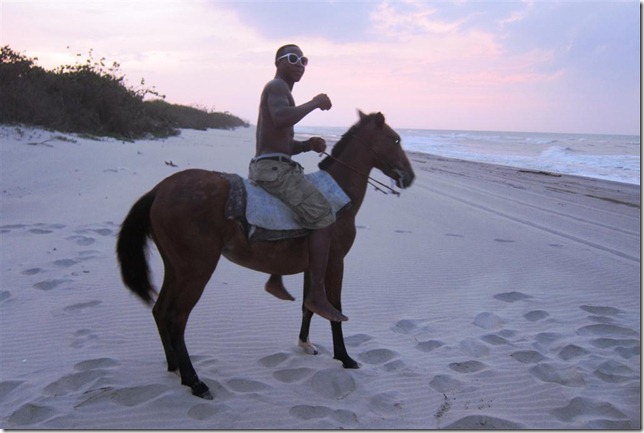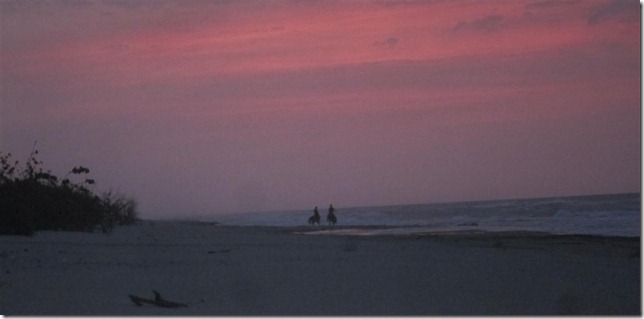 Another night in Paradise.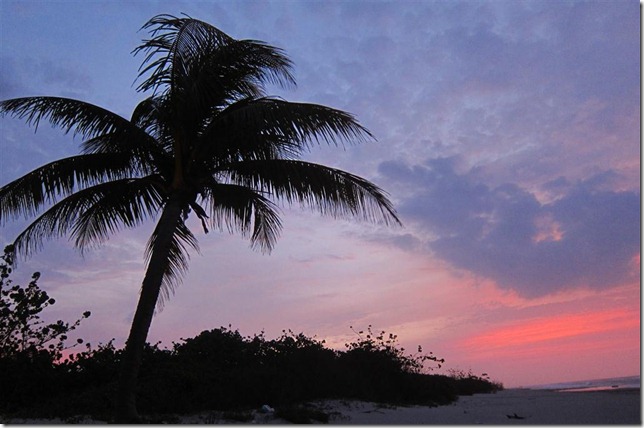 Both our friends came back later that night to check and make sure we were alright. They brought us some more hooch too!
Woke up the next morning and took a swim in the ocean. By 7AM it is hot and humid as hell outside.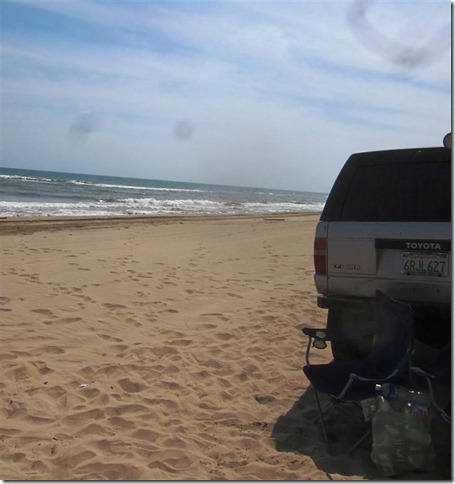 Our buddy came back over to check on us in the morning. We asked him where we could find a access to the fresh-water lagoon near his village. He jumped on the back of the truck and guided us down a dirt path in the jungle.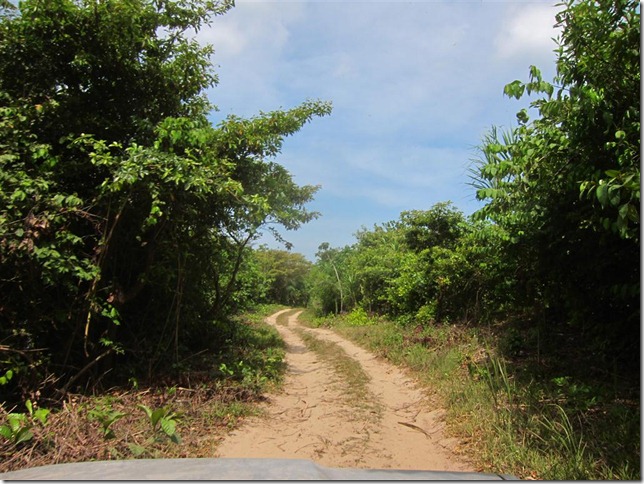 Chillin in the Moskito Lagoon. The water was warm and fresh. We swam around for a while and enjoyed our first freshwater bath in quite a few days.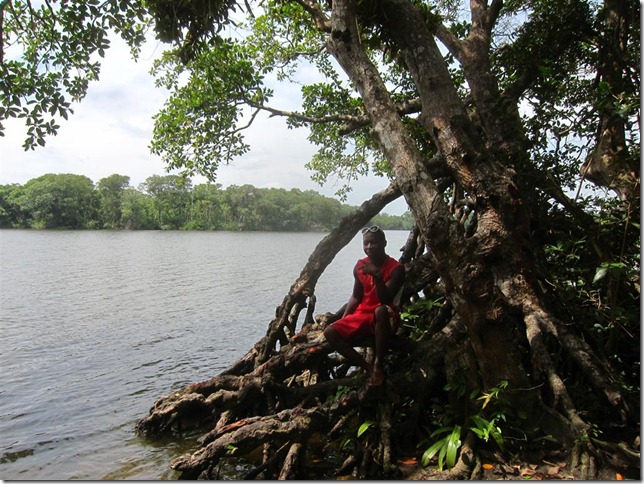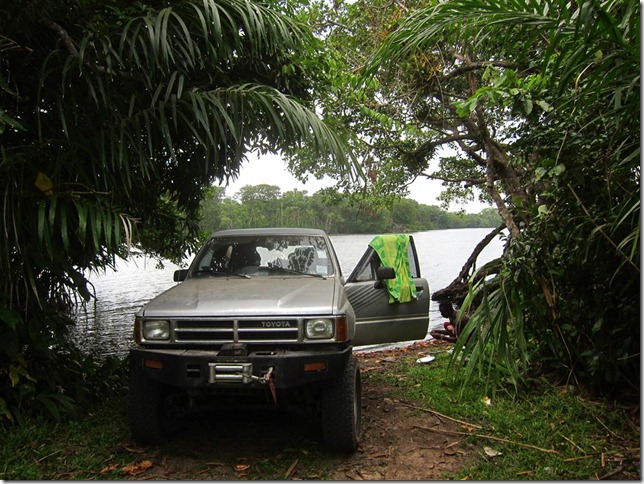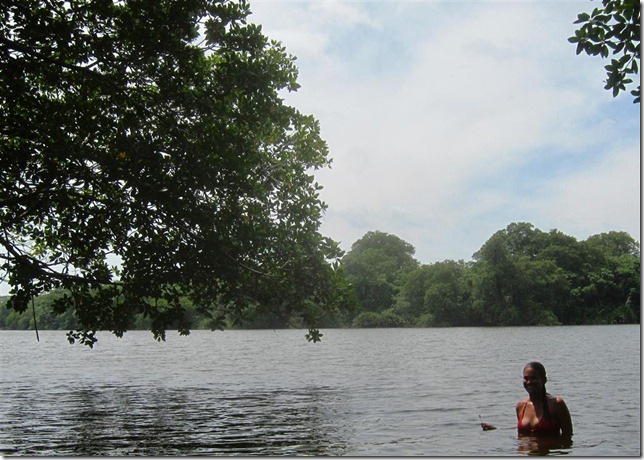 As we were swimming a Miskito family rowed up on their hollowed-out tree kayuk. The whole family, Mom, Dad, and 3 little girls out for a day of fishing. The girls were munching on little jungle apples and offered Lauren one. They were pretty tasty.
They were out catching "caracol" or fresh-water snails. They asked if we wanted to buy any, I only had the equivalent on $1 in Lempiras (Honduran currency). Which ended up being enough money to buy us most of the catch. He loaded up a huge rice bag with snails (~200 snails) and passed them to us while we swam in the lagoon. Our first "transaction while swimming".
We started busting them up for a lagoon side lunch.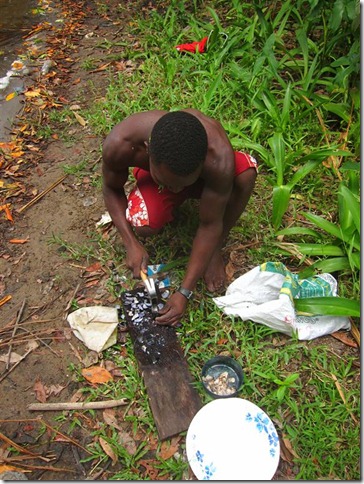 Alex schooling me on proper caracol prep.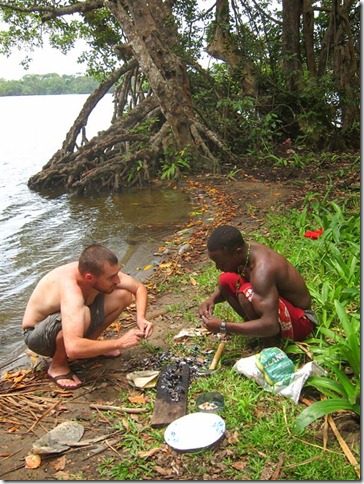 Cooking up lunch in the back of the truck.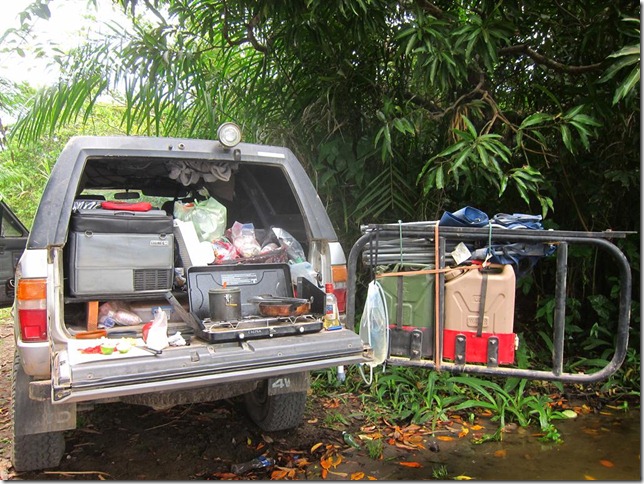 After lunch we said goodbye to our friend, split from there and headed out from the coast. Passed more villages and beautiful Honduran countryside.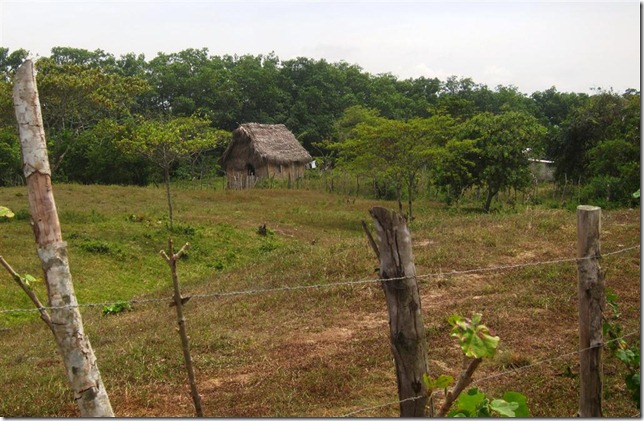 After a while we hit a small ferry crossing. Apparently driving through the ocean is optional. The locals never take the ferry so they didn't bother to recommended it.
Real basic job, couple of 55-gallon drums, some plywood and a long-ass rope.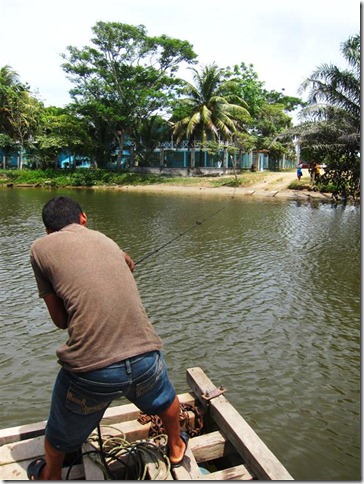 Back on the "main road"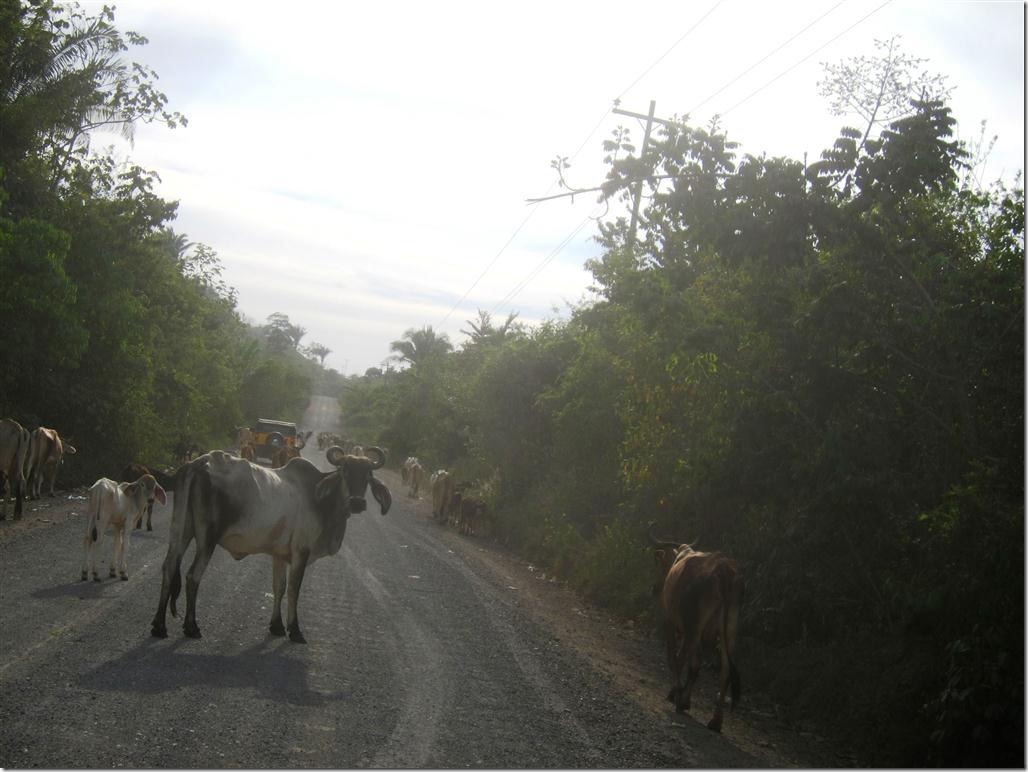 Driving back we start to hear metal/metal grinding coming from my front wheel, I check it out and assume the caliper is starting to slip to due to the missing bolt. I ziptie that caliper in place and keep going. About 45 minutes later the sound comes back, I get out and check the caliper… now the other bolt is gone. DOH!
So now the caliper is basically free hanging on the rotor and slapping into the inside of the wheel over every bump.
I am about to pull over to pull off the tire when miraculously a random tire shop appears in literally the middle of nowhere. The shop is barren but has a nice jack and airtools. 5 minutes later we have the tire off, caliper off, and no more grinding. I chuck the caliper in the back of the truck and hit the road.
We eventually make it back to Toaca, Honduras. The largest town near the road to the Miskito Coast. It is still Semana Santa (THE WORLDS LONGEST WEEK!) and everything in town is still closed. We find a hotel and post up for 2 days waiting for Monday to come.
Monday morning I wake up, drive to the local brakeshop. Show him I need 2 caliper bolts and a new brake line. They happen to have exact match caliper bolts (Honduras loves Toyotas!) and get us fixed up with new bolts and new lines in 10 minutes for less than $10.
Brakes fixed up, We hit the road to Nicaragua.
PS: I bought 2 extra caliper bolts