After we got our share of the beach scene we cut inland, Destination: Butterfly Kingdom.
If you haven't guessed by now we are kind of nerds. Back home we had seen a few nature documentaries on the mass migration of the Monarch butterflies. Each year the Monarch butterflies begin a huge southward migration from as far north as Canada all the way south to Mexico. This incredible journey is over 4000 miles and spans generations of Monarchs to reach its completion every year. Millions of butterflies arrive in the Michoacán highland forests of  Mexico every year for the winter before turning around and heading back north for the summer. It just so happened we were here during the right months. We had to see it!
As we cut in from the coastline through the states of Jalisco we started encountering some wonderful mountain scenery and idealic farmland. Jalisco is known as the homeland of Tequila and agave farms abound. We also saw a few huge volcanoes.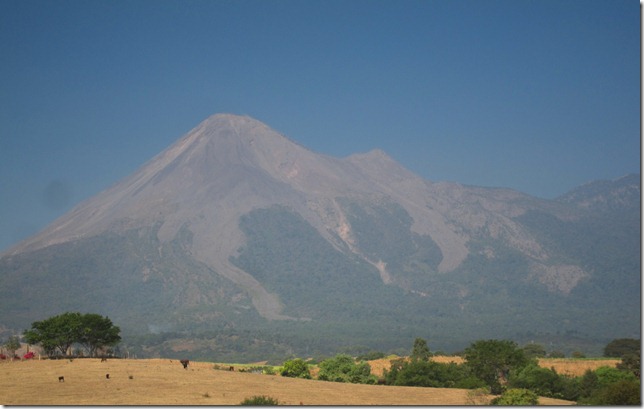 Sugarcane farms
A nice "safe" load of sugarcane, Don't get too close or you'll get a sugarcane spear through the windshield, they were falling off left and right as the trucks bounced down the road.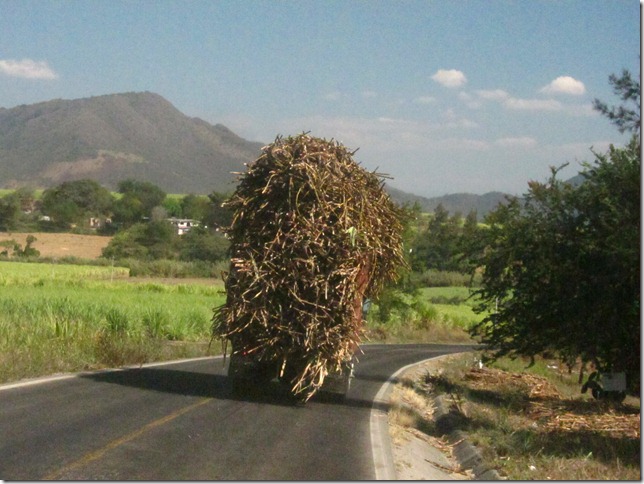 One of our facebook fans informed me this is Sesame drying in the fields.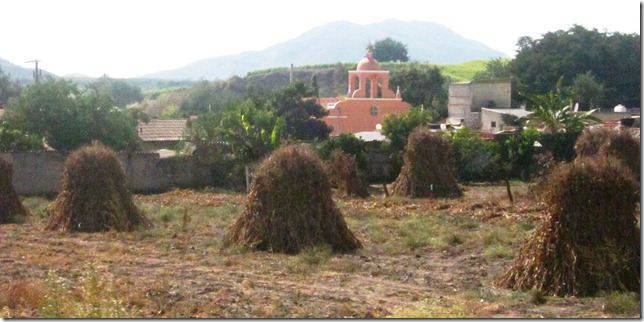 We cut across the state and make camp for the night up on a mountain. We picked up some delicious fresh fruit along the way. We loaded down the cooler for about 30 pesos with watermelon, papaya, coconut, you name it.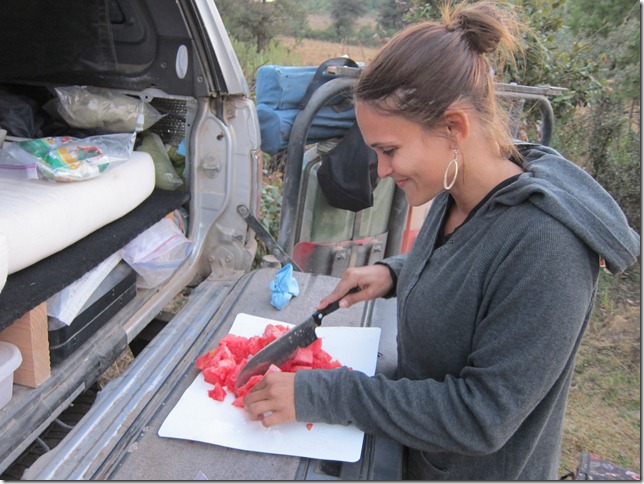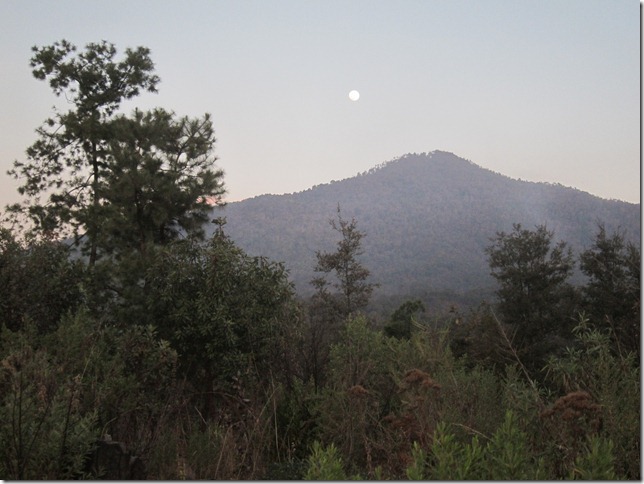 Woke up to 85F on the beach, going to sleep in 40F temps in the mountains. Love the varying terrain of Mexico.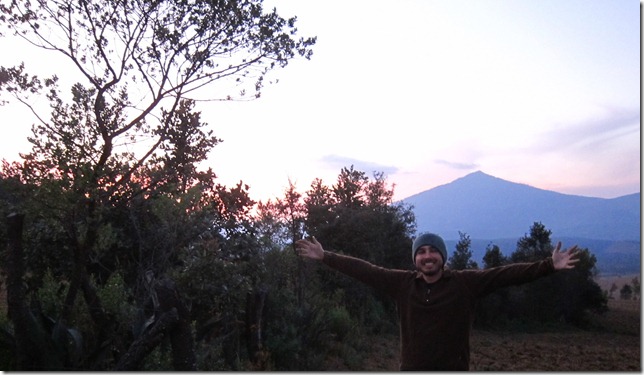 Next morning we woke up and headed towards Morelia. The primary jumping off point for the Monarch butterfly reserves of Michoacán.
Morelia is a beautiful Spanish colonial city. They have retained a lot of the architecture from the cities founding back in the 1500's. We found it to be a wonderful town and spent a few days exploring the city alongside other Mexican tourists. I think we were the only gringos in town.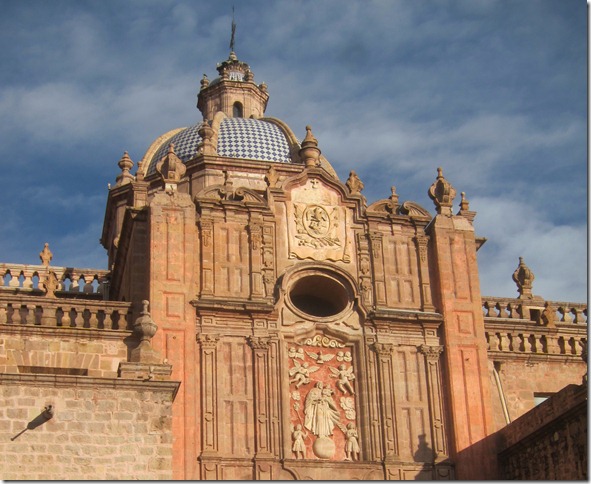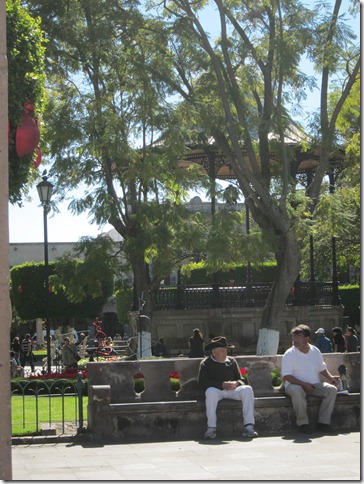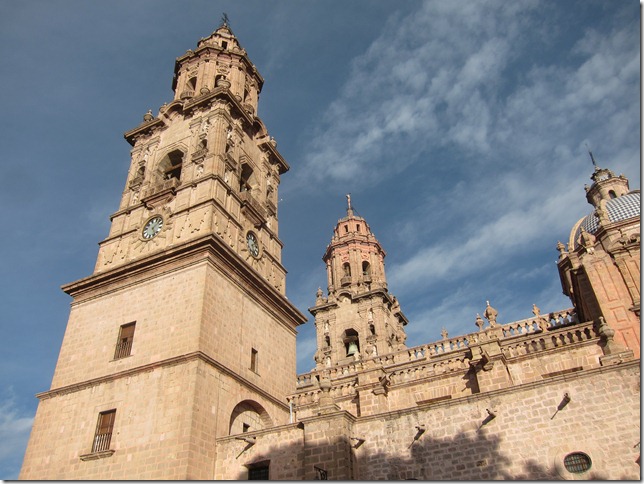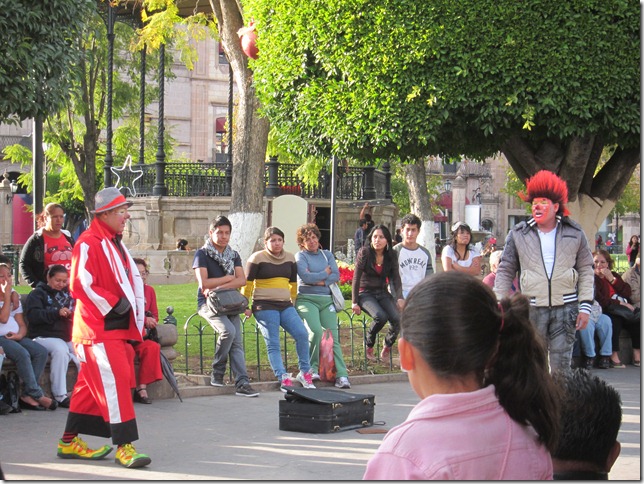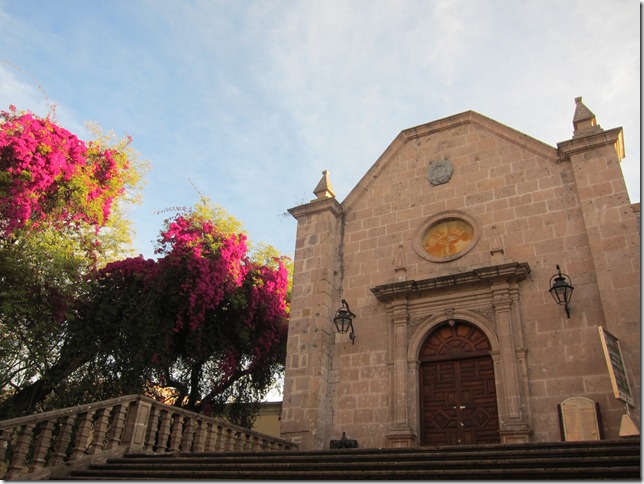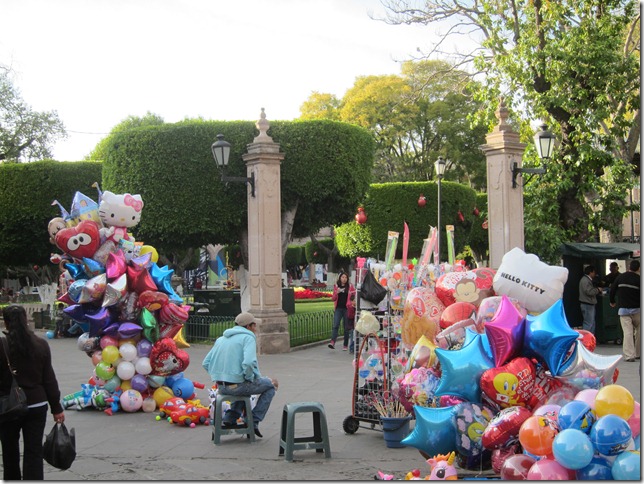 Aqueduct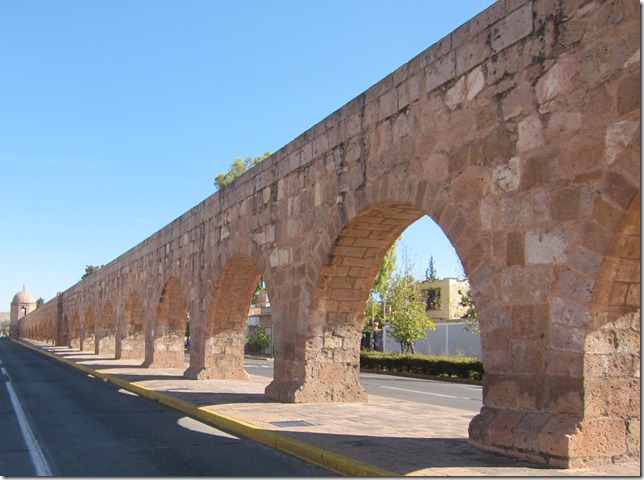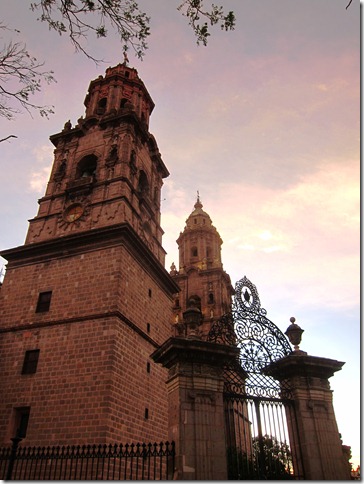 2 pesos (like .10 cents)  Al Pastor tacos, Delicious! I ate a million of them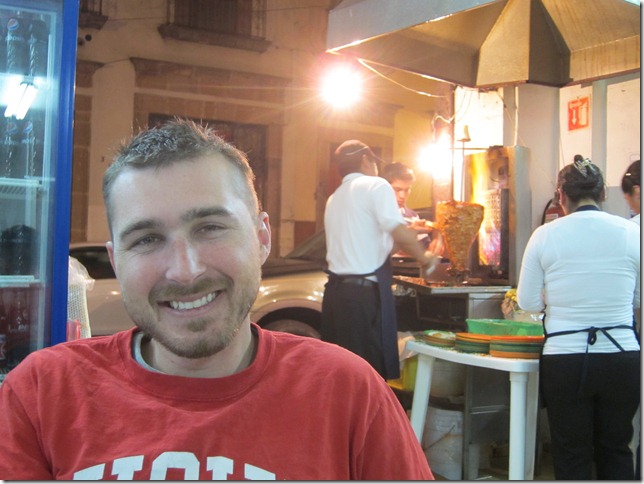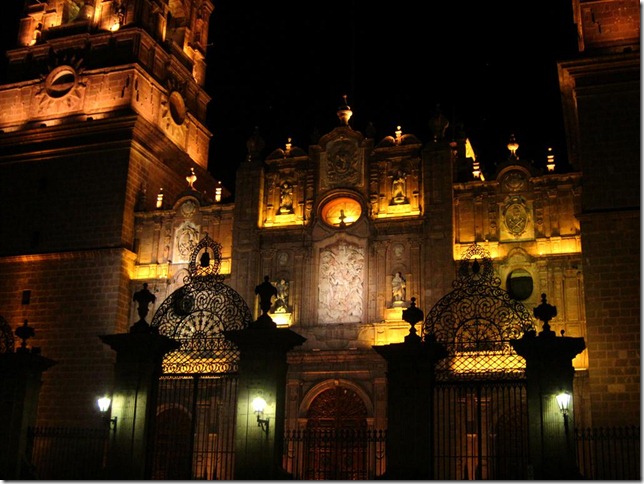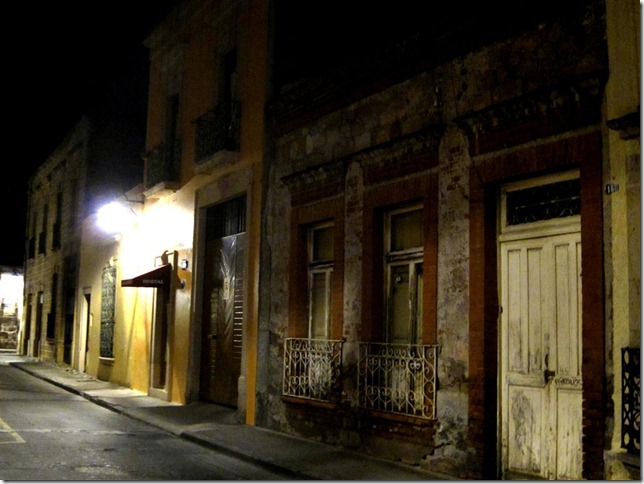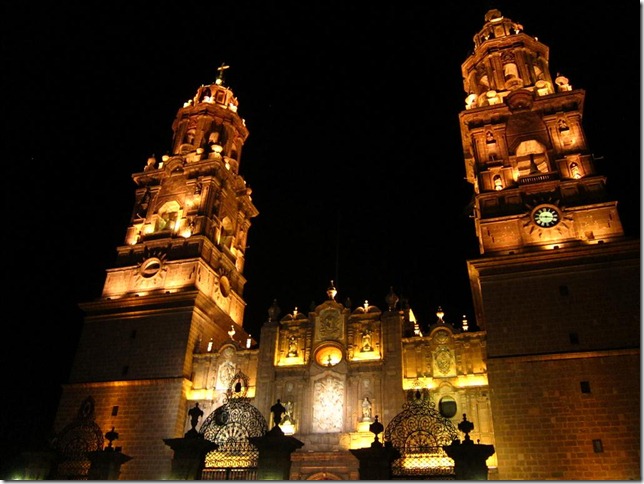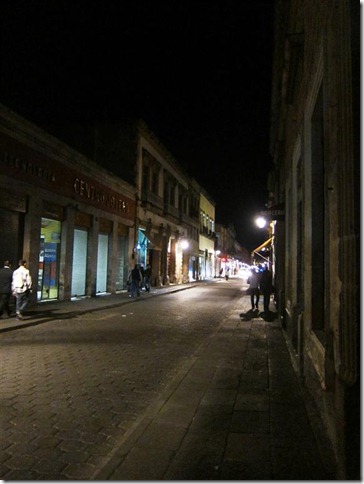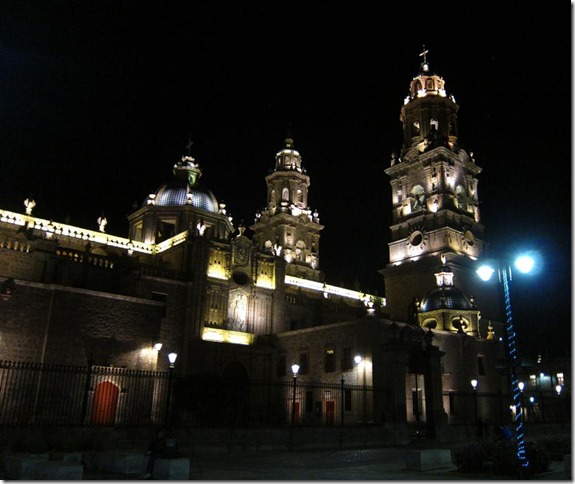 There are about 5 different Monarch reserves in Michoacán. The main one is El Rosario but my research showed that this was usually crowded with people, The reserve at Sierra Chinchua seemed bit more lowkey and more our style. We set off from Moreila towards the small town of Angangueo. This town is in the middle of the sanctuaries and you can catch taxis, buses, whatever to the various reserves. We have our own transpo so we pushed on through and made camp near the entrance to the Sierra Chincua reserve.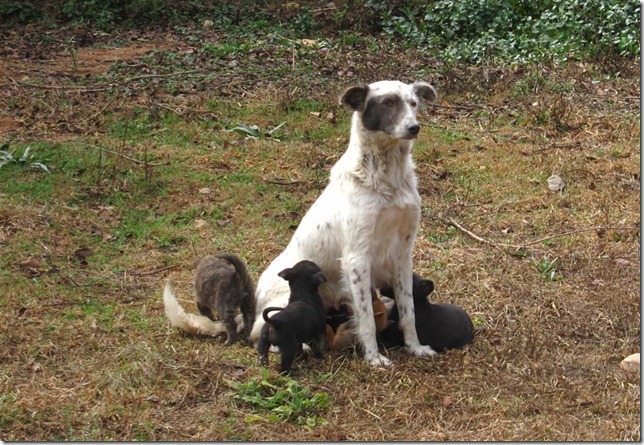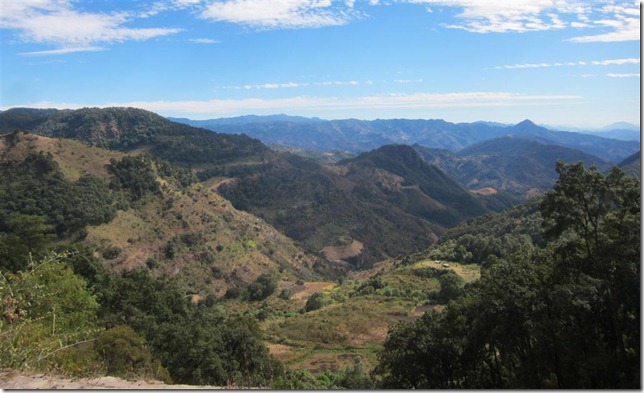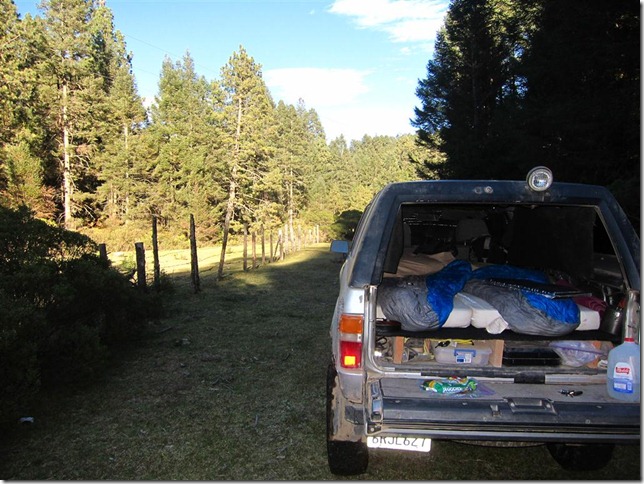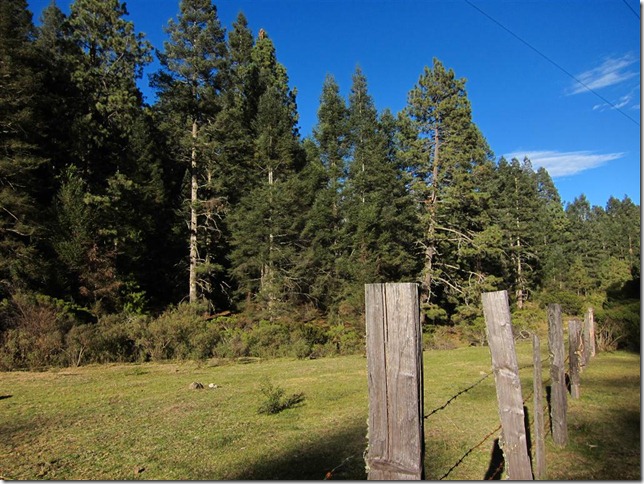 Dinner time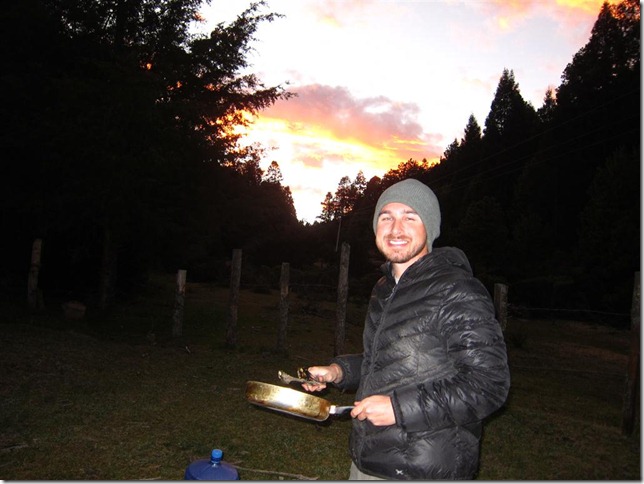 Sunset from the back of the truck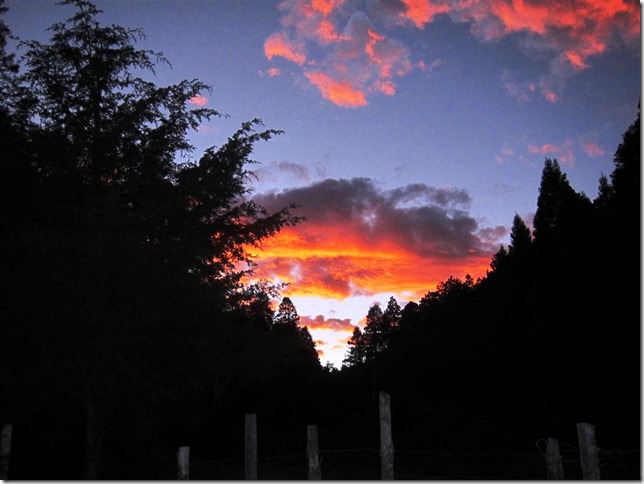 Pretty cold up at 10K FT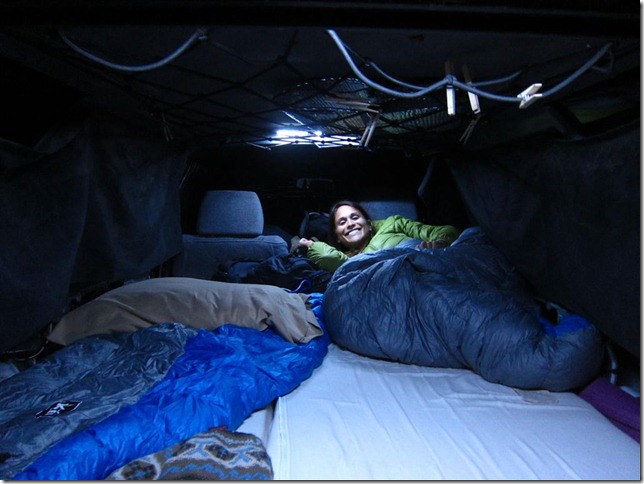 Woke up in the morning to our water bottles frozen over, hopefully the butterflies didn't mind! We headed out to the reserve.
They had a nice visitor center with shops and information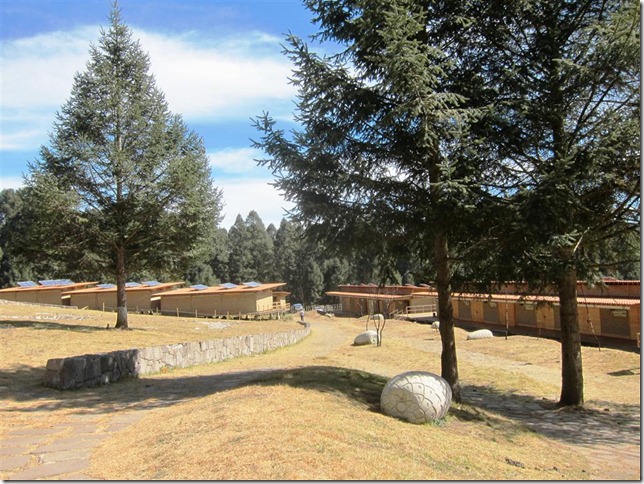 It was about a 2 mile uphill hike at 12K feet to get to the butterflies, or we could pay $2 and take horses…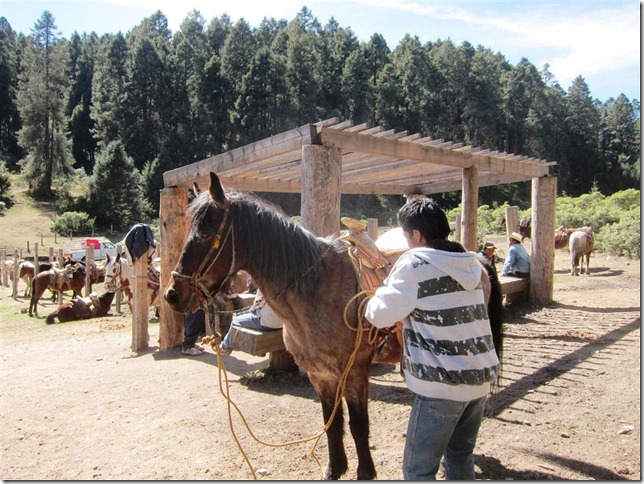 Yeehaw!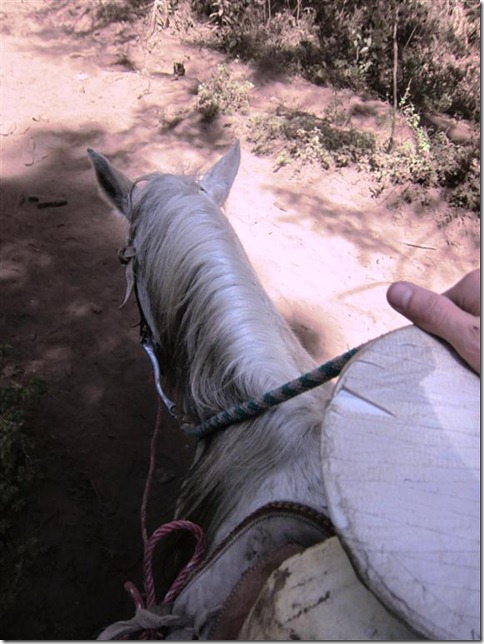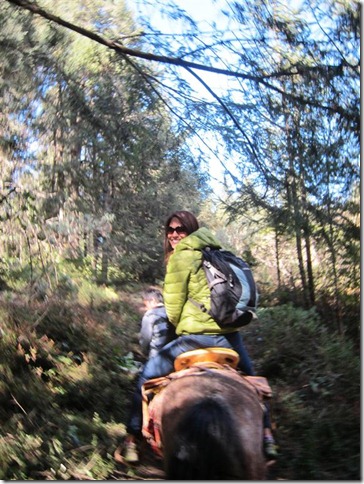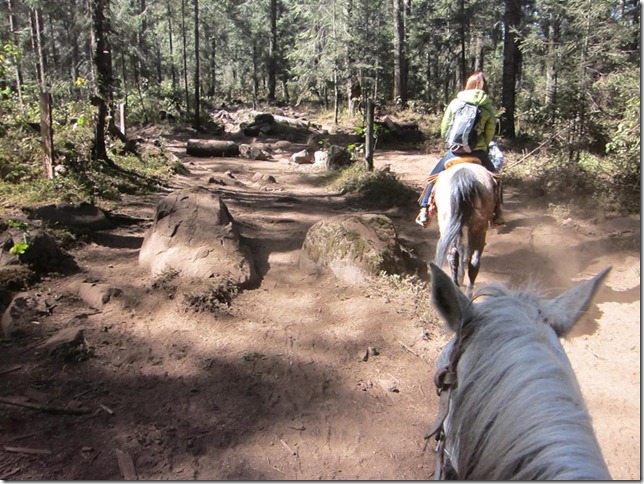 Lauren is a future horse trainer, she just doesn't know it yet.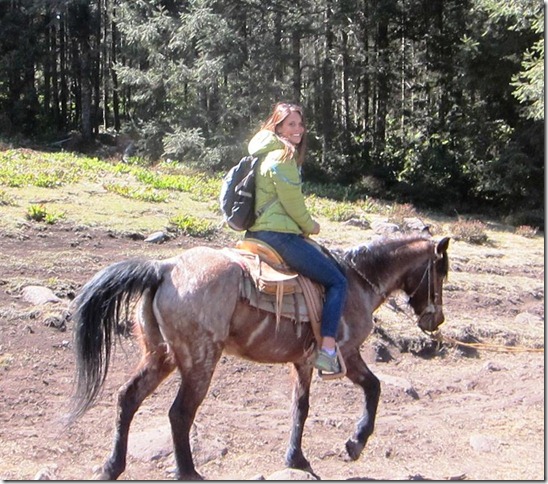 After a 30 minute ride we reached the edge of the reserve.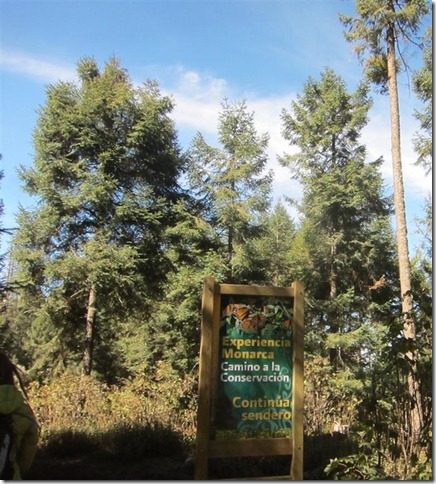 First butterfly sighting, We were close!

Our guide took us down a few dirt paths to an opening in the trees, We saw a few butterflies and then… a sea of orange fluttering around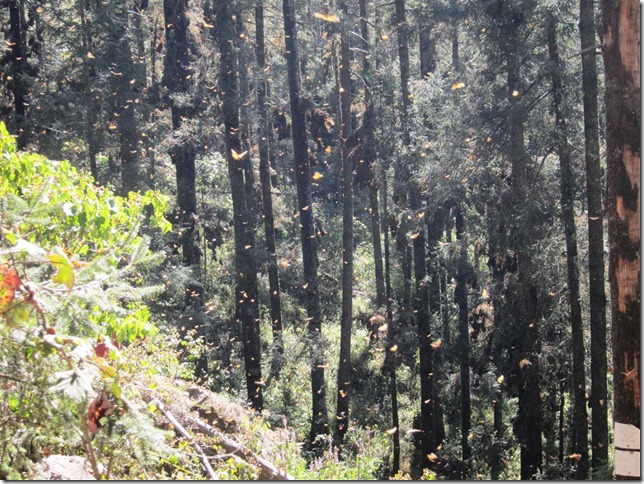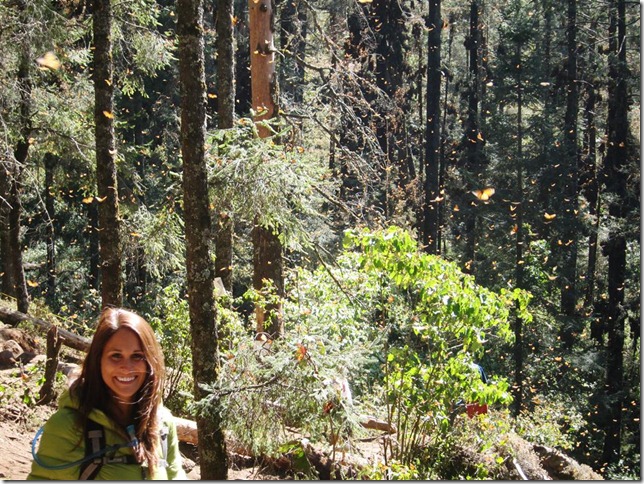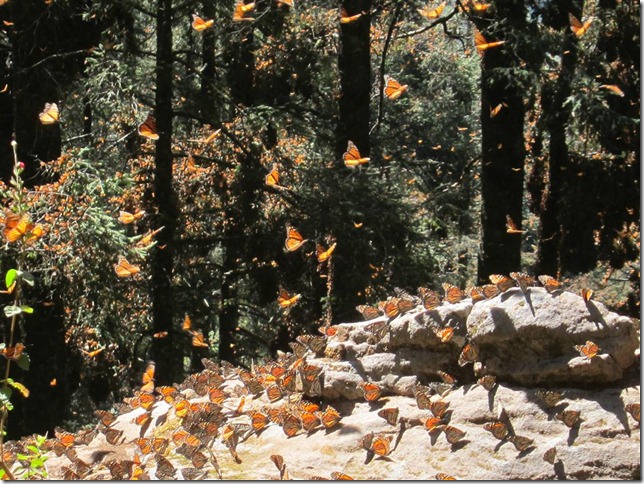 Our guide to the butterfly kingdom, Diego. He was an awesome fellow and spoke pretty good english. It was a pleasure getting to know him and hearing his passion for the monarchs.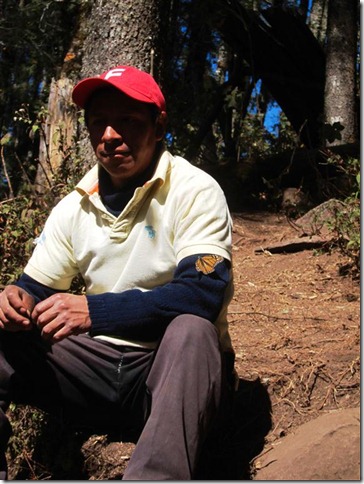 We spent a few hours among the butterflies, a truly amazing experience. Just us and millions of butterflies. Diego says we picked a great day as usually it is overcast and the butterflys are not as active as they were the day we went.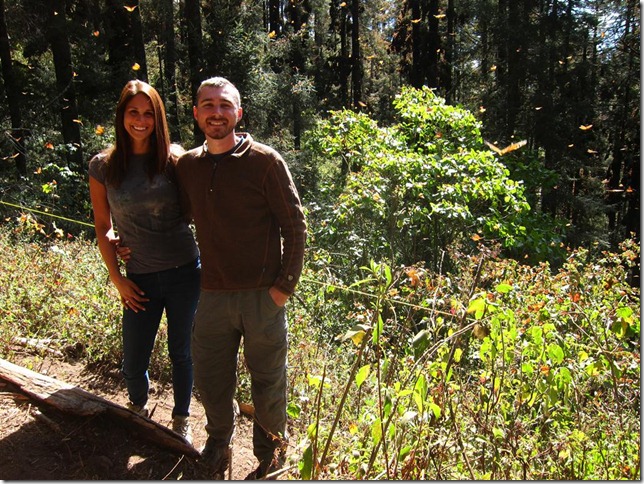 There were so many butterflies you could literally hear them flying around bumping into each other above our heads.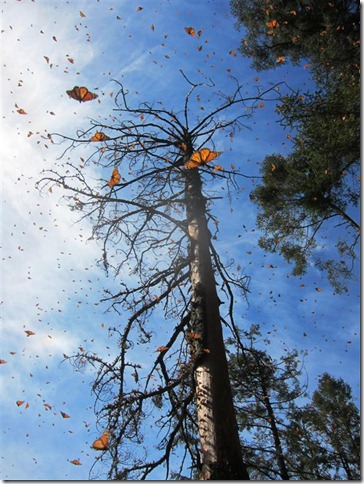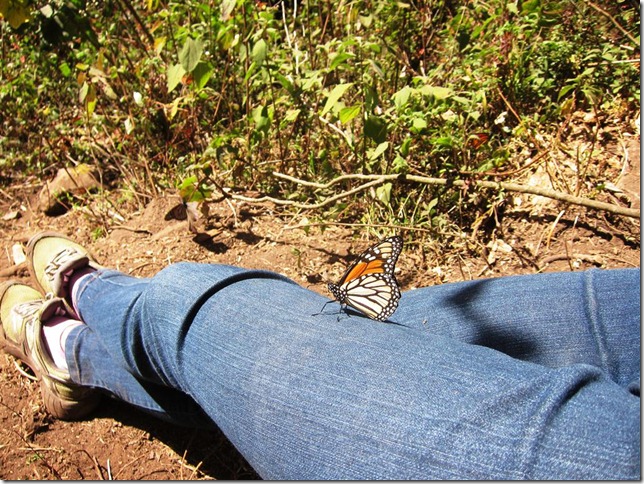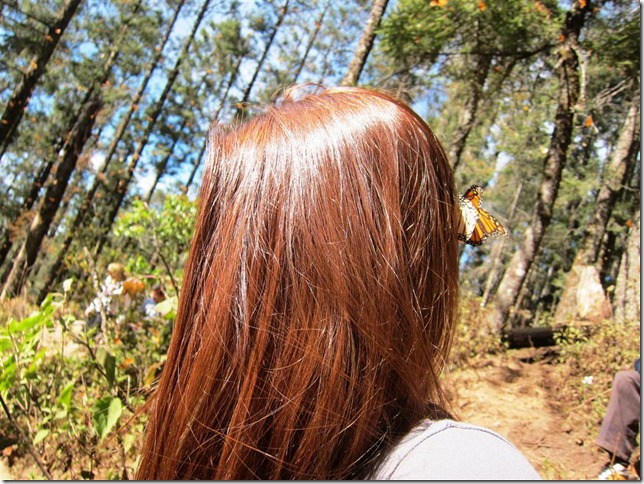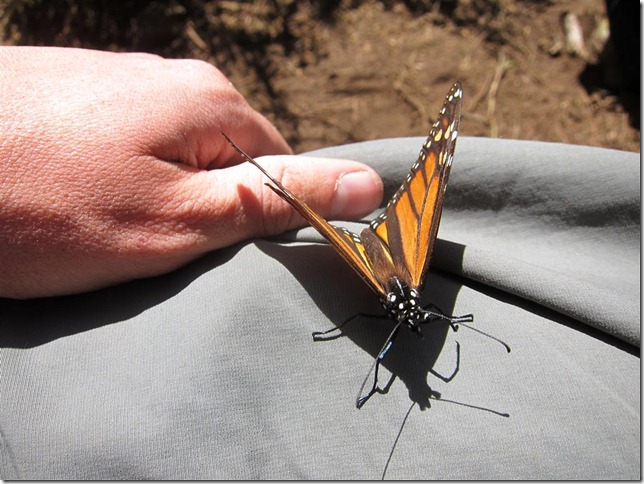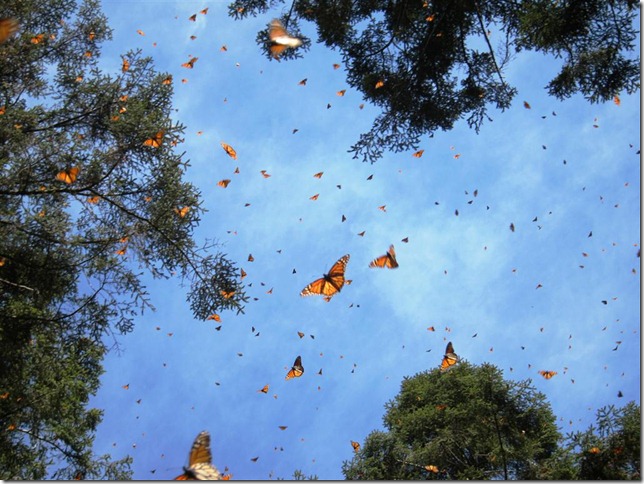 Here you can see huge clusters of butterflies hanging from the trees. They bunch up so much that they actually end up breaking limbs from the trees. Imagine! A butterfly breaking a branch. Crazy.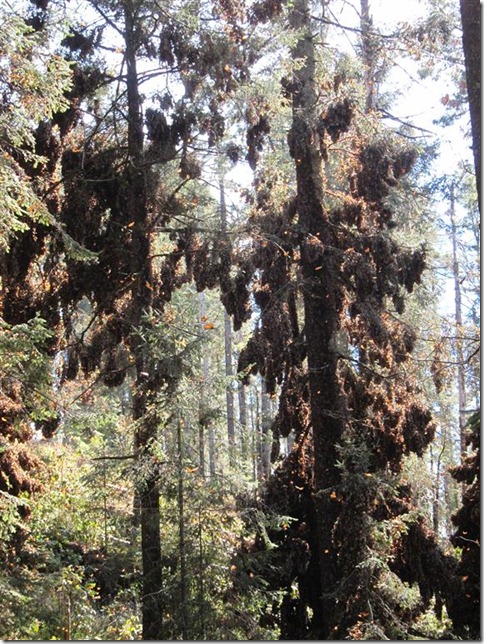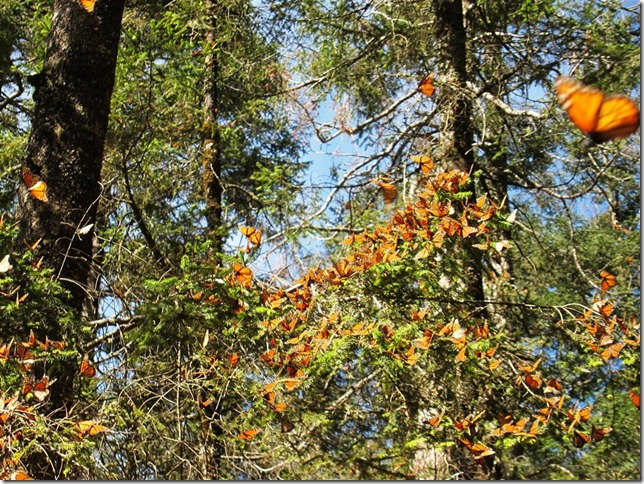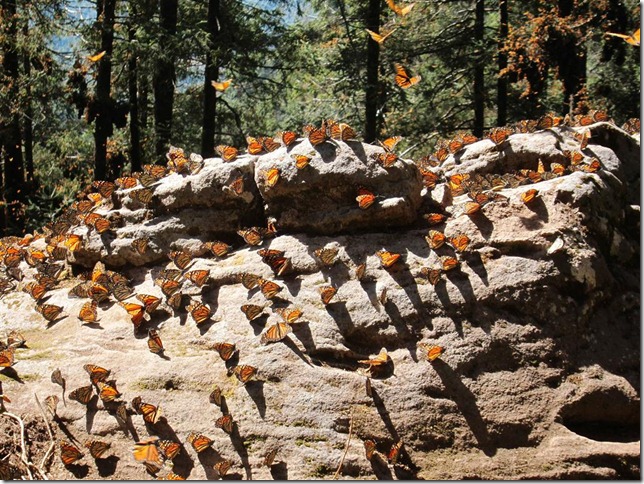 BAM! Smacked in the face by a butterfly, FOX news did warn me Mexico was dangerous!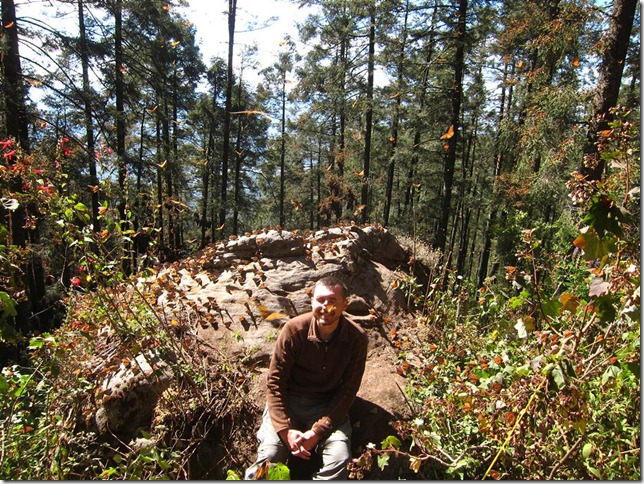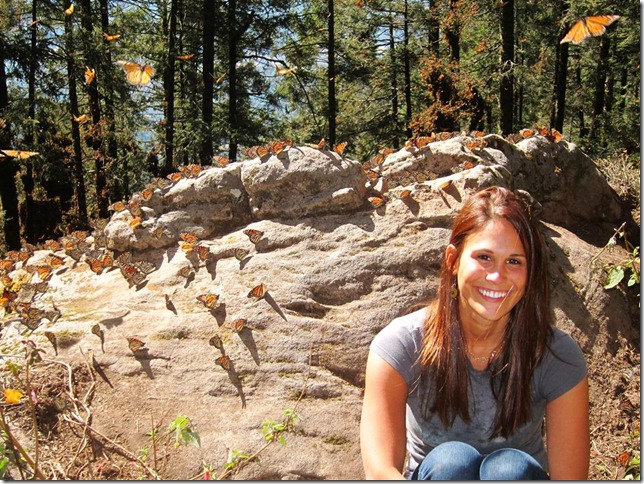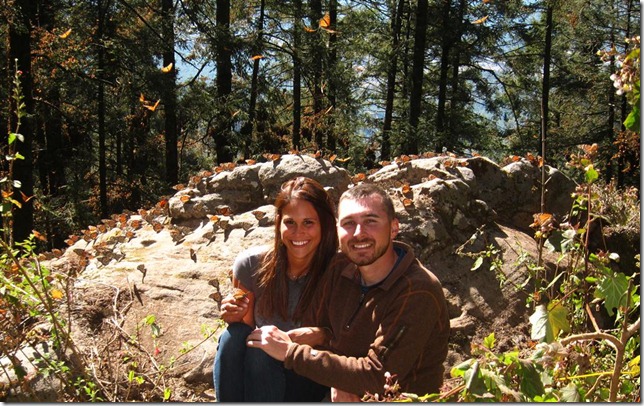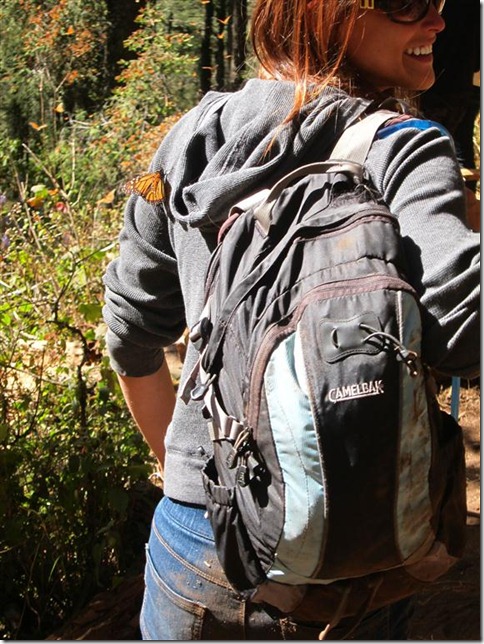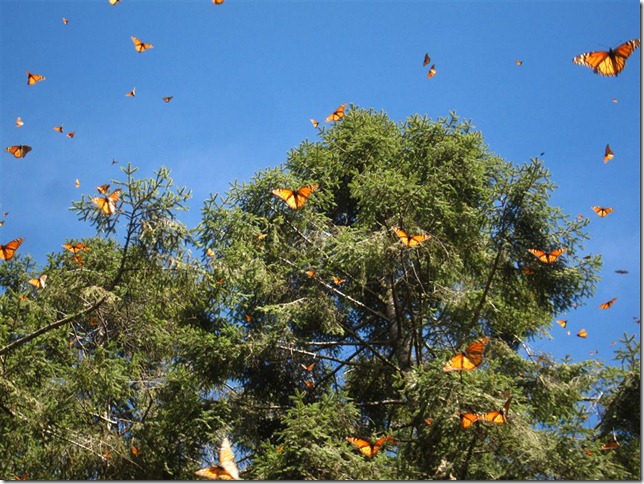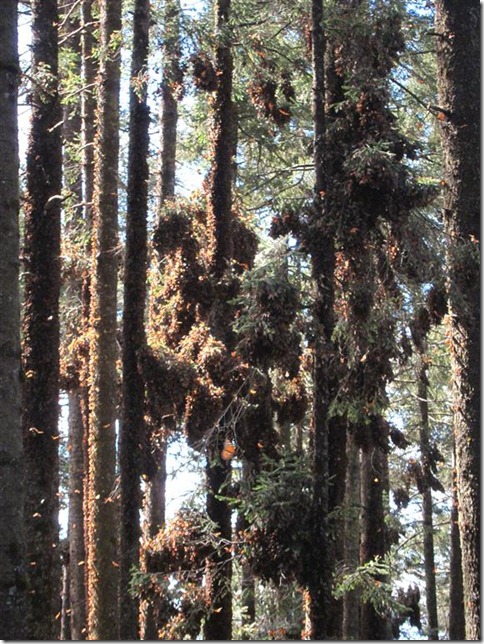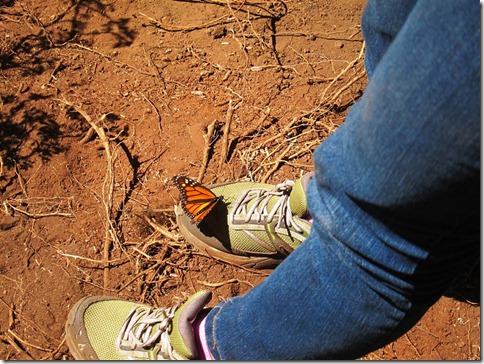 After spending a few hours with the butterflies we started hiking back down the mountain. This was truly an amazing life experience, something that we will never forget.