The Pan-American Highway, a series of roads linking the great white North of Prudhoe Bay, Alaska all the way down to the southern-most reaches of Ushuaia, Argentina. At a total length of just under 30,000 miles, Guinness Book of World Records marks it the "World Longest Motor-able" road. Yes-siree, 30,000 miles of awesomeness all navigable with nothing but 4 wheels, a tank of gas, and a sense of adventure.
Except… Except…. Except 54 damn miles of impenetrable jungle full of beasts, FARC rebels, impassable mountain terrain, and native tribes who are rumored to still dabble in cannibalism. I am of course talking about the "Darien Gap". The little stretch of jungle that separates Panama from Colombia. The little stretch of jungle that has created much headache for all overlanders headed south.
Panama City is where overlanders must arrange shipping around this swath of rainforest. I would say it tops the list of all overland PanAm travelers fears (the ones that have gotten over the whole kidnapping/beheading nonsense at least). Imagine loading your baby into a dark box, hoisting her high into the air, placing her among thousands of strangers, and setting her off to sea… Not to mention travelers have been stuck without their vehicles for months, forced to pay exorbitant fees, and there have been some whose trucks never showed up at all! Lauren and I approached the city with trepidation knowing what lies in store.
As we came upon the sprawling metropolis full of gigantic skyscrapers, super highways, and malls I was instantly reminded of my home city of Miami, Florida. Mix in everybody speaking Spanish and driving like crap and I really felt like I was back home!

We had a few goals for the big city of Panama. #1 See the Panama Canal. #2 Arrange shipping from Panama to Colombia.
We made some friends off the internet who had been traveling south as well. Adventure the Americas is a group of 3 friends who set off in a 4runner from Colorado and are now in Panama City. Pretty cool.. even cooler when you think only 3 weeks ago they were still in Colorado. Yes you read that right. In 3 weeks they managed to drive all the way from Colorado to Panama. A process that took Lauren and I over 7 months to complete! We told them they were crazy. They told us their plan is to circumnavigate the entire continent of South America and return home to Colorado in only 6 months! Then we told them they were just F'n nuts.
Aside from being crazy they turned out to be pretty cool dudes and we instantly hit it off. We spent the night sharing beers, swapping stories, and scheming our plan to ship around the gap together. It is cheaper to double-up and place 2 trucks inside 1 container. They had already laid some of the ground work for the process, found a shipping company, and begin the initial paperwork. These guys were fast.
Team Adventure the Americas and yours truly.

Since it was the weekend and we could not move forward with any of the process we decided to do some sightseeing.
First off we headed out to the walled-city of Casco Viejo. Panama City's historic district. It was built in 1673 after the old Panama City was completely destroyed by the dastardly pirate Henry Morgan (Yes of Captain Morgan rum fame) and his crew. Casco Viejo was declared a World Heritage Site in 1997. The area itself was getting quite run-down for a while and is now undergoing massive remodeling and restoration. It was crammed to the gills with beautiful colonial architectural, ornate churches, palaces, and now hip bars/restaurants. There is also a seedy side to the place which I can only imagine will get shoved out as real-estate values increase. Ahh progress.

After scoping out the city we headed up to a large forested area called Ancon Hill. Ancon Hill was under U.S. jurisdiction as part of the Panama Canal project and thus avoided urban development. It is an odd island of green surrounded by the urban sprawl of the city below.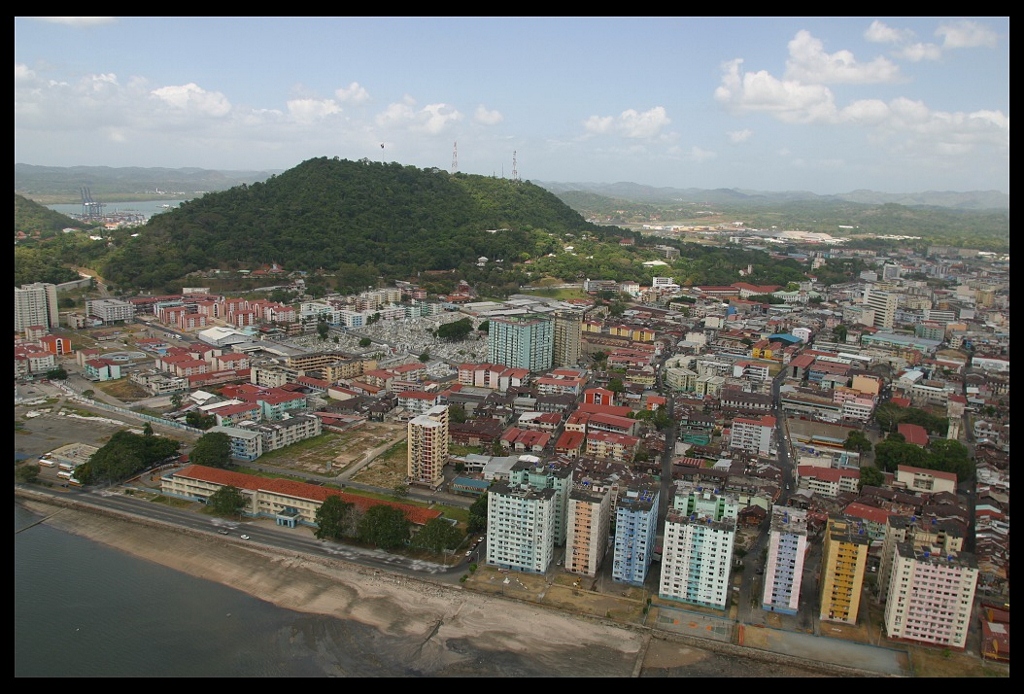 We had read that the hill is home to monkeys, sloths, deers, and all kinds of wildlife cut off from any other jungle. Our friends from Adventure the Americas had seen a sloth up there just the other day, we hoped we would be so lucky.
As we climbed the hill we were greeted with sweeping views of the city between the jungle brush.
Panama City

Casco Viejo

CAUTION: GIANT BUTTS CROSSING

We made it to the top of the hill which had a gigantic Panamanian flag flying, viewable from all over the city.

Lauren looking off towards the Panama Canal off the distance.

We headed back down the hill still searching for wildlife. We head some screeches up in the trees and saw a small pack of Geoffrey's Tamarin monkeys roaming about.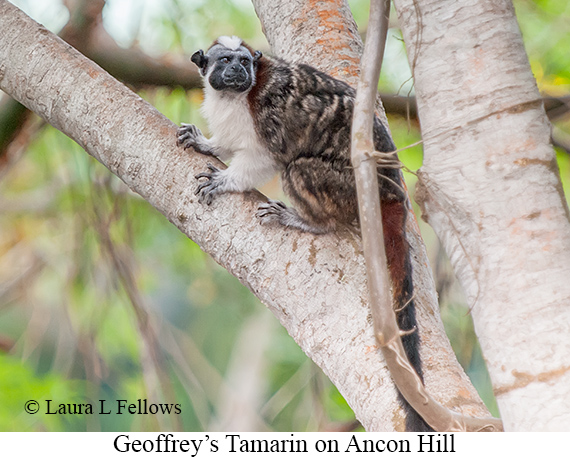 A little further down the hill I am scanning the trees and spot a clump of fur. Looking closer… SLOTH!

Satisfied with our adventure tour we headed back into the city and grabbed some Dim Sum at Palacio Lung Fung. Best Asian food we have had since leaving the states! That's not really saying much but this was as good as the stuff I could get in San Francisco. Highly recommended. I ate about 1000 trays.

Next morning we headed off to see Panama City's #1 attraction. The Panama Canal.
The Miraflores locks are located just outside of Panama City. They are one of 3 sets of locks used to traverse 51-miles between the Pacific and Atlantic. Looking at the locks in person and seeing them operate is mind-boggling. Add in the fact they are almost 100-years old is even crazier. A true engineering marvel. The history of the Panama Canal is very interesting as well. Did you know the French were actually the first to attempt digging the canal?

Tomorrow begins the shipping nightmare!