ATM disaster dodged, Corrupt cops deflected. What else could go wrong!?
We are climbing through the mountain passes of Honduras and I can tell the 4Runner is losing power. Not exactly sure what is going on I do what any proud Toyota owner would do and simply ignore it. Hell… She still runs don't she?
Eventually we are coming through a construction zone near the top of a pass and I lose all momentum/power. The truck basically cuts out. The accelerator pedal pins flat to the floor and doesn't come back up.
We are smackdab in the middle of the construction zone. Huge dumptrucks and bulldozers battle it out with the mountainside all around us. It is at least 95F, hot, dusty, and LOUD.
We are stuck blocking the 1-lane of the passable highway with gigantic buses and semi-trucks all honking and trying to squeeze around us.
I jump out of the truck and pop the hood. Chaos everywhere. Tons of dust, huge loud tractors, people honking like crazy at us. I check the throttle cable and its all screwed up, sagging from the throttle body like a limp noodle.
I try to jerry rig it quickly. No go, It wont retract. Something is jamming. I pull out my tools and take it apart in the middle of the highway with people passing everywhere.
No wonder it wont retract… Line is frayed and jamming inside the throttle cable housing.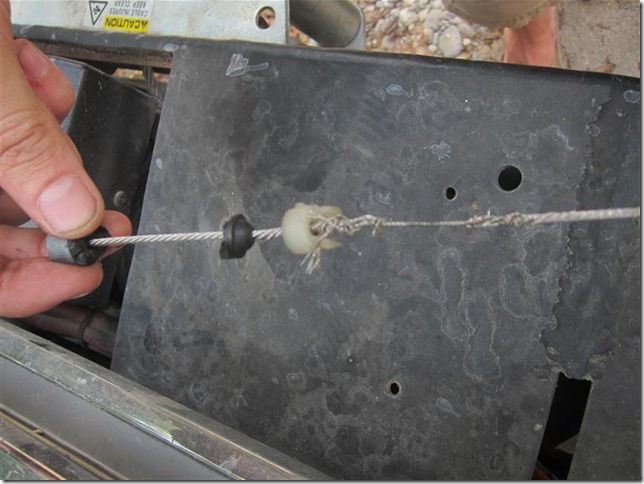 Not going anywhere fast I decide to push the truck to the side of the road and assess the situation. I figured the cable had not yet broke and I could just remove the frayed wires and it would get me a little further. While I was working on this 2 random construction workers came over and started talking to us. They said they knew a mechanic in the next town and would be happy to give us both a ride. We locked up the truck and jumped into the construction workers truck.
They gave us a ride to town where the mechanic looked at the cable and said we needed a new one (you don't say!?) He didn't have one but knew there were parts stores in the next town. Back into the construction workers truck we go. Drove about 15 miles to the next town….
We searched from store to store. 83 throttle cable for a 22R motor, 88 throttle cable for a diesel Hilux, 22RE cable for a Corolla. No exact matches for a 87 4Runner 22RE. I figured I could make the 22R cable work but the parts guy insisted we need the right one.
The little town did not have the right cable but they assured us we could find one in San Pedro Sula (Large industrial town of Honduras). However the town was almost an hour away.
I started asking the guys if they knew a taxi that we could call to take us all the way to San Pedro. They said "Nonsense!" and off to San Pedro Sula we went, a 45-mile drive in the construction truck.
An hour later we arrive in San Pedro, same situation. Store to store to store with no exact match found. These guys have been helping me now for 3 hours in the hot as hades Honduran sun. We can barely speak to them, we have no idea what the hell is going on with our truck back at the construction site, and store after store turns us down. Our gracious construction workers are getting frustrated as well. I am wishing I just rigged my cable and ignored these guys, when all of the sudden I see a little hole-in-the-wall parts store "TOYOTA REPUESTOS IMPORTER". I jump out of the truck and run in with my cable, 30 seconds later I have an EXACT match 87 4Runner cable. We all rejoice and head back to the truck.
With the bad cable out.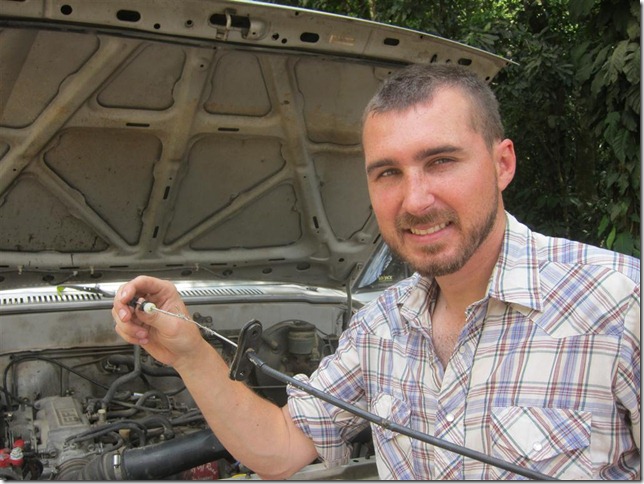 We put the new cable in. Success!!! Back in business. I offered to pay these guy for their gas/time (They drove over 60 miles and were with us for almost 5 hours) but they refused. They said to us…
"Today we help you, tomorrow maybe someone help us"
I forced a few cold coke-colas on them from our fridge, we gave them some hugs, thanks, and said goodbye.
Time and time again we say that the people of Mexico/Central America we meet are the nicest, friendliest, most giving people on earth. The people of Honduras live up this mantra as well. We have loved getting to know them and their beautiful country.